This article will show you how to add a plan to your leads.
Adding a Plan to a Lead
By adding a plan to a lead, you're initiating a series of automated emails that will be sent to your lead. Plans are Placester's version of drip email marketing, which is a way to nurture your leads and stay connected via email.
Leads Tab
First, go to the Leads option to view all of your current leads.
Selecting a Lead
After entering your leads dashboard, you can select the lead that you would like to add your work plan to. Lets say you are trying to add a work plan to John's account (below). John is a buyer and will have a Buyer plan applied. You can click his name or email address to access his individual lead dashboard. 
Individual Lead Dashboard
Once you are in the Individual Lead Dashboard, select the Plans tab below your lead's description. 
Adding a Work Plan
Once you have entered the Plans tab, you can select the Work Plan that you would like to apply from the drop down menu.  In the example for John, a potential buyer, you could select the Buyer work plan. Once your plan is selected, click 'Add'.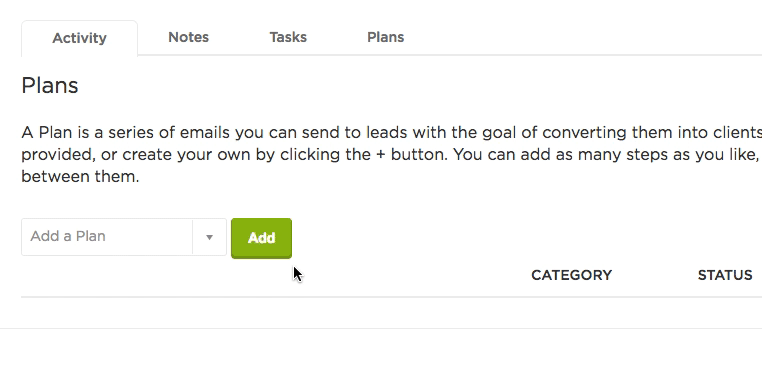 View the Plan Status 
As soon as the plan has been added to the lead, the lead will receive the first email template included in the plan. You can expand the title of the Plan that is applied to view the steps and when they occurred or when they are scheduled for.
Creating and Editing Plans
You are welcome to use the plans that we have available by default, or you can follow our support guides for editing plans or creating new plans.
Need More Help?
If you have additional questions about adding a work plan to your leads, let our support team know at support@placester.com.