Activating Autopublish [Classic]
Activating Autopublish [Classic]
This article will walk you through how to configure your Autopublish settings. Please keep in mind that this feature is only accessible with our Agent and Broker Pro subscription. If you are not using one of our upgraded subscriptions, but are interested in learning more about what we offer, please visit our pricing page or get in touch with our sales team at 800.728.8391.
What is Autopublish?
Within the Placester Content app, you can automatically publish blog posts on your site by using Autopublish. With Autopublish, you can choose relevant content that applies to your business as well as answer questions to automatically customize your blogs. Content is scheduled ahead of time and is defaulted to be posted at 11 AM EST on Tuesday and/or Thursday. The number of scheduled posts each month is contingent on the number of content credits you have purchased and will evenly distribute across the month in Tuesday/Thursday slots.
The first post will publish on the first Tuesday/Thursday the scheduler encounters. For instance, if you turn on Autopublish on a Monday, the scheduler will run on Tuesday and will schedule the first item to publish on that upcoming Thursday.
After Autopublish is activated, Placester will send you an automated email notification once a month to notify you what posts are scheduled. These emails will include information such as blog titles, scheduled publish times, and links to edit.
Getting Started 
To get started with Autopublish, you will need to first login to your Placester account. Once you are logged in, click the three dots next to the media library, then click content library in the provided drop-down menu.

The Content App page shows the posts that are available to publish to your site. Click on the Autopublish tab to access your Autopublish settings.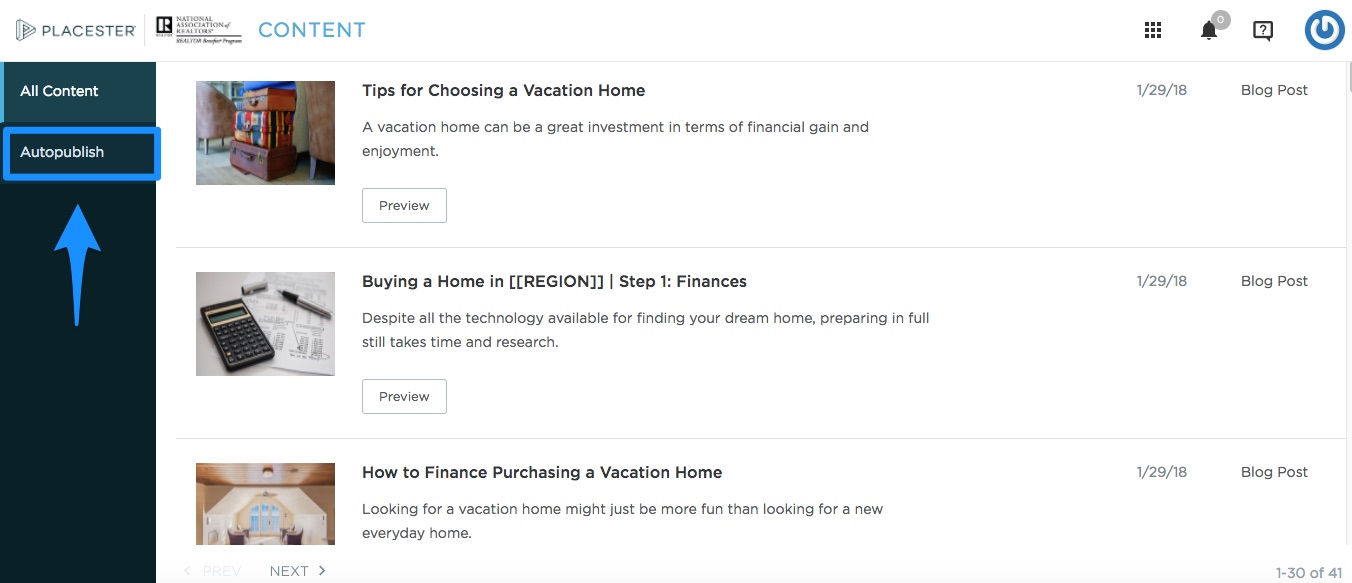 To adjust the Autopublish settings, select the desired site that you would like to activate Autopublish on and then click on the View Settings button.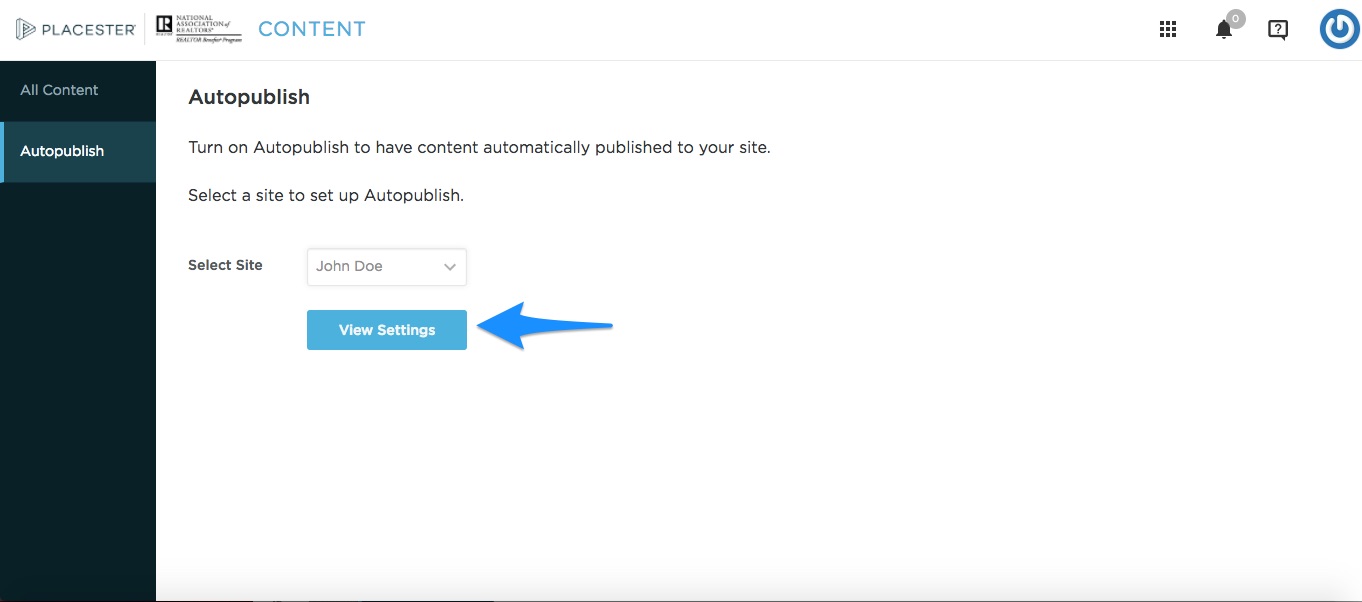 Once you click on View Settings button, you see the settings slide out. Here, you can activate Autopublish and select your content preferences.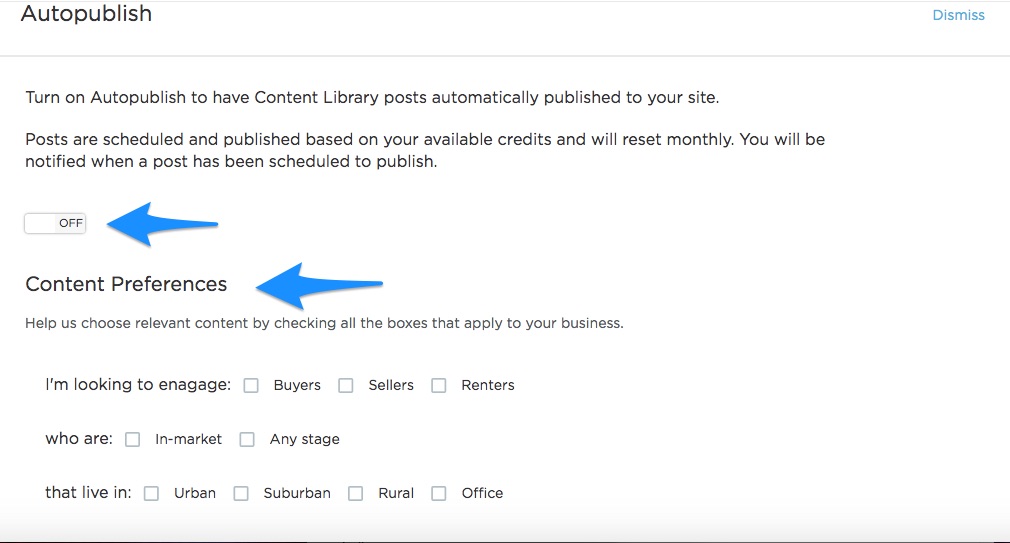 Lastly, to automatically customize your content, there are some questions to answer under Dynamic Fields:

Primary Market: The specific area you focus on. Likely a city, town or neighborhood name.
Region: The broader area you work in. For instance, if the target market is Beacon Hill (a neighborhood within Boston), it may make sense to have your region be Boston if you don't work outside that city at all. If your target market is Boston (a city), your Region may be Massachusetts (a state).
Tip: Make sure you capitalize your entries and spell them correctly, as they'll be auto-filled into your posts exactly as you type them here.
The answers to these questions will appear in your posts. Once you are satisfied with the information, click on the Save button.

Need More Help?
If you have additional questions about using Autopublish, let our support team know at support@placester.com.
Let experts do it for you
Visit our creative services marketplace to get on-demand help, on-time and on-budget.
Browse all Services
Are you looking for something different?
Didn't find an answer to your questions? Our support team is ready to help you.