The Placester Platform versus WordPress [Classic]
The Placester Platform versus WordPress [Classic]
This article will highlight the differences between sites hosted on our Placester platform and sites with a WordPress back end that use our products.
The Placester Platform
Placester engineers designed the back end using feedback from our users and real estate professionals. With a focus on easy set up and maintenance, the Placester platform offers a "plug-and-play" model. It uses template technology in the form of its themes to take the programming aspect out of creating a website.
While not a traditional WordPress dashboard, the Placester interface is an overlay on WordPress, meaning the site still has much of the WordPress functionality without exposing the traditional WordPress back end.
Widgets on the Placester Platform
Because of our template model, there are built-in widgets that are hardcoded and not adjustable. The Placester platform offers you a number of ways to creatively bring widget-like features to your site, though, including adding HTML and using custom URL menu items.
CSS on the Placester Platform
Our hosted platform does not provide access to the CSS of the templates. To edit font or color options on your site, go to Site Settings > Theme Selection. Within your chosen theme, you'll see the various color schemes available on your site and the font families you can select. 
WordPress and Placester
The Placester plugin product and sites created on the Legacy platform use a traditional WordPress back end.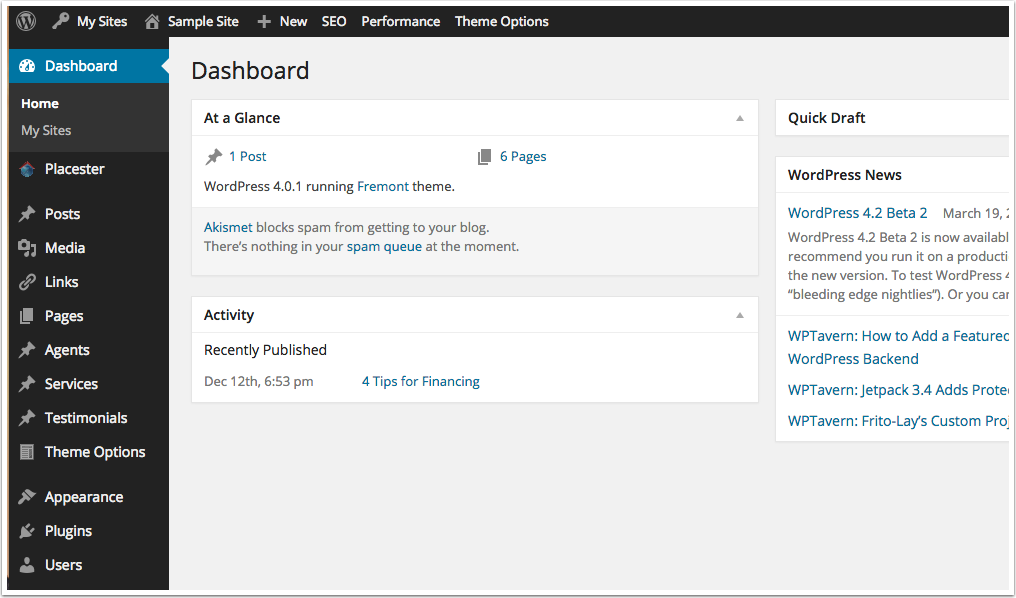 The plugin allows you to use Placester's IDX solution on a custom WordPress site with third party hosting and themes. Placester recommends you use the plugin only if you have experience with web development. Unlike sites created on the Placester platform, WordPress requires you to build the site from the ground up, which puts you in the role of site developer and designer. For more information on creating a site using the Placester plugin through WordPress, you can refer to our developers page.
Need More Help?
If you have additional questions about the differences between the Placester platform and WordPress, let our support team know at support@placester.com.
Let experts do it for you
Visit our creative services marketplace to get on-demand help, on-time and on-budget.
Browse all Services
Are you looking for something different?
Didn't find an answer to your questions? Our support team is ready to help you.