Invite Agents to your Broker Subscription [Classic]
Invite Agents to your Broker Subscription [Classic]
This article will show you how to invite agents to create websites under your broker account. This feature is only available through our Broker Pro subscription. If you are not subscribed to this package but would like to learn more, please visit our packages and pricing page.
Your Broker Account vs. Agent Accounts
Your broker account includes one free website that is most often used for an office or team site. Through this account,  you can invite individual agents to create websites separate from your main site.
Profile icon > Agent Management
You can access your agents under the profile icon in the top right corner of the Placester Dashboard. Click Agent Management to add agents.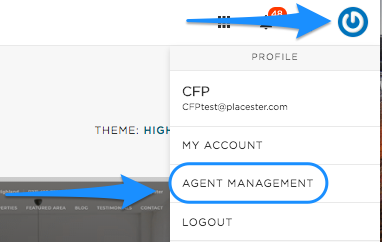 Agent Management tab
At the top of the screen you will see the number of agents that are currently on your account and how many additional accounts are still available.  Placester offers 10 sites including the broker's as part of the broker package. Additional sites can be added to your subscription by our sales team.  Contact them at 1-800-728-8391 x2.
Inviting Agents
There are three different ways to invite agents to create sites. The Invite agent button requires the agent to set up their own account.  The Add Agent and Export CSV options under More allow you to create the account for a single agent or multiple agents. This type of account generation will trigger a welcome email to the agent with a username and temporary password.   
Invite Agent Button

The invite agent button allows you to invite one or multiple agents at a time.  This invite will ask an agent to create their own Placester account that is under your brokerage.   When you click on 'Invite Agent" you will be brought to a templated invite email, with setup instructions.  Add the emails of the agents you would like to send the invite to, separated by commas. Click send invites at the bottom of the page to send your invites.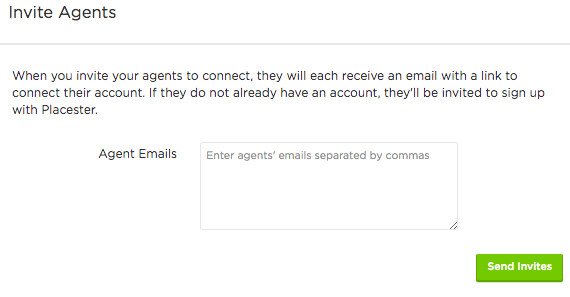 If you would like to send a custom message to your agents, Placester provides a  link to account setup that you can add to the message you create. This is located at the bottom of the page.  Click Copy to use this link.

Add Agent
If you would just like to create a single agent account you can do so using the Add Agent tab under More.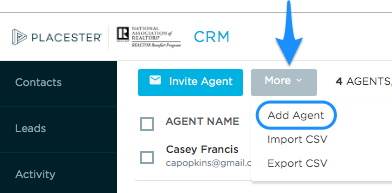 This will open a page to enter agent's information.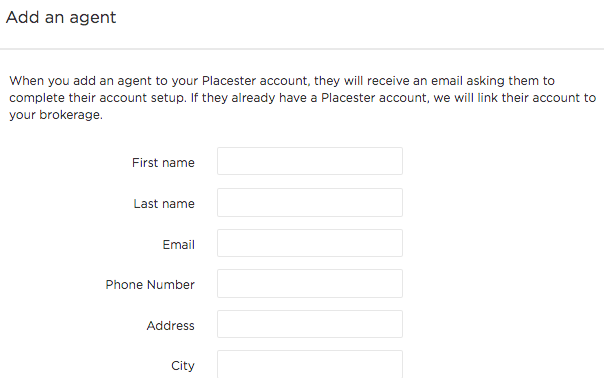 Clicking Create Account will trigger the welcome email to the agent, with their login information.  If the agent already has an existing Placester account it will automatically be moved under the brokerage.

Import CSV
Import CSV tab under More will allow the broker to create a large  number accounts at the same time.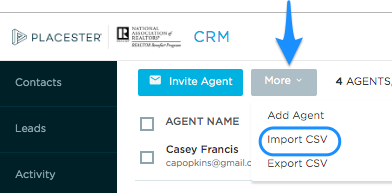 To make sure the information is entered correctly on the CSV, Placester recommends you use the provided template to add the agent information.  Once you have entered the agent information into the CSV, click on the Upload CSV button to add the new agents.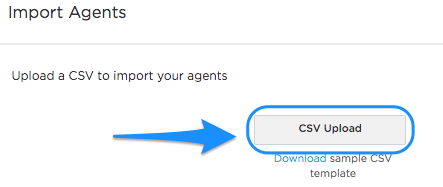 Like with the single agent account set up, an email with the username and temporary password will be sent to all agents on the list.  
Next Step
Once the appropriate agents have been added you have the option to set up lead forwarding amongst the brokerage's agents.  To learn more about this please read our support article
Need More Help?
If you have any additional questions about inviting agents to your broker account, let our support team know at support@placester.com.
Let experts do it for you
Visit our creative services marketplace to get on-demand help, on-time and on-budget.
Browse all Services
Are you looking for something different?
Didn't find an answer to your questions? Our support team is ready to help you.