NAR Edition: Creating a new Account
NAR Edition: Creating a new Account
This article will walk you through creating a new National Association of REALTORS® Edition account and website.   placester.com/websites-for-realtor-benefits-program/ also includes everything you need to know about this subscription type you have access to as a certified REALTOR®.
What's Included
Creating a Placester account is fast and easy. Your National Association of REALTORS® Edition subscription will include IDX*, a hosted website, a pre-built template that is ready to use and email-based customer support through support-nar@placester.com. 
*Placester's IDX solution is included in the NAR edition subscription. That being said,  Some MLS's do charge a fee directly for access to their feed.  You will be billed directly from your MLS for any direct MLS Fees.
Getting Started
To create an account, go to  placester.com/websites-for-realtor-benefits-program/ and click on Create Your Site Now.
Step 1 of 2: Create and Preview Your Personal Website
Insert your contact information on the next screen. This will let us know where to send the contact information for leads that you capture on your website. The email you choose will also be the email address that you log into your account with.  Note: You will need to provide your NRDS ID in order to confirm you are a member of NAR and entiltled to this benefit.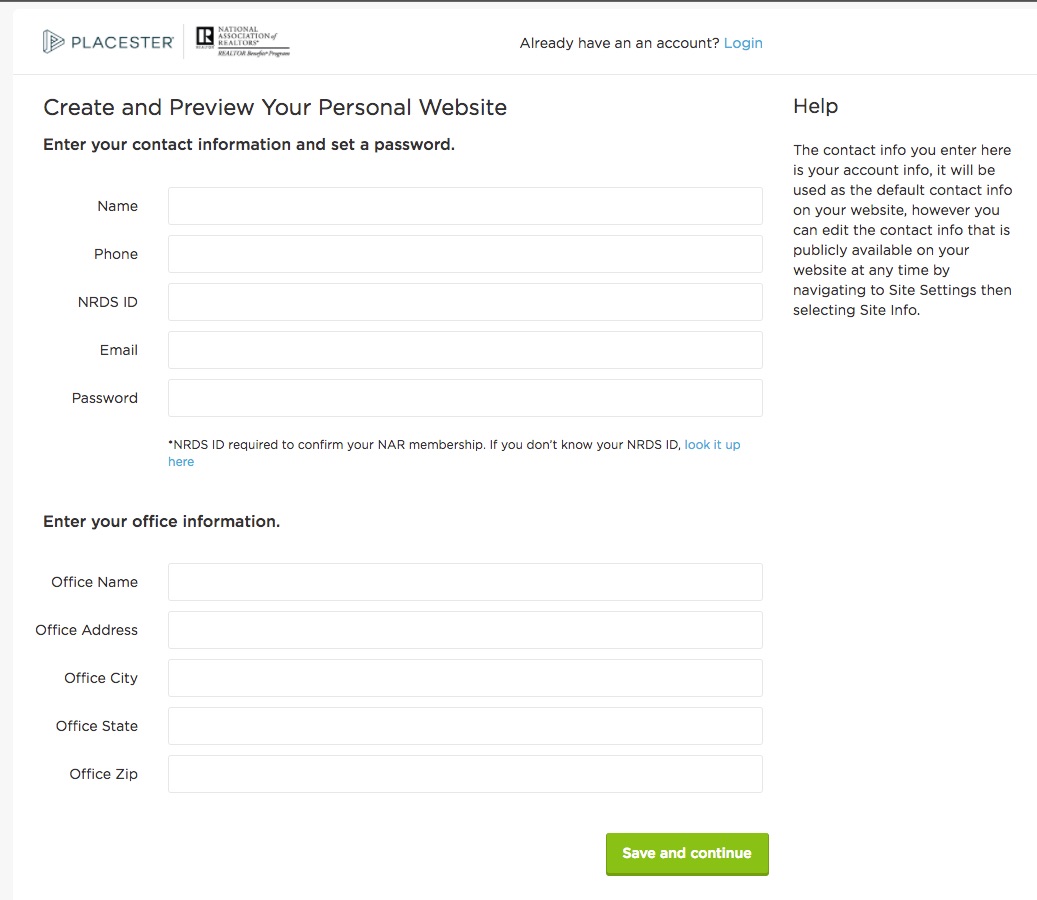 Step 2 of 2: Basic Site Setup 
Confirm the company information that you'd like to display on your live site.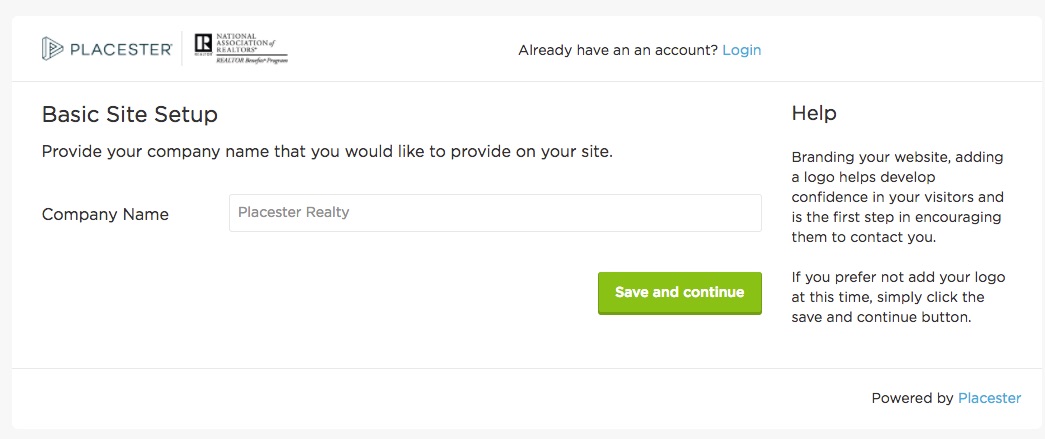 Then provide the site title and tagline you would like to use.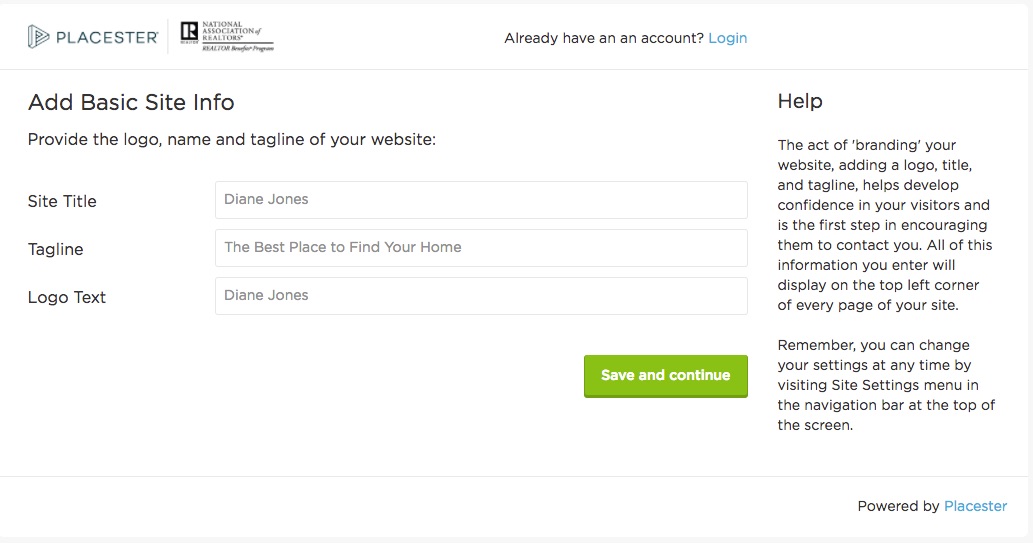 Launch Your Site
This completes your NAR Edition site setup. Your site will not be live until you launch it using the link below. Or, you can make adjustments and preview the site until you're ready to launch.
Have a .REALTOR domain? Click here to learn how to use it on your site.
Looking to add a custom domain from another domain registrar? Go to placester.com/domains to learn more.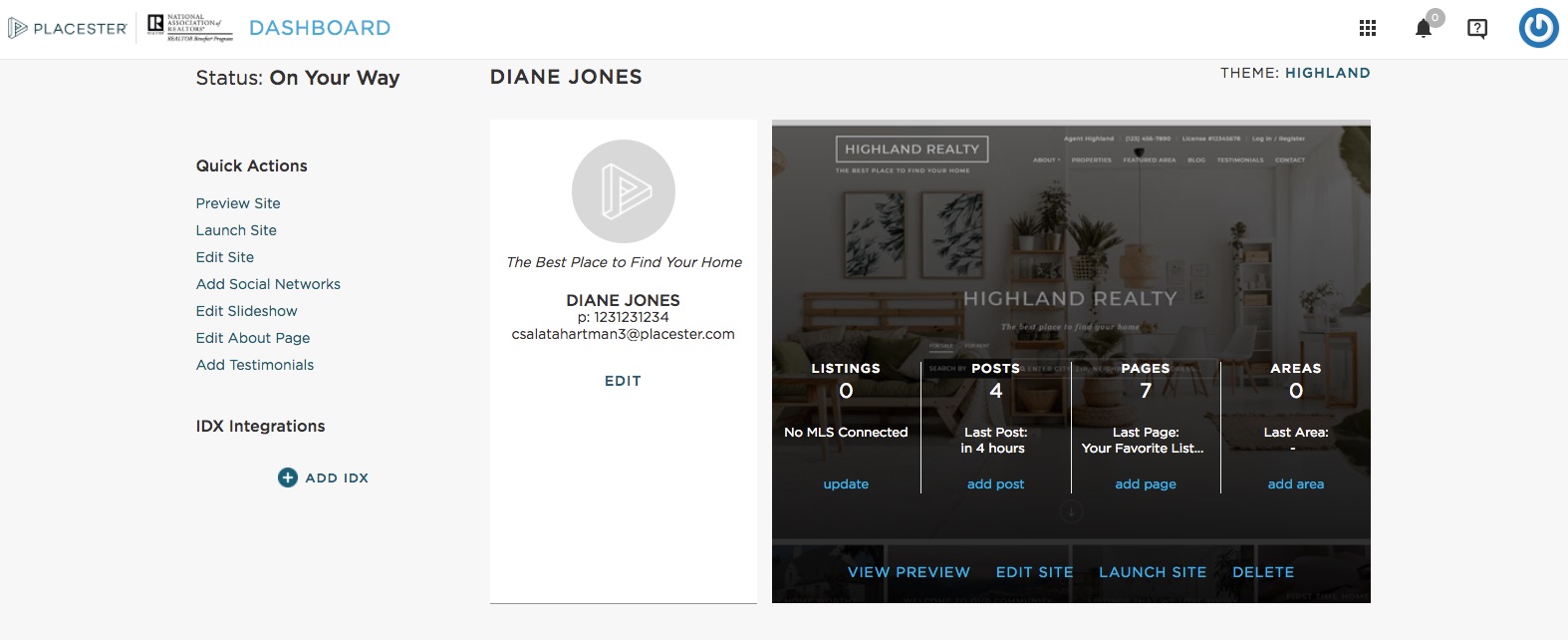 Thanks for choosing Placester! We look forward to working with you.
Ready to do more with Placester?
Placester offers a Pro Edition of the site that provides onboarding, site set up as well features such as a selection of customizable themes.  To learn more click here or call our sales team at 1-800-728-8391x2.
Questions?   
Let experts do it for you
Visit our creative services marketplace to get on-demand help, on-time and on-budget.
Browse all Services
Are you looking for something different?
Didn't find an answer to your questions? Our support team is ready to help you.