The following article will walk you through how to set-up the Agent Core free trial. 
The free trial allows you to sign-up and begin using the Placester Platform before purchasing our Agent Core product. You are able to complete the set up, make edits, and complete the IDX process during the free trial. 
Please note that while we do collect your credit card information at sign up you will not be charged until you launch your website. At site launch you will be prompted to purchase the Agent Core subscription.
Create Account
To create an account for our free Agent Core trial, go to https://placester.com/mylogin and click "Sign up Now!" 
From here, you can see an overview of what is included in Agent Core and enter your information to create an account. Once you have filled in your information and created a password, click "Sign up & Continue."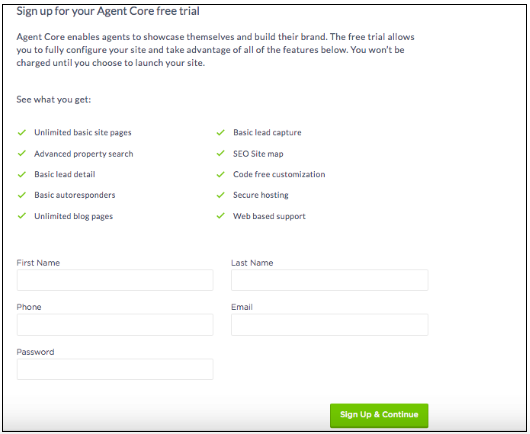 Plan Details
The next step is to select whether you are an Agent, Broker, or Team, and enter your 9 digit NRDS ID. 

Next, select a plan and enter your credit card information. Please note that while we do collect your credit card information at sign up you will not be charged until you launch your website. In addition, you will have the option to change the selected plan before you launch your site. 
Once you have completed these steps, click "Start My Trial" and your free trial will begin immediately.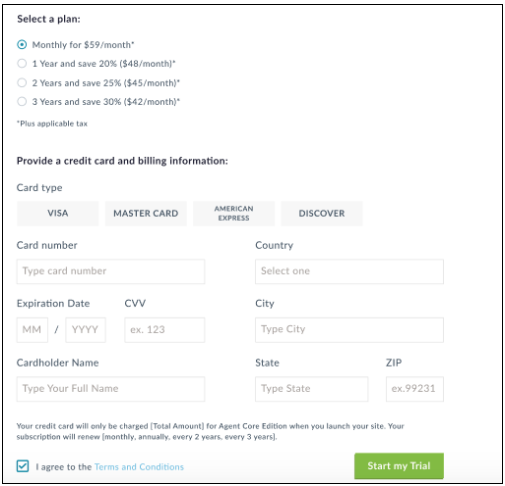 Create Site
To start building your site, enter your office information, a site title and tagline. Please note, this information can always be changed.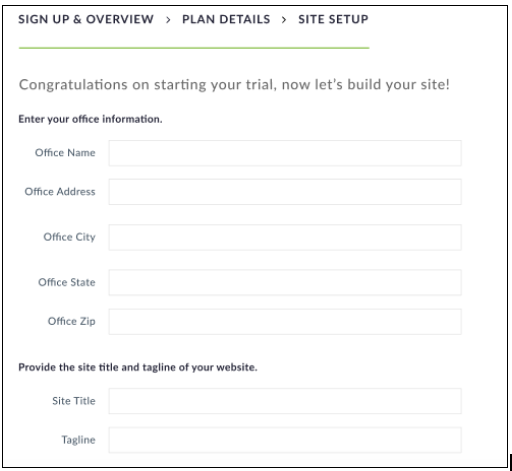 When you click "continue," you will be redirected to your Placester dashboard.  From here, you will see a pop-up on the bottom right corner with recommended steps to set-up your new website.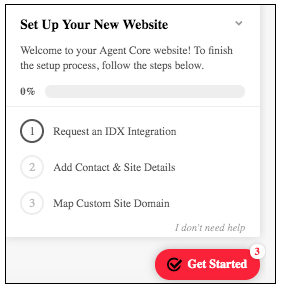 Request an IDX Integration
You can submit your IDX request by scrolling down the left hand side of the dashboard and clicking on "Add IDX" under IDX Integration. The screen will ask you for your email address and your broker's email address in order to generate and email out the necessary documents. Please make sure that this information is entered accurately to expedite the process. 
Note: IDX integration typically takes up to 10 business days but speed can be impacted by delays in receiving signatures from the agent and broker, as well as delays in response from your MLS.
Map Custom Site Domain 
In order to take care of mapping your Custom Domain to your Placester site, you will need to change both your A-Record (IP address) and CNAME (hosting platform) to Placester specific settings. 
We have articles specific to the most commonly used domain providers click on the name below to access these articles:
Launch Site 
Once your IDX is approved, you are able to Launch your site on your Placester dashboard.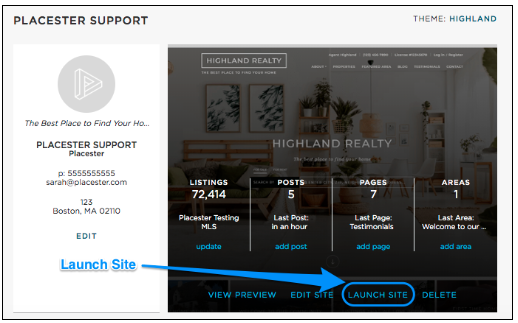 Need more help?
If you have any other additional questions about upgrading to Agent Core, you can also reach out to our support team at support@placester.com.