Users with a Premium subscription can use Open Home Pro® to automatically send a follow-up email to Open House visitors. The email thanks visitors for touring the home and lets them know to reply to the email if they have any questions about the property.
Premium subscribers can also automatically email all visitors of an Open House if the price on the listing drops or if the status of the listing changes.
Instructions for iPad
For iPad users, you can manage your email settings on the web. Login to your account through openhomepro.com, then select Settings > Emails in the top navigation.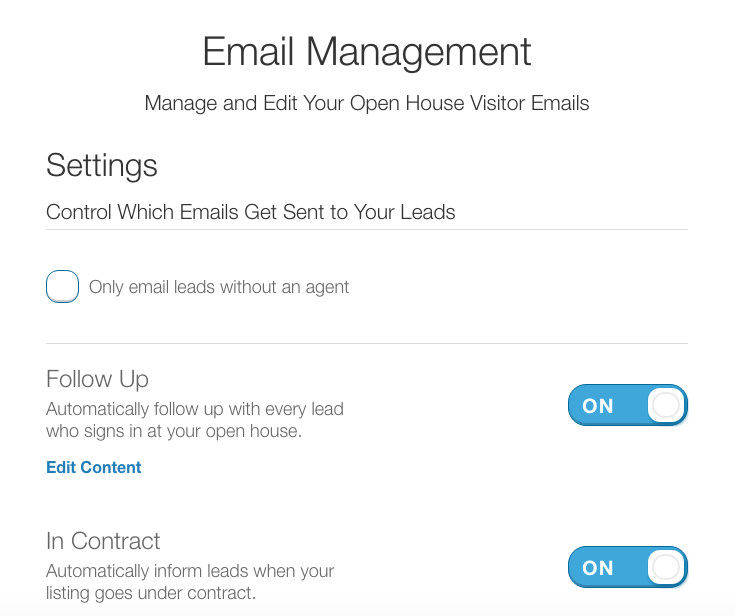 Instructions for Android
Currently emails are sent automatically from Android devices. If you would like to test this feature, list yourself as a test lead.
If you are running an Open House with a wifi or cellular data connection, the emails will be sent each time the app syncs. If you run an Open House without a wifi or data connection, the emails will be sent upon the next sync after the app is connected with wifi or data.
*Please note that Automated Thank You emails will only be sent to new leads and cannot be retroactively sent to historical leads.
Need more help? 
If you have additional questions about automated emails, let us know at support@openhomepro.com.
Let experts do it for you
Visit our creative services marketplace to get on-demand help, on-time and on-budget.
Browse all Services
Are you looking for something different?
Didn't find an answer to your questions? Our support team is ready to help you.