This article will show you how to edit a lead by adding a score, status, type and other information. 
Accessing the Leads Tab
First, log into your Placester account and click on the Application Icon in the upper right corner of the screen.
Select the CRM to view and edit your lead information. 
You will now be taken to the Placester CRM section where you can view all of your leads contact information. 
Quick Edits
Certain edits can be made right within the leads panel. Let's say I just spoke with Charlene Maximus. Originally, within the leads panel she was marked as a new buyer with a green score 
After speaking with her, I've determined that her score should be changed to yellow. I also want to make sure that she is no longer marked as New. All of these edits can be made by clicking on the name of the lead to edit their profile.
Basic Editing Options
When you click on the name of the lead you are brought to the Lead Profile.  There are two quick edits that can be made on this screen.
Click on Add Photo to pull a photo from your computer for the lead

Click on Not Contacted, and the wording will change to Contacted.  This will eliminate the NEW status for this lead.
To make additional changes you will need to edit the full lead profile.  
Advanced Editing Options
You can also make more advanced edits to a lead by clicking on the edit button. This brings you to the lead editing screen.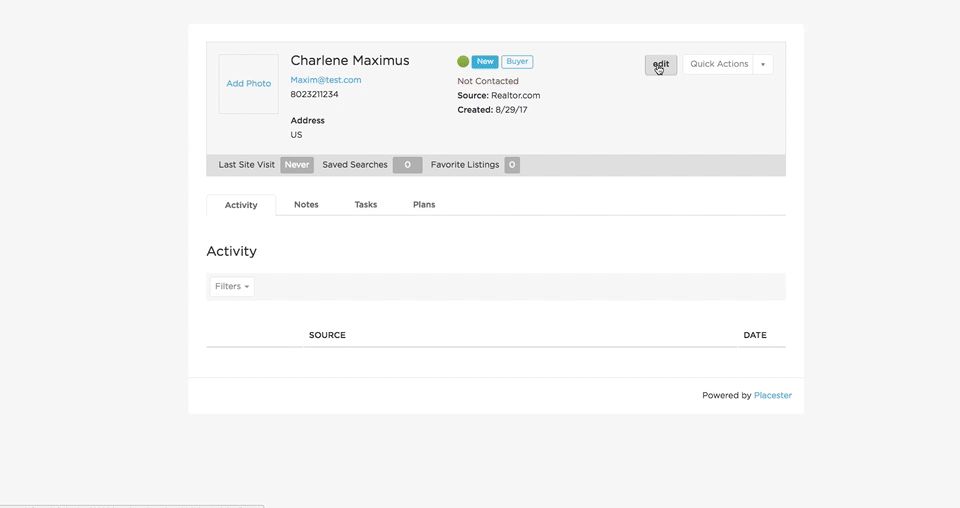 Uploading a Photo
You have the option to upload a photo for each of your leads if you'd like to have a face to associate with the name. This is optional and can be added within: 
1. The lead details view:
2. The lead editor:  
Editing Contact Details
You can also edit the lead's contact details. For instance, you can add alternate emails and phone numbers for your lead. 
Address
A lead's address will not be included upon signing up on your website, but you can add that information under the Address section. 
Details
Change the lead details within the Details section. These are similar to what you can change using the quick editing options on the main leads panel. Here, you can also add custom attributes, including the client's score.
Pro Tip: What is a Score?
Scores allow you to rank your prospective clients. The score options are red, yellow and green for a reason - this allows you to assign values to how you'd like to score your leads based on what makes sense for you and or your company.
Need More Help? 
If you have additional questions about editing your leads, let our support team know at support@placester.com.