This article will show you the advanced options for editing pages on your Placester site.
Creating a Page
To create a page, you'll need to login to your account. The quickest way to create a new page is to go to Create at the top toolbar and click Page. You can find out more about creating pages here.
Page editing toolbar
Certain page templates on Placester give you a page content editor (to find out more about page templates, click here). This editor is known as a "what you see is what you get" (WYSIWIG) editor, and works in a similar way to a word processing program (such as Microsoft Word).
The ten page editing options are:
HTML: This opens the HTML editor.
Formatting: This can be used to make highlighted normal text, a quote, or a header.
Bold: Makes the highlighted text bold.
Italic: Makes the highlighted text Italic.
Underline: Underlines the highlighted text.
Unordered List: Creates a bullet point list.
Ordered List: Creates a numbered list.
Link: Adds a hyperlink to the highlighted text.
Upload Image: Allows you to upload an image to the page.
Insert Video: Allows you to insert a video.
HTML Editor
Clicking the HTML icon brings you the HTML editor. This is where you'll need to add HTML embed codes or iframes to create custom content on your site. To find out more about adding HTML to a page, click here.
In the HTML editor, all other formatting options are grayed out.
Formatting
To change the format of a highlighted piece of text, click this icon. You'll see four options: Normal text; Quote; Header 3; and Header 4.
Bold, Italic, Underline
Highlight the text you want to edit, and select as many of these options as you need to create the desired effect.
Lists
Click the Unordered List icon to begin creating a list using bullet points, and the Ordered List icon to begin creating a numbered list.
Links
To link text on your page to another page, highlight the text, and click the link button. This opens a dropdown with 2 options: Insert link and Unlink.
Clicking Unlink will remove a link that already exists. Clicking Insert link opens a pop-up window which gives you a few options.
You can enter the URL for the linked text to go to, change the text that displays (if you copy a link directly in to the body of the text, this allows you to change what reads in place of the link), and whether or not to open the link in a new tab.
Upload Image
When you click the Upload Image Icon, you'll see a small pop-up, which gives you the option to drag and drop an image to upload, or to choose a file from your computer.
Once you've uploaded your image, there a couple of advanced editing options. Click on the image to display the Edit button, then click Edit. This opens a new pop-up which gives you the option to add a title or a link to the image, and change the image's alignment on the page.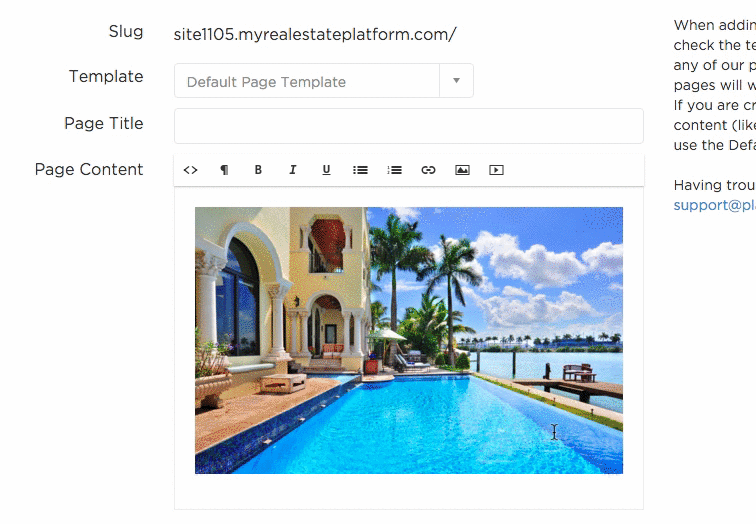 Insert Video
Click this icon insert a video from Youtube or Vimeo. To find out more about adding videos to your page, click here.
Need More Help?
If you still have questions about page editing, let our support team know at support@placester.com.