This article will show you how to use images within pages to enhance your site's content.
Picture Perfect
Including engaging, colorful images in your pages is essential. Not only will the right photos entice potential customers to your site, but they will help your content shine among a group of similarly-themed sites.
Page Editor
To start, you'll need to navigate to the page editor and select the page you want to add images to. Learn more about editing pages here. Or, you can create a brand new page by following these steps.
We also have a basic guide to uploading images within pages here.
You may be interested in learning the specifics of optimal page layout depending on which theme you're using. Check out our theme guides here.
Alignment Options
You may want to explore different alignment options for your images. After you upload the desired graphic, click it so the Edit button appears. From there you may choose to left, right align or center the graphic.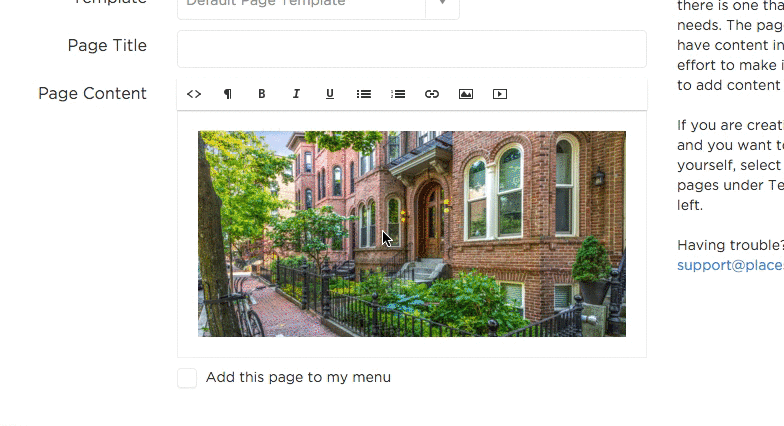 Hyperlinking
Using hyperlinks in your pages allows a visitor to your site to jump from one piece of information to another without leaving the original post. 
To hyperlink an image, click the image, then select edit and paste the desired URL into the text box.
Here is an example of using image hyperlinks to share additional resources on creating and improving a real estate website.
Step 1: Upload the image
Step 2: Click the image to edit it, then add a hyperlink to the ebook.
Make sure to save your changes, and you'll have a clickable image that leads to an ebook download on your live site!
Need More Help?
If you have additional questions about using images in your pages, let our support team know at support@placester.com