This article will show you how to use Placester's Autoresponder feature.
What is an Autoresponder?
An Autoresponder allows you to set up an automatic response to contact form submissions and lead registrations that are performed on your site by visitors. They work in a similar fashion to Plans and Templates, but the Autoresponder sends only one email rather than a series.
Leads > Autoresponders
To access Autoresponders, you'll need to go to the Applications menu and click on Plans within your Placester account, then click Autoresponders.
Autoresponders
Placester provides you with 7 default Autoresponders, which are all initially set to OFF. The default Autoresponders can not be edited directly.
Editing an Autoresponder
Like Plans and Templates, the default Autoresponders can not be edited directly. If you want to make a change to one of the default Autoresponders, you'll need to first Copy it.
Once you've clicked Copy, you'll see a page with a blank Title field. You'll need to give the cloned Autoresponder a new title and select a Category. 
Next, you'll need to select the site that your Autoresponder will work on (if you have multiple sites, you can select one, some or all sites), and which contact form type you'd like it to apply to.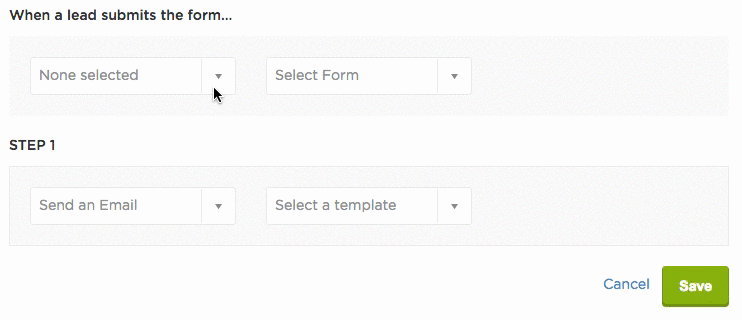 The final step is to select your template (Autoresponders can currently only send an email, so the first dropdown is set to only that action). Choose one of the pre-populated Autoresponder templates or one you've created yourself, then click Save.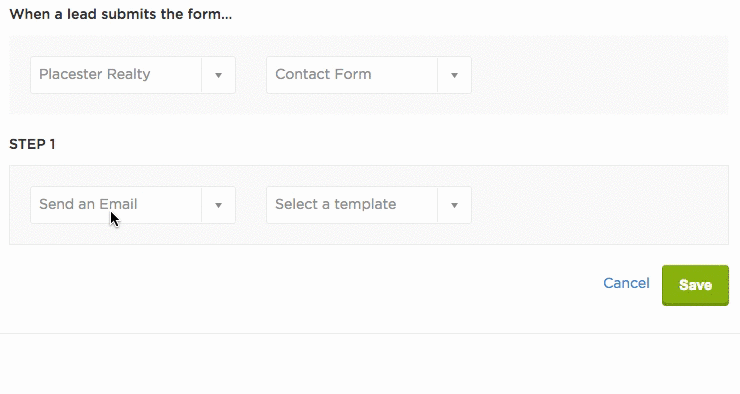 You'll see on the Autoresponders page that your cloned Autoresponder can now be edited, cloned again, or deleted.
To turn an Autoresponder on or off, simply click on the toggle switch to the left or right with your mouse within the Autoresponder editor or on the list of Autoresponders.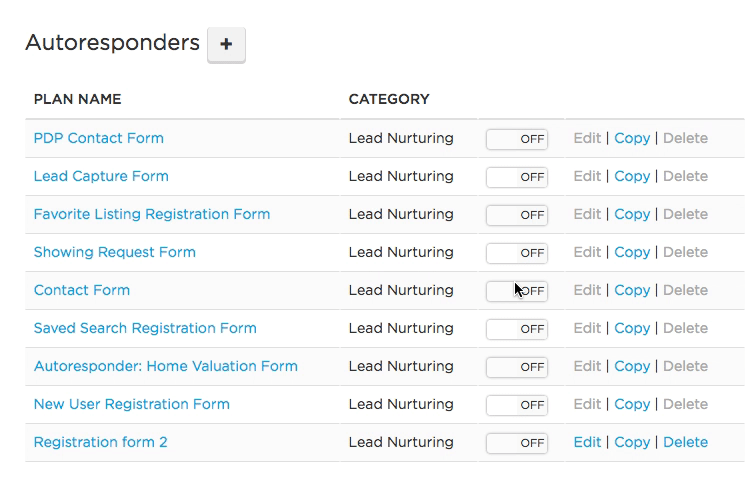 Creating a new Autoresponder
To create your own, new Autoresponder, click the + (plus) button at the top of the page.
As with editing your Autoresponders, you just need to give the new one a title, select a Category, choose which Site(s) the Autoresponder will work on and select which Template will be sent, then click Save.
Autoresponder Templates
Placester also provides a number of default Autoresponder templates. These can be found within the Templates section under the Plans tab.
As with the Autoresponders themselves, the default templates will need to be cloned before you can edit them.
Creating a new Template
On the template page, click the + (plus) button to create a new Autoresponder template. Simply fill out all of the fields and click Save. You can use Dynamic Fields to automatically populate certain information (such as the site visitor's name, your email/phone, etc) so that emails feel more personalized. We cover how to use dynamic fields here.
The new template can now be selected when editing or creating new Autoresponders.
Need more help?
If you have additional questions about using Autoresponders, let our support team know at support@placester.com.