This article will explain how to log into the admin panel of your website to make changes.
Where do I login?
You can access the back end of your site at Placester.com. Once there, click Login in the top right-hand corner of the screen.
If you have an account on both our legacy platform and our new platform with the same email and password combination, the following options will display:
Select Placester Sites (Beta) to log into the new platform, or Placester Sites Legacy to access the legacy account.
Front end vs. Back end
The back end of your site is the administrative side where you can make customizations. Only you can see these back end options. The front end is the live version of the site that your visitors see.
The back end looks similar to this:
Where should I start?
Clicking on your site title or the Edit Site option in the Sites Application opens up different sections of your website details for editing:
Here you can create or edit pages and blog posts and add agents, testimonials or areas, if you've created pages using those templates.
Site Settings
The Site Settings scrolling drop-down at the top of the panel is a quicker way to access and edit these same areas of your site:
These options open corresponding panels where you can change themes, submit an IDX request, upload slideshow images, choose listings to feature on your home page, and organize your menu.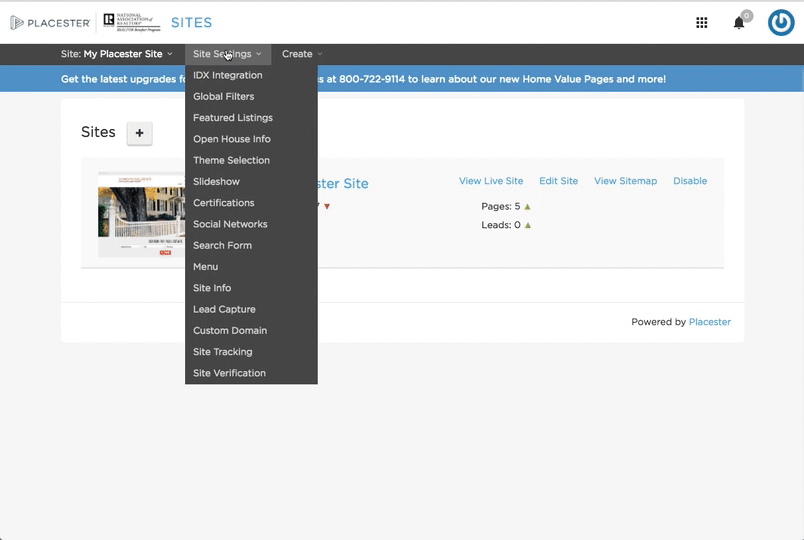 If you're setting up a site for the first time, it's a good idea to go through each item in the drop-down and fill out as much information as you can in each panel.
Need More Help?
If you have additional questions about accessing the back end of your site, let our support team know at support@placester.com.