This article will explain how to create Saved Searches for Leads that sign up on your KW-Placester site.
Theme Selection
At this time, creating Saved Searches is only available when you have the Madison theme selected. For more on selecting themes, see here.
Creating a Saved Search
First, you'll need to access the Leads section of your Placester dashboard. When logged in, go to the App icon and click the Leads tab, then select the name of the Lead you want to create a Saved Search for.
Click the number next to Saved Search to open the slide out settings panel.
The panel that opens will have a large + (plus) button for you to add a new search for that Lead. The settings use the same settings that you'll see under your Global Filters and Featured Listings. Give the search a title and then add the criteria of the saved search. You can find out how to choose your criteria here.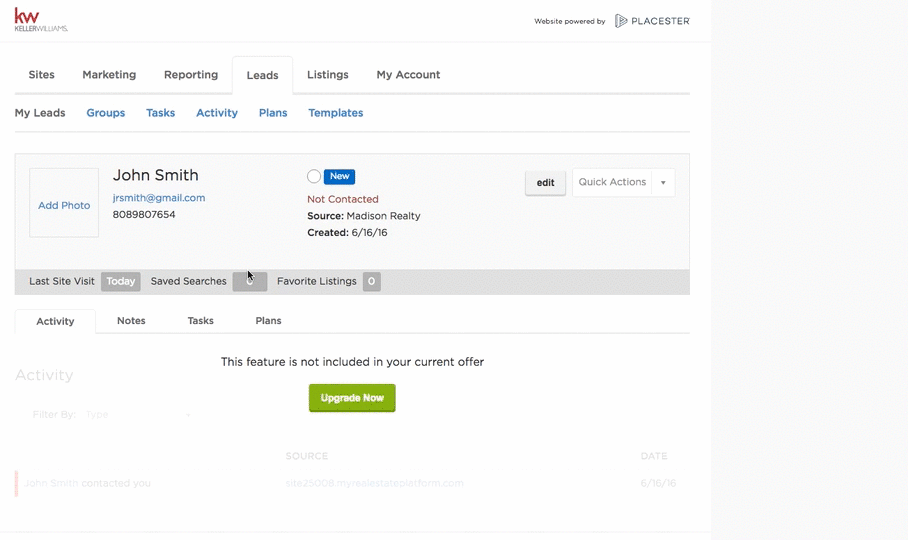 Once you've selected your criteria, you can add an optional notification that will display in the email that the Lead receives for the Saved Search. After selecting your criteria and adding a notification, you can Save.
Need more help?
If you have additional questions about creating a Saved Search, let our support team know at support@placester.com.