Chicago Image Dimension Guide [Classic]
Chicago Image Dimension Guide [Classic]
This article will tell you the ideal image sizes for the Chicago theme. 
Placester's Prebuilt Templates 
The Placester platform provides users with templates with fixed formatting to ensure that you have a clean, professional looking site. Knowing the dimensions of the image spaces will help you select the best images for the various locations. Image dimensions will vary by theme, so be sure to check out our
other articles on theme dimensions
for more information. 
Logo Dimensions
The first image you'll see shows the logo. The maximum size for logos on Chicago is 305 pixels wide by 90 pixels tall. You can add the logo you want to use by going to Site Settings > Site Info. 
Learn more about uploading a logo here.

Slideshow Dimensions
The slideshow images are the largest images that can appear on your homepage, so it's important to get the most out of this valuable space. The maximum size for slideshow images is 1600 pixels wide by 500 pixels tall. 
Learn more about adding slideshow images here
. 
Tip: Our customers are most successful with using images of homes, scenes, and landscapes without any text on them where a little cropping on the top or bottom wouldn't have a huge impact. 

It's best to stay as close to these recommended dimensions as possible. If the image is too small, it will look blurry and pixelated, but if the image is too large, then parts of it will be cut off or it could slow down your site's loading speed.
Agent Image Dimensions
The Agent image will appear on your Home, Contact, Testimonials, and property details pages. You can add it by going to Site Settings > Site Info and 
can learn more about doing so here.
 This image can be 138 pixels wide by 161 pixels tall.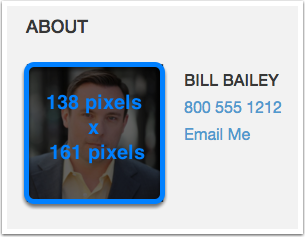 Agent Roster Featured Image Dimensions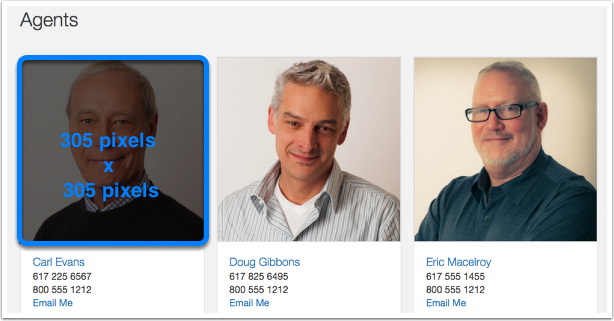 Blog Post Featured Image Dimensions

Images On Pages
You can add images within blog posts and pages, such as your about page. The only image size constraint to keep in mind on pages using Chicago is that they can be a maximum of 632 pixels wide.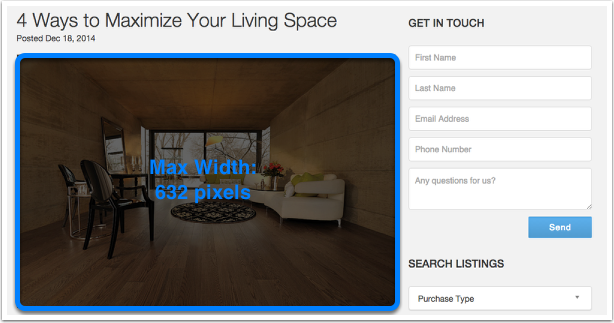 Need More Help?
If you have additional questions about image dimensions on the Chicago theme, let our support team know at support@placester.com.
Let experts do it for you
Visit our creative services marketplace to get on-demand help, on-time and on-budget.
Browse all Services
Are you looking for something different?
Didn't find an answer to your questions? Our support team is ready to help you.