Adding Your License Number to Your Site [Classic]
Adding Your License Number to Your Site [Classic]
For IDX compliance, some MLSs require agents to have their license number visible on the homepage of their live site. This article will walk you through how you can add your license number to your Placester Site.
Navigating to Your Profile
When viewing the Placester Dashboard, you'll first want to click on the power icon in the top right corner, and then click on My Account.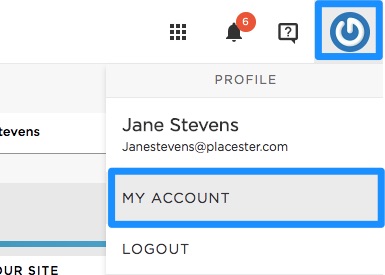 Next, click on the My Profile tab towards the top of the page. Once you've pulled up your profile information, click on the "Edit" link next to "My Profile".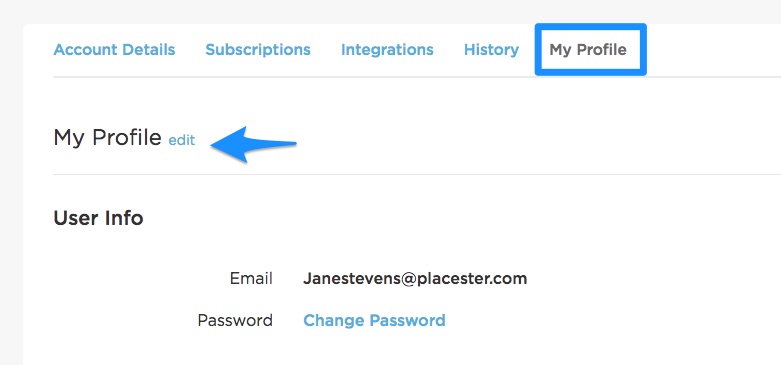 In your profile, you have the ability to enter your contact and office information. Keep in mind that apart from your license number, the information entered in the My Profile section does not impact your live site and is only personal information that you will see. To find out more about editing your contact information that will be displayed on your site, click here.
The very last section of this page, which is titled "License Info", is where you will be able to enter your license number. The first field in this section is where NAR agents can enter their NRDS ID if they would like to do so.
The second and third fields are where you can enter your License Prefix and License Number. Keep in mind that some license numbers don't have a prefix, so there is a possibility that you won't need to input anything into the License Prefix field. However, if you have any letters or symbols before your license number, you can use this field to enter that information. For example, in our screenshot below we entered a California BRE#. In the License Prefix field, we entered BRE#, and in the License Number field, we entered 123456789.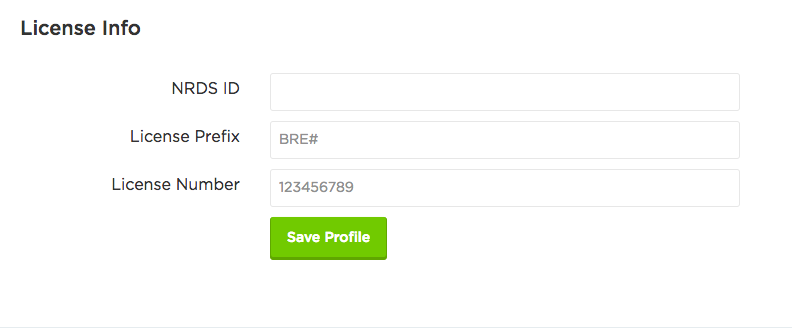 Once you have entered your license number, click on the "Save Profile" button.
Something to keep in mind is that if you don't have a phone number entered in your My Profile section, you will not be allowed to save any of your changes. If you notice that nothing happens after clicking "Save Profile", you may need to double check and make sure that your phone number has been successfully entered.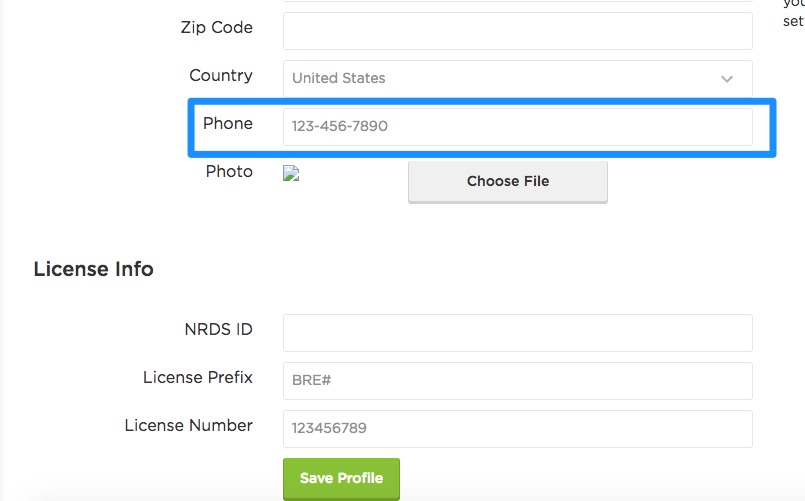 Viewing Your License Number on Your Site
When you have your license information saved within the backend of your account, your license number will appear in the About widget on your live site.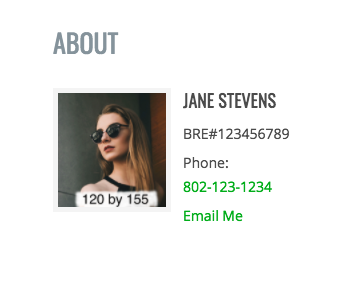 Need More Help?
If you have additional questions about adding your license number to your Placester site, please reach out to our support team at support@placester.com.
Let experts do it for you
Visit our creative services marketplace to get on-demand help, on-time and on-budget.
Browse all Services
Are you looking for something different?
Didn't find an answer to your questions? Our support team is ready to help you.