RightSignature Cheat Sheet
RightSignature Cheat Sheet
This article will show you how to Fill in specific sections of an IDX agreement. 
Filling out your section of the IDX document
When you open the link to the RightSignature document that contains your IDX agreement, you'll see the sections you need to fill in denoted by red flags as well as a slider bar with a red mark on sections you need to complete.
Find out more about the RightSignature process here.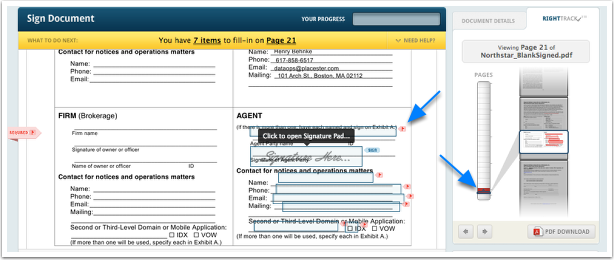 URL/2nd Level/3rd Level Domains
The form might ask you for the URL or the 2nd Level and 3rd Level Domains for your site. Here, the best thing to do is to fill in the custom domain name that you're planning to use for your Placester site. That being said, if you do not yet own a domain name, you can enter the temporary subdomain assigned to your new Placester site (looks like site12345.myrealestateplatform.com). Find out more about including your temporary subdomain in this article.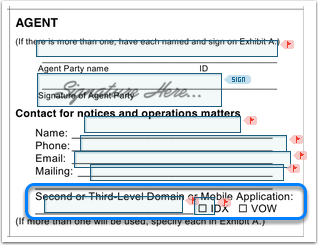 Most MLSs require a domain to be entered on the IDX agreement so that they know which sites are displaying IDX data. 
Office/Agent/MLS ID
Any field requesting an ID should be completed with the ID that the MLS would recognize you by. Some information on the forms will be specific to your MLS, so the best practice is to reach out to your MLS directly to find out the exact information they require in each section. Your MLS will be able to specify the information they are looking for and confirm what information is correct.
If you are not sure who to contact at your MLS, feel free to reach out to us at support@placester.com so we can direct you to the best point of contact! 
Need More Help?
For questions, concerns, or feedback, please chat with our team: https://app.placester.com/chat. Again, for any MLS-specific questions, we recommend reaching out to your MLS directly. 
Let experts do it for you
Visit our creative services marketplace to get on-demand help, on-time and on-budget.
Browse all Services
Are you looking for something different?
Didn't find an answer to your questions? Our support team is ready to help you.