Advanced Page Editing [Codeless]
Advanced Page Editing [Codeless]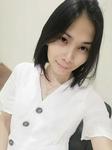 Updated by Amber Sabio
This article will show you the Advanced Options for Editing Pages on your Placester site.
Create a New Page 
To create a new page, log into your Placester account to access the back end of your website. On your Dashboard, click "Edit Site." 
On the bottom left side of your screen, click Create New > Page, then select Default Page.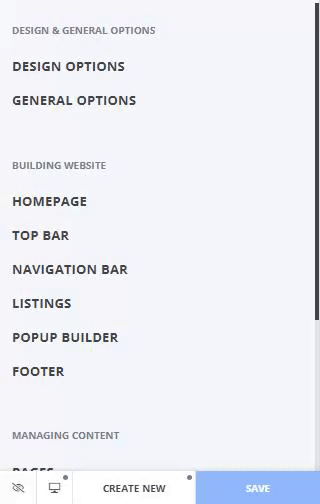 Content Editor
To maximize the view of the Content Editor, click the arrows in the far right corner: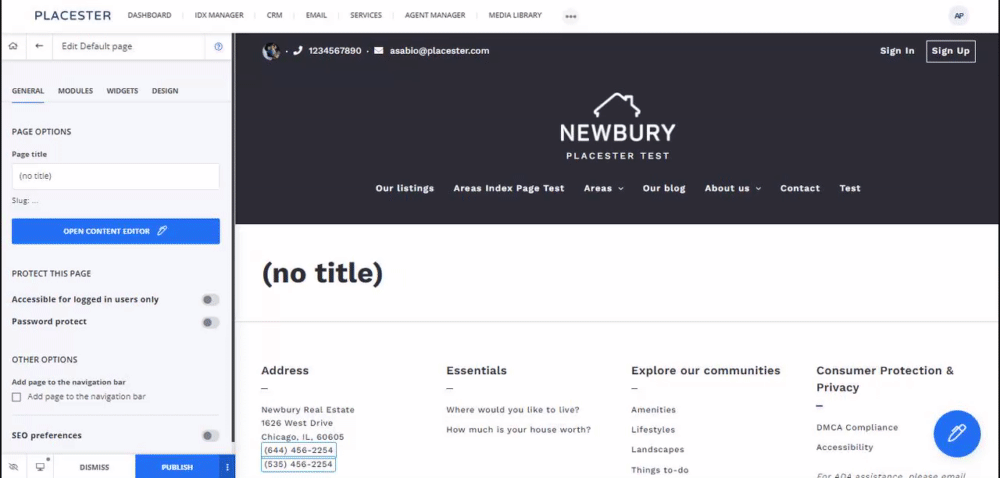 The content editor toolbar allows you to make some formatting adjustments within the page content. Here is a key that shows you what each button within the toolbar does.
Formatting: Headings, Inline, Blocks, Align
Bold
Italic
Underline
Unordered List: make a bulleted list on the page
Ordered List: make a numbered list on the page
Indentation
Link: add hyperlinked text to your site
Image: upload an image on the page. Click here to learn more about adding images.
Video: embed a video within the page. Click here to learn more about embedding videos.
Alignment
Adding a Table
HTML: Click here to learn more about inserting HTML
HTML Editor
Clicking the HTML icon brings you the HTML editor. This is where you'll need to add HTML embed codes or iframes to your site. To find out more about adding HTML to a page, click here.
Formatting
To change the size/format of a highlighted piece of text, click this icon. You'll see four sections,  Headings, Inline, Blocks, Align, with options to select under each section. 
Bold, Italic, Underline
Highlight the text you want to edit, and then click the appropriate button
Lists
Click the Unordered List icon to begin creating a list using bullet points, and the Ordered List icon to begin creating a numbered list.
Hyperlinking Text
To link text on your page to another URL/page (hyperlinking), highlight the text in the page editor, and click the Hyperlink button. This opens a popup with the link settings.
You can enter the URL/web address for the linked text to go to, change the text that displays instead of the full URL, a Title (what displays when you hover over the link), and whether or not to open the link in a new window.
Upload Image
When you click the Upload Image Icon, you'll see a small pop-up which gives you the option to to upload a file from your computer or enter the URL of an image in the "Source" box.
Once you've uploaded your image, there are a couple of advanced editing options. You can add a description and title to the image, and edit the width and height of the image.
Insert Video
Click this icon to insert a video from Youtube or Vimeo. To find out more about adding videos to your page, click here.
When you are finished editing your new page and adding content, click the blue "Publish" button.  
Need More Help?
For questions, concerns, or feedback, please chat with our team: https://app.placester.com/chat
Let experts do it for you
Visit our creative services marketplace to get on-demand help, on-time and on-budget.
Browse all Services
Are you looking for something different?
Didn't find an answer to your questions? Our support team is ready to help you.