Using Custom Lead Capture [Classic]
Using Custom Lead Capture [Classic]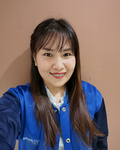 Updated by Katherine Ramirez
This article will show you how to Use the Custom Lead Capture feature.
The Importance of Capturing Leads  
We understand how important it is for agents and brokers to capture the contact information of prospective clients. That's why our sites offer built-in lead capture functionality. There is basic lead capture functionality included in our basic subscription, while custom lead capture options are available for advanced subscriptions. To view your options, select Lead Capture within the Site Settings drop down.
Accessing Lead Capture settings
To access your lead capture settings click on the 3 dots next to the update your site button and click the Edit Site from the drop-down.

This will bring you to your site setting page, then move down to the bottom of the page on the main editing menu. Select Lead Capture under More.

This will bring you to your lead capture options:
Lead Capture Settings allow you to decide how proactive your lead capture form will be. You can choose from the following four options. 
Passively Capture Leads
Visitors who want to request more information can enter their contact details in a widget located in the right margin of each single property page. For example: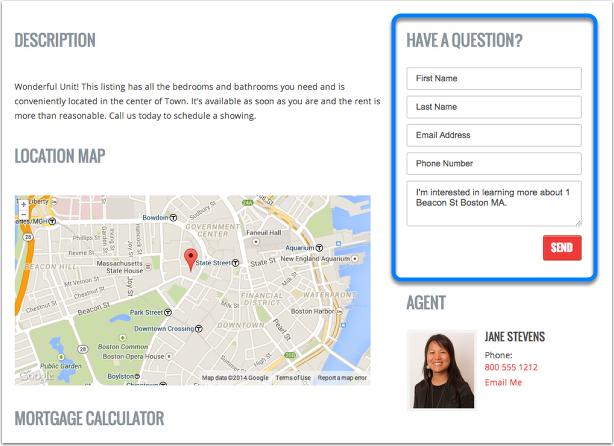 Actively Capture Leads
A lead capture form will appear after a visitor has viewed 5 property pages, blocking them from viewing the listing details on subsequent properties. Visitors must enter their contact information to move forward and view the property. On our Plymouth theme, for example, the form looks like this: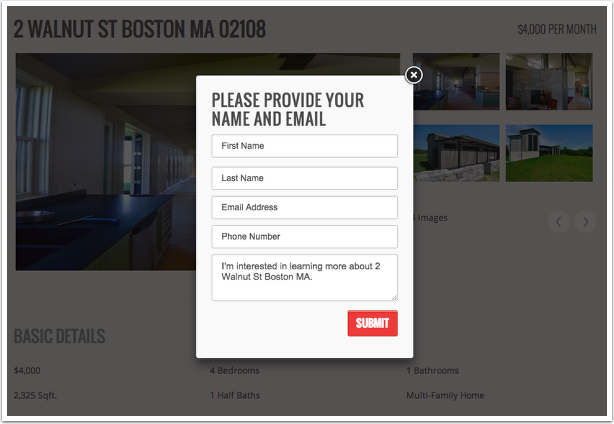 Aggressively Capture Leads
Aggressive lead capture prevents visitors from viewing any property pages until they've submitted a contact form or registered on your site. The form will look similar to the one above.
Custom Lead Capture Settings
You can also define your own lead capture settings. First, click the Custom Capture Leads icon.

This will expand the custom lead capture options. You can choose to display your lead capture forms based on 3 different criteria.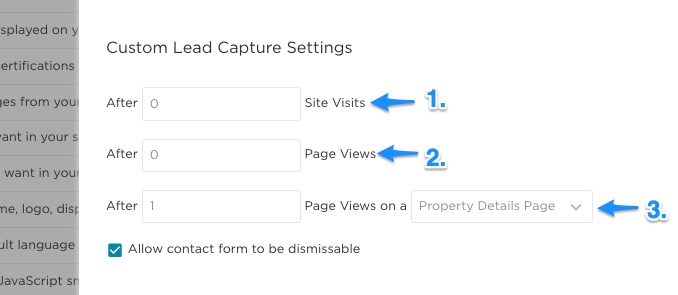 After x Site Visits: This allows you set the number of site visits before a visitor has to fill out a lead capture form.
After x Page Views: Set how many pages (of all kinds - About, Listings Search, Area Pages, etc.) the visitor is allowed to view before filling out the lead capture form.
After x Page Views on a Page Type: Select the number of views of a specific page type before the visitor sees the lead capture form. The options here are: Property Details Page, Property Search Page, Home Page, Blog Post.
Allow contact form to be dismissable: Selecting this option will allow users to close the lead contact form. If they do this, they'll be returned to your site's home page.
Using the Form Builder
With the custom lead capture options, you also have the ability to tailor the lead capture form that pops up to obtain customer information. You will find the Form Builder right below your lead capture settings.  
To start creating a form, enter in a title for your contact page.  This title will serve as an introduction to the form.  It makes sense to use this as a call to action to fill out the form. Below the title is the description. This is a great spot to include some company information or a personal message to your clients. Or, you can tell them exactly what information you're looking for from them.
At the top of the description box there are the same icons that show up on the page content editor. This means beyond adding text, you have the ability to add links, images, or videos to the form.  In the example below, a logo image file has been inserted.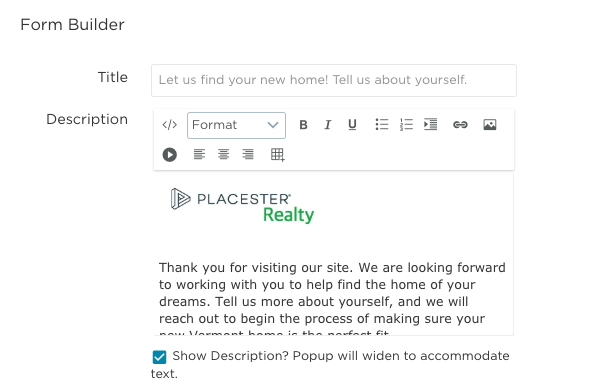 You always have the option to hide the description by unchecking the "Show Description?" box.  The form popup will automatically resize to fit description you have added.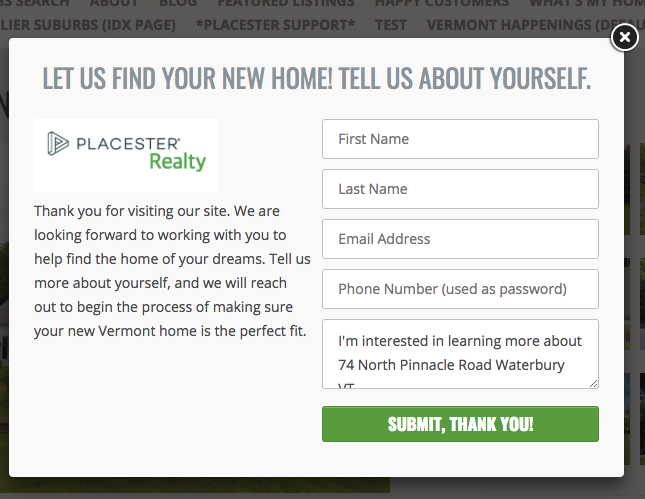 Customizing Fields on Lead Capture Form
Through the form builder on the back end of your site, you can decide which fields you'd like to show within the form, and whether you'd like them to be optional or required fields for the lead to fill out.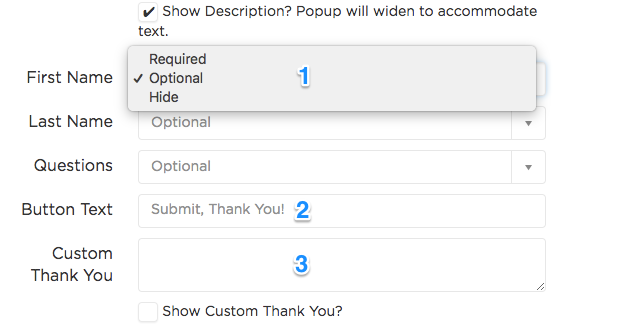 You can make the field required to be filled out, optional, or you can hide the field all together.

Next you can decide what you would like to have the submit button say in the Button Text box. 

You

can simply have the button say submit, or you can customize to whatever message you prefer.  

Lastly you have the option of adding a custom thank you message  that will pop up after your client has completed the form.
Note: Completing the form will automatically create an account on your site for the lead. Email and Phone number will always included and required on the form, as they will serve as username and password for this account that's created for the lead.  
Email Forwarding
The emails you receive from lead capture forms will always go to the email address that's entered in your contact details under Site Settings > Site Info > Contact Details. Within lead capture settings, you can also add other email addresses that you would like to forward these emails to. This is a great way to get your leads into a third party CRM if you're using one. 

The emails should come from no-reply@placester.com. If you are finding that you're not receiving the emails, please make sure you check your spam folder and add this email address to your whitelist. 
Need More Help?
For questions, concerns, or feedback, please chat with our team: https://app.placester.com/chat
Let experts do it for you
Visit our creative services marketplace to get on-demand help, on-time and on-budget.
Browse all Services
Are you looking for something different?
Didn't find an answer to your questions? Our support team is ready to help you.