Creating an Agents Page [Classic]
Creating an Agents Page [Classic]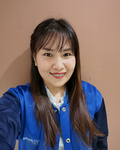 Updated by Katherine Ramirez
The article below will show you how to create a page that features an agent roster.
Adding Agents
From your Dashboard click on the three small dots next to the update your sie button then click "Edit Site" from the drop down.

Agents Tab
This will bring you to the Site Setting page and from here, select the Agents tab.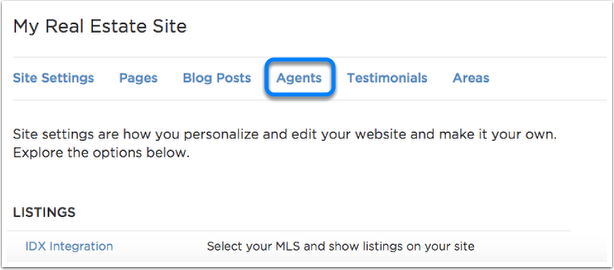 Adding a New Agent
Within the Agents tab, click the + button to add a new agent.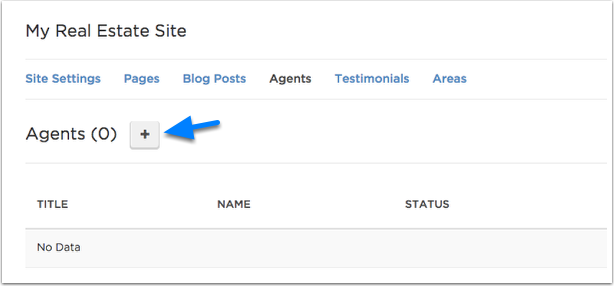 Agent Details
Within the agent details editor, you can add a bio, individual agent contact information, personal social media accounts and a headshot.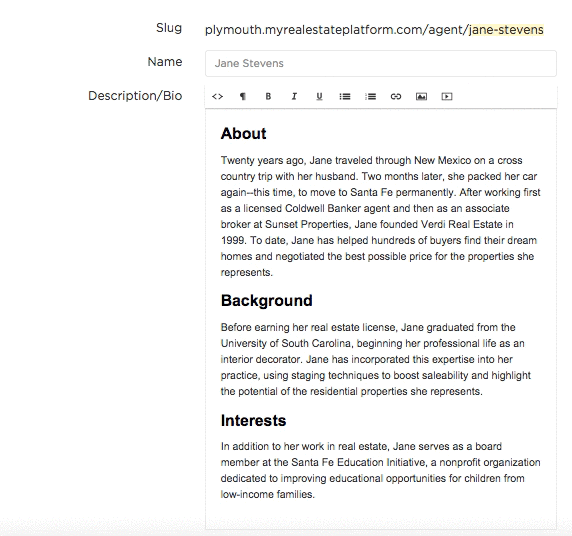 Once you've added all of the applicable information, click Save at the bottom of the page. Follow the same steps to add individual agents for each agent that you'd like to feature on the site.
Creating an Agents Roster Page
Once you've created all of the agents, you'll need to create the actual page that will house all of the agents on a single roster.  From the main Site Settings menu select Pages.

Agents Template
Set the template type to "Agents Index" and give your page a title. A URL for the page will be generated based on the title - this is where you can view the page on the front end of your site.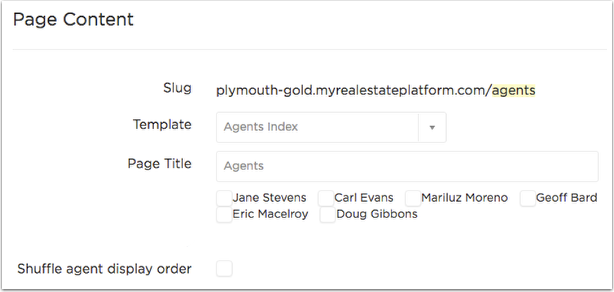 Check off the agents that you want to feature on this page, or leave them all unchecked for all agents to appear on the page. Click Create to complete the page. That's all you need to do as far as creating the page itself. 
Shuffling Agent Order
Underneath the options to select agents is a checkbox to Shuffle agent display order (see above screenshot). When this is checked off, the order of agents on the front end of the site will randomly shuffle every time the page is opened or refreshed.
Front End Example
Once you add agents within the agents tab, they'll automatically be pulled in to the Agents page that you created. 
Here is what an Agents page looks like on our Plymouth theme. You'll see that clicking on an individual agent brings you to their individual agent page.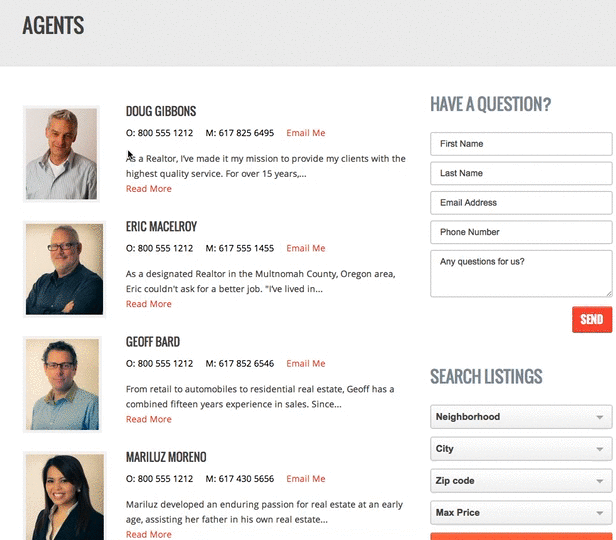 Adding the Agents Page to your Menu
To feature your agents roster in the menu, you can follow these steps: Adding Pages to Your Menu

Need More Help?
If you have additional questions about creating an agents page, let our support team know at support@placester.com.
Let experts do it for you
Visit our creative services marketplace to get on-demand help, on-time and on-budget.
Browse all Services
Are you looking for something different?
Didn't find an answer to your questions? Our support team is ready to help you.