Inviting Agents to your Broker Subscription with Agent Manager
Inviting Agents to your Broker Subscription with Agent Manager
Updated by Emma Dungog
This article will show you how to Invite Agents to be a part of your DIY (Broker) and DIFM (Broker) subscription with Placester.
With the NEW Agent Manager feature for our DIY (Broker) and DIFM (Broker) subscriptions, you would now be able to:
Easily onboard, support and collaborate with your Agents!
Invite Agents to your Broker subscription with Placester.
Manage all your Agents and their information across their Placester account and website as well as the Offices displayed on your main Broker site.
Easily add Agents to your Roster or CRM lead routing.
Create templates for your Brokerage, duplicate them and assign them to an Agent.
Please note: This feature is only available through our ​DIY (Broker) and DIFM (Broker) subscription. If you would like to learn more about this subscription, please check out our packages and pricing page.
Check out our video to learn more about the features of the NEW Agent Manager.
Your Broker Account vs. Agent Account
Your Broker Account includes (1) one free website that is most often used for an Office or a Team site. Using this Account, you can invite your Agents to create an Account and a Website with Placester that is separate from your main Broker website.
With Active Agent Pricing, DIY (Broker) and DIFM (Broker)would only pay for the Agents that have an Active website. Brokers will be charged
$5 per Active Agent
. Please visit [
Landing Page
] to learn more.
Inviting your Agents
Under the Agent Manager tab, please click Invitations.
There are (3) three ways for you to Invite your Agents:
Invite Button
On the Invitations screen, click Invite at the top right corner.

Enter the email address(es) of the Agent(s) you wish to invite.

Enter the First Name and Last Name of the Agent(s) you wish to add.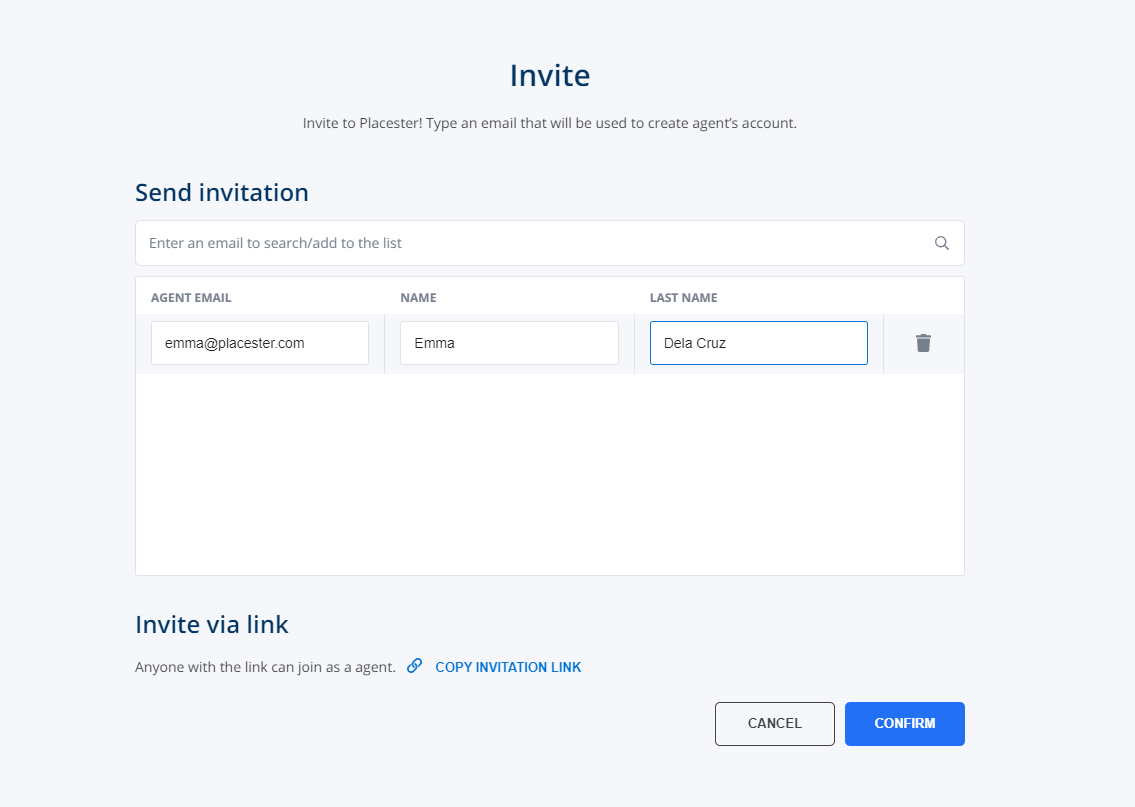 Invitation Link
On the Invitations screen, click 'Copy Invitation Link' at the top right, right beside the Invite button.

Once you click 'Copy Invitation Link' button, the link would be automatically copied on your device's clipboard.
You can then send link this directly to the Agent and they can Accept the invite using that link.
Bulk Invite through .CSV Upload
If you're looking to import a list of Agents via .CSV file, go to the Agents tab on Agent Manager and click the three dots on the upper right hand corner.

Select 'Import members from .CSV' and upload your .CSV file.
Make sure you download the .CSV sample to follow the required format for a successful import!
Once the import is complete, you will see them on the list of Agents under the Agents tab.
Then go to the Invitations tab (Agent Manager > Invitations), to select the Agents you wish to send Invitations to.

You can send Invites in Bulk as well! Just tick the check box next to the Agent's names and click Bulk Edit and select Send Invitations.

Once you've sent the Invite, your Agents should receive an email on the email you have entered and they would be able to follow along with the easy sign up process!
Need More Help?
For questions, concerns or feedback, please chat with our team:https://app.placester.com/chat
Let experts do it for you
Visit our creative services marketplace to get on-demand help, on-time and on-budget.
Browse all Services
Are you looking for something different?
Didn't find an answer to your questions? Our support team is ready to help you.