Customizer: Creating a New Page [Codeless]
Customizer: Creating a New Page [Codeless]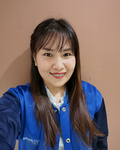 Updated by Katherine Ramirez
This article will walk you through creating a new page.
Unlimited Page Creation 
Placester allows you to create as many pages as you'd like on your website. There is no page limit. 
Creating a New Page
To create a new page, log into your Placester account to access the back end of your website. On your Dashboard, click "Edit Site." 

On the bottom left side of your screen, click "Create New" and select "Page."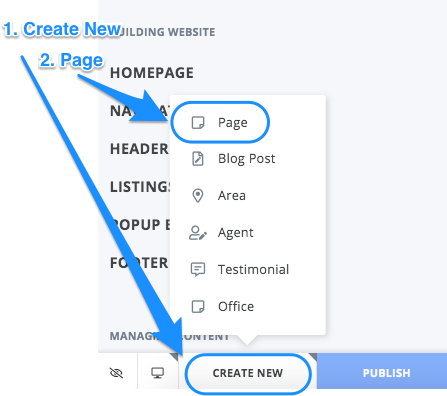 Edit Page
From here, you can select your Page Template and add content to your new page. Our websites come with several page templates that are ready to go out of the box. This includes:
Default Page
About
Agents Index
Areas Index
Blog Post Index
Contact
Featured Listings
Offices Index
Testimonials Index
Home Valuation
Custom Landing Page
Under Page Options, you can add a Page Title, view your slug, and add a Featured Image. 
Note: The slug is there to show you what the address of the specific page will be. It will change automatically based on the page title.
Modules & Widgets
Next,  you can select which Modules & Widgets you would like to display on your new page.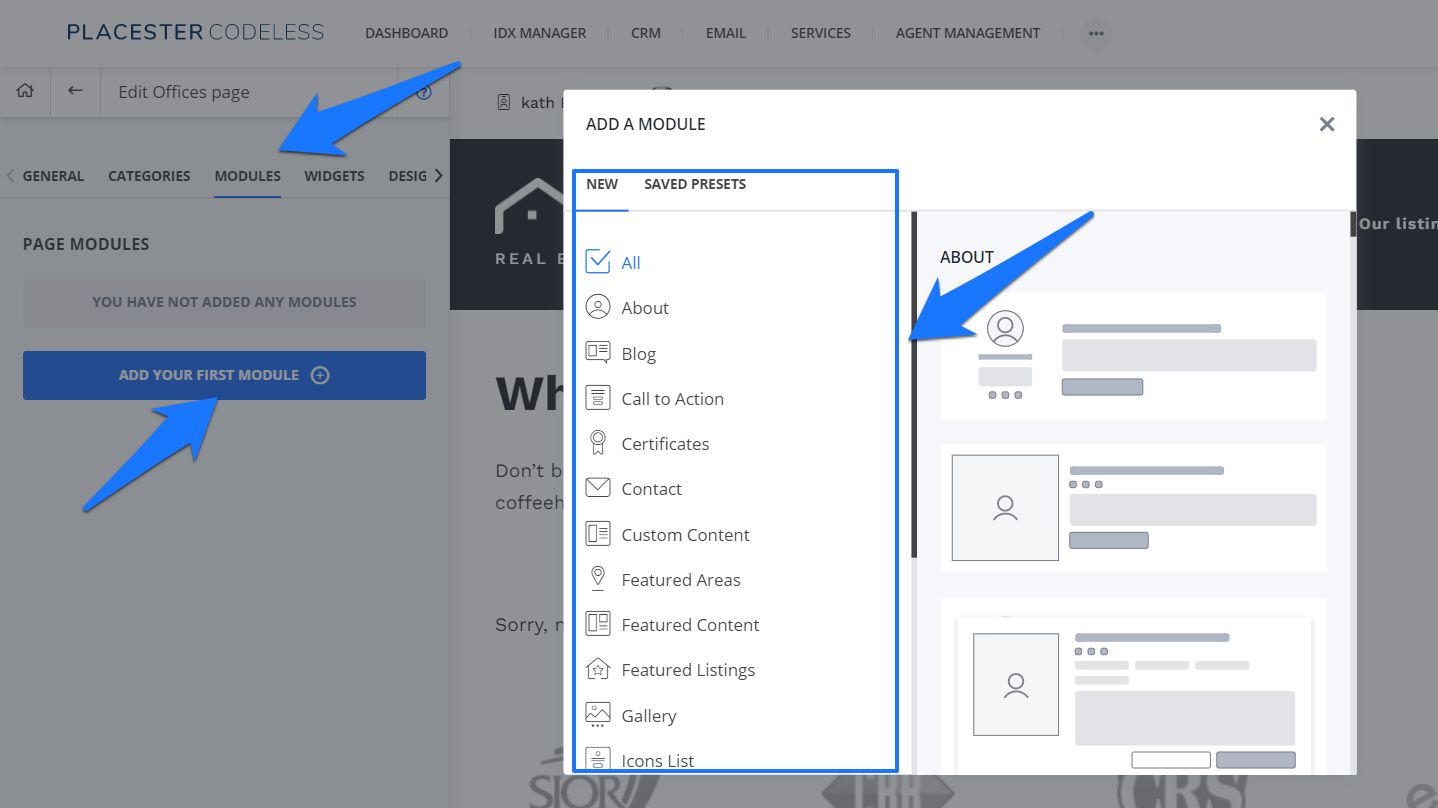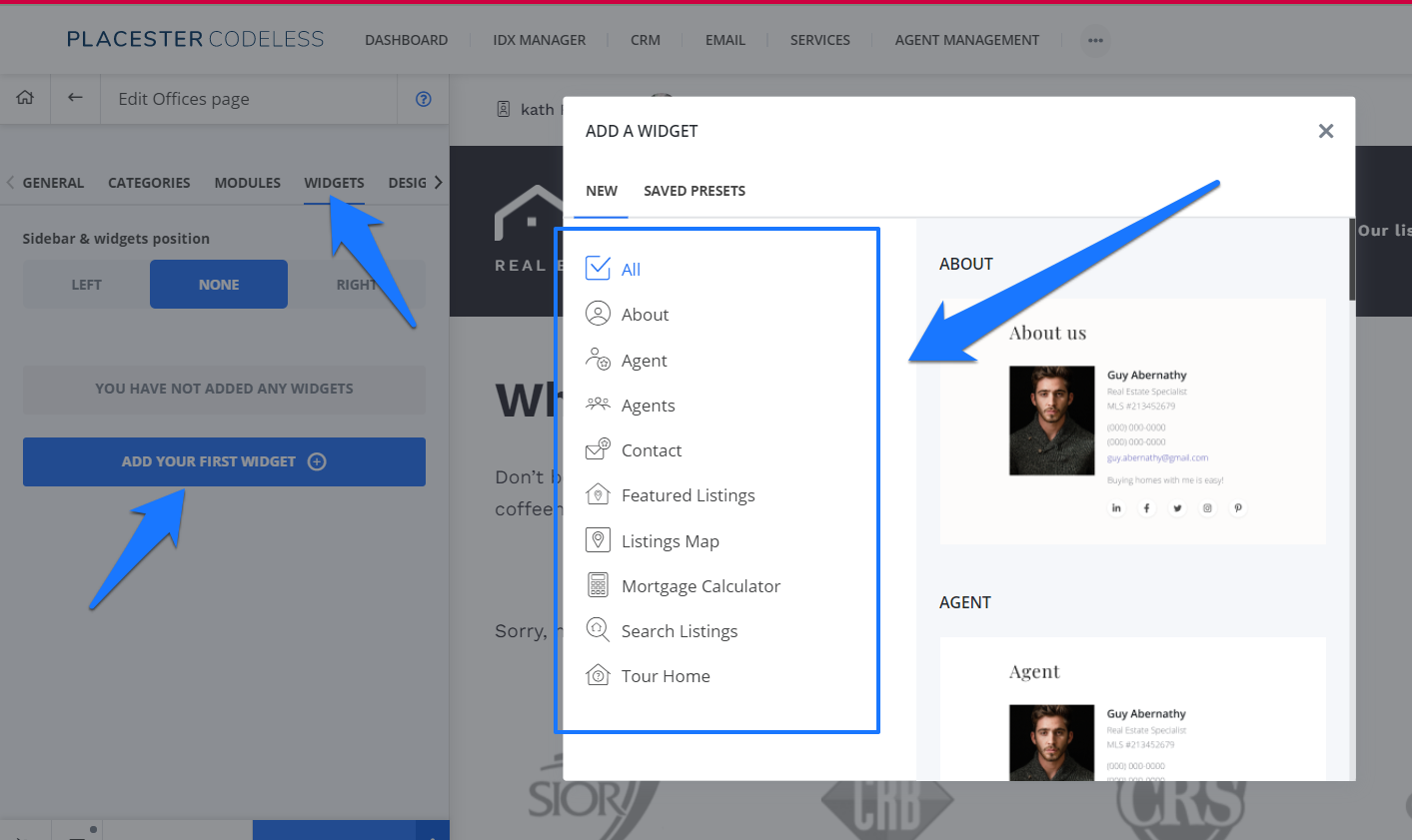 Modules: Modules are individual sections of your page that can be added, edited, removed and re-ordered to create the perfect experience for your site's visitors.
How to: Choose item from the drop list. Click the 'add' button'. Hover over an item to view edit and remove options. Drag and drop to re-order. 
Widgets: Widgets are small self-contained areas that perform specific functions in your page's sidebar. Add them to feature specific content.
Content Editor
The formatting toolbar allows you to make some formatting adjustments within the page content. Here is a key that shows you what each button within the toolbar does.

1. Formatting: format text as Normal, Header or Quote
2. Bold
3. Italic
4. Underline
5. Strikethrough
6. Remove Font Style
7. Alignment and Indentation
8. Line Height
9. Unordered List: make a bulleted list on the page
10. Ordered List: make a numbered list on the page
11. Color options
12. Link: add hyperlinked text to your site
13. Image: upload an image on the page.
14. Video: embed a video within the page.
15. Adding a Table
16. HTML
When you are finished editing your new page and adding content, click the blue "Publish" button.  
Need More Help?
For questions, concerns or feedback, please chat with our team:https://app.placester.com/chat
Let experts do it for you
Visit our creative services marketplace to get on-demand help, on-time and on-budget.
Browse all Services
Are you looking for something different?
Didn't find an answer to your questions? Our support team is ready to help you.