Creating a Custom Signature [Classic]
Creating a Custom Signature [Classic]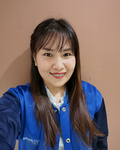 Updated by Katherine Ramirez
This article will show you how to customize your email signature for your Autoresponders, Email Blasts and Drip Campaigns.
Why create a signature?
Customizing your signature is a great way to add branding and a professional look to your communications with potential clients. With a customized email signature, you can easily provide your contact information as well as links to your social media accounts to your leads. Once you've created a custom signature, it will be automatically added to any email template that includes the dynamic field for signature. These are quick links that allow you to customize your emails to leads.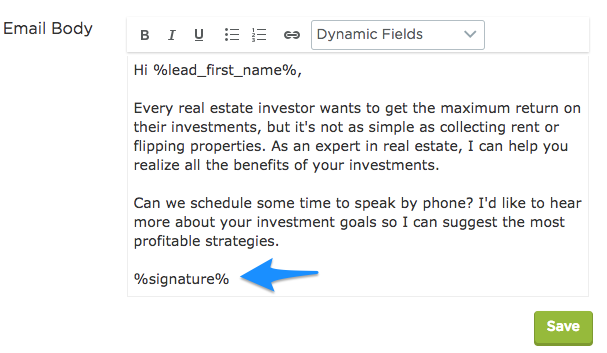 All pre-built templates include this dynamic field by default, and you can also add the dynamic field to any new templates you create. 
Accessing your Custom Email Signature editor
From your Dashboard, click on the Email tab.

Once you're in the Email section, click on the "Signature" tab to access the Email Signature editor.

Custom Email Signature toolbar
The toolbar allows you to add and modify your signature content.

HTML editor

- This tool will allow you to add HTML. This can be especially helpful if you're looking to embed a widget within your email signature. You can learn more about adding HTML

here

.



Text size

- Choose the size of the text you are entering.



Font

-  Choose from 7 available fonts.



Text Formatting

-  Modify your text by bolding, italicizing or underlining it.

Text Color - Choose the color of your text.
Hyperlink - This tool will allow you to add links to any words or images in your signature. You can learn more about hyperlinking text and images here.
Image Uploader - With the image uploader, you can add images to your email signature, your logo or headshot. Images should not be any larger than 600 pixels wide. For tips on how to crop and resize images, click here.
Your Base Signature
By default, the email signature will include "Best," as well as your first and last name. This information is pulled directly from the "My Profile" section of your account. Keep in mind that this can be easily edited to your liking.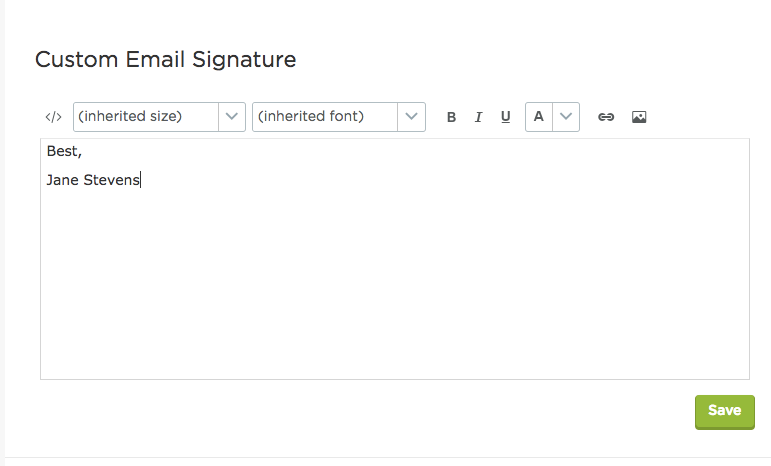 Building your Signature
With the Email Signature editor, you have the ability to customize your signature with text, images, links and HTML. As a Pro Tip, we recommend including the following core information:
Logo

Name

Phone Number

Email

Social Media links
Next, we're going to walk you through how you can add these recommended pieces of information to your signature. Keep in mind that you don't necessarily have to have these things included in your signature, and that you can customize it to how you would like!   
Adding a logo
Many agents like to include their logo with their email signature. With our Signature Editor, you're able to upload your logo directly to your signature. To ensure the best image quality and compatibility with all email programs, Placester recommends that your logo doesn't exceed 600 pixels wide. For tips on how to crop and resize images, click here.  
To start, place the cursor where you would like the logo to appear in the Signature content section. Next, click on the Insert Image icon in the formatting bar to upload your logo file. This same process can be used if you would like to add any additional images, such as your agent headshot.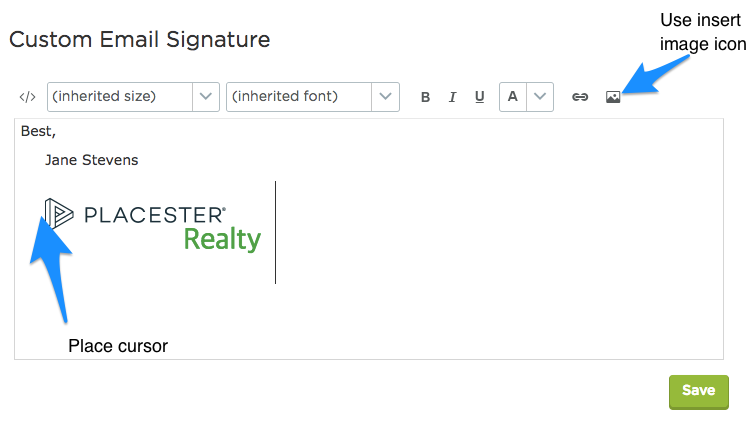 Adding contact information
You can add your contact information to your signature by simply placing the cursor where you would like your contact information to be in the Signature content section and starting to type. In our example below, we added the contact information underneath our logo, which included a phone number, email and website address.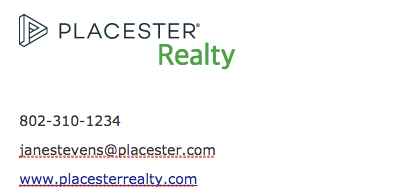 You will notice that if you add in a web address, it will automatically be hyperlinked. This means that it will become a clickable link in your email.

Adding social media links
Many agents like to include links to their social media sites to their signatures. In our example,  we have decided to use hyperlinked text for Facebook. Another way you can do this is by adding in a hyperlinked social media icon image as well.  
First, enter the text or image that you're looking to hyperlink.

Here is the same signature, only this time, we added a Facebook icon instead. You can find an icon like this in a Google image search.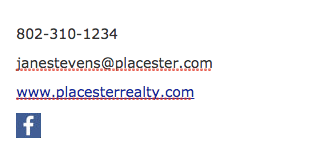 Next, we will link the text or image to our Facebook page. To do this, you will need the web address for your Facebook (or the social media site that you're looking to link to). You can view your web address by going to your personal or business profile pages and look at the URL. From there,  copy the full web address.
Once you have the web address handy, select the text or image you would like to hyperlink, then select the hyperlink icon.  In the pop-up window, paste the web address and click "Save".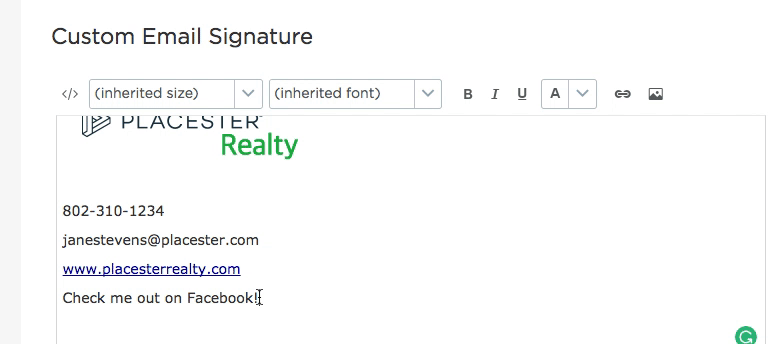 Changing text color
To match the green of our logo, we are changing the Jane Stevens text to green.  Select the text you would like to change the color of, then choose the color by selecting the Text Color button.

 Changing Fonts
We will change the font to better match the font on our logo.  Select the text you would like to adjust and click on the font button to select the font you would like to use.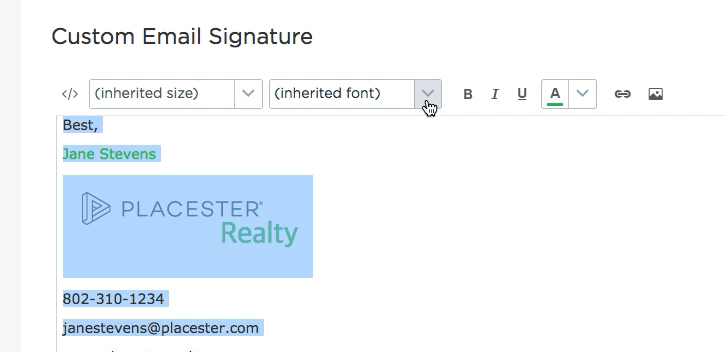 Once your adjustments are complete, click Save. Remember, you can make changes to your signature at any time. This signature will now appear at the bottom of all emails sent through Drip Campaigns, Autoresponders, and Email Blasts that use the appropriate dynamic field.
Need More Help?
For questions, concerns or feedback, please chat with our team:https://app.placester.com/chat
Let experts do it for you
Visit our creative services marketplace to get on-demand help, on-time and on-budget.
Browse all Services
Are you looking for something different?
Didn't find an answer to your questions? Our support team is ready to help you.