This article will explain how the Map Search feature works on Placester sites.
Please note that this feature is only available on our Agent and Broker Pro subscriptions. If you're currently not subscribed to one of these packages but are interested in learning more, please visit
our packages and pricing page
.
What is Map Search?
In addition to the current listings search page format that displays a list of search results by default, end-users have the ability to view their listings on an area map. This map search allows for end-users to draw an area on the map to search for listings in or to zoom in on a certain area to display listings. 
Activating Map Search
In order to have the Map Search feature display on your site, you must first activate the Natural Language Search feature. You can follow instructions on how to activate NLS here.
Using Map Search
Once you've activated NLS, the map search feature will already be available for end-users. There are two ways for an end-user to view the map search on your site. When creating or editing a listing page or an area page (advanced area pages only), you have the option of defaulting to Map Search.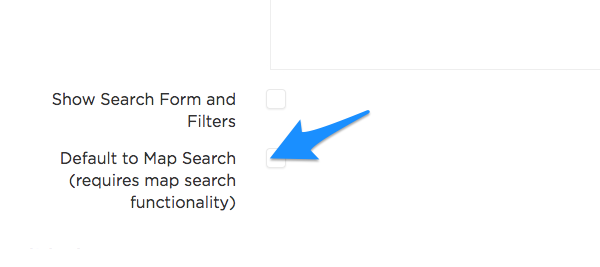 If you haven't chosen to default to map search for your listings page, then, when on a listings search page, end-users will now have the option of choosing Map search as seen below.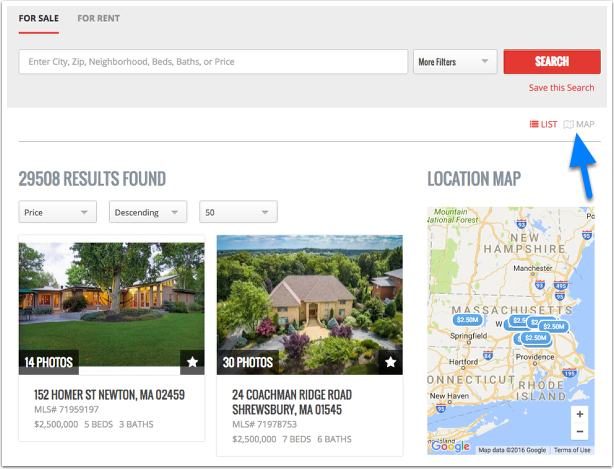 Once users choose the map option, the listing search page will change to a Map Search as seen below.

Here, end-users will be able to see the listing information while also being able to zoom into the map if they want to look for listings in a specific area, and click and drag around to view other results on the map.  They can also use the Polygon Search option to draw a custom shape on the map to search for listings in that shape. When you zoom into a certain point on the map, the pins that display where the listings are will display the listing price.
Polygon Search
Polygon search is a search option exclusive to map search that allows a user to find properties in a custom area on the map by drawing a polygon shape.
Polygon Search is activated by clicking on the Draw Search Area button in the upper righthand corner of the screen.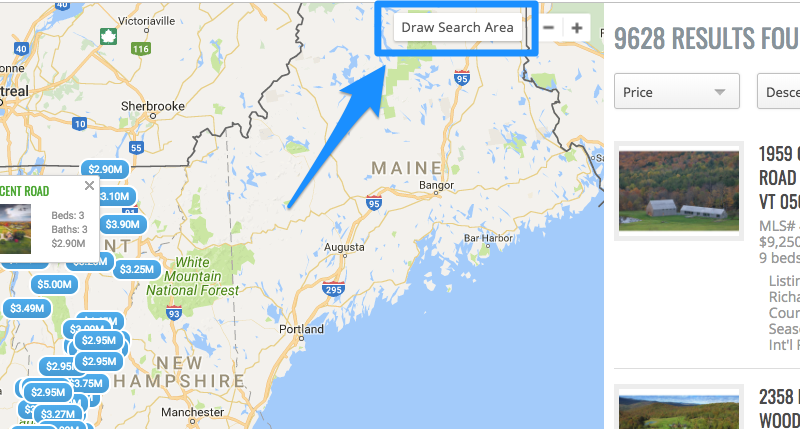 Once this button has been clicked your cursor will change to a cross (+).  Move the cursor to where you would like to begin the line and click once to begin the first line. 
Then click again to end the first line and continue until you have created the shape desired.  Once you connect the last line to the first the shape you have created will shade in and all properties in the selected area will show.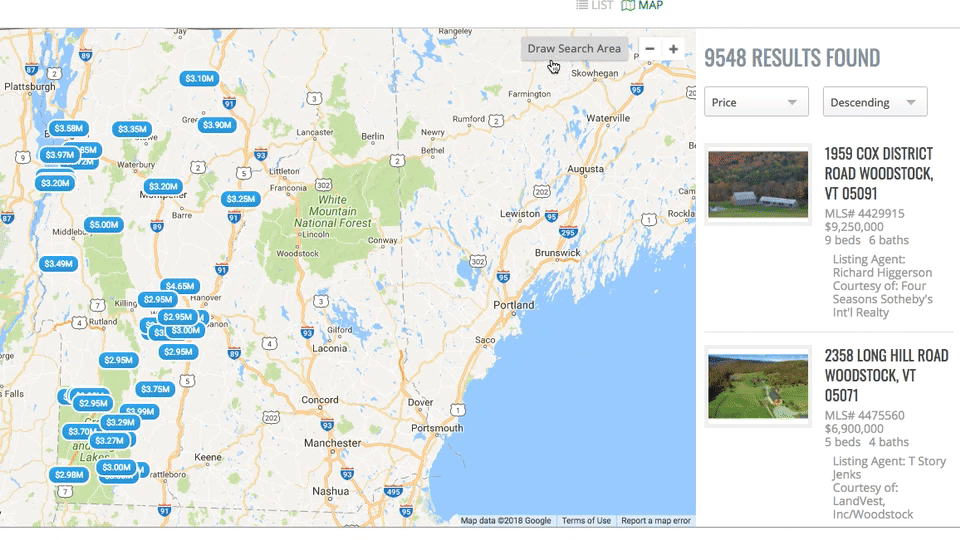 If you would like to adjust the area after the polygon has been drawn, you can click on one of the corners and drag it to a different area.  An arrow will appear next to the corner you clicked.  By clicking on the arrow, the area will revert back to the most recent polygon shape.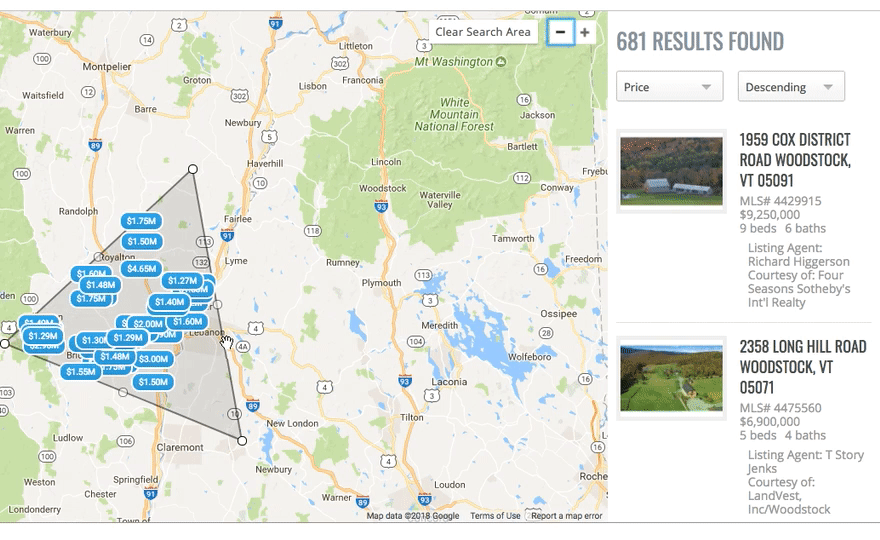 Once the area has been drawn, you can clear the search by clicking on the Clear Search Area button in the upper righthand corner.   
Need more help?
For questions, concerns, or feedback, please chat with our team: https://app.placester.com/chat
Let experts do it for you
Visit our creative services marketplace to get on-demand help, on-time and on-budget.
Browse all Services
Are you looking for something different?
Didn't find an answer to your questions? Our support team is ready to help you.