How to optimize SEO on your Placester Site
How to optimize SEO on your Placester Site
This Article will explain steps you can take to maximize the SEO (Search Engine Optimization) of your Placester site.   Our platform offers multiple tools that will improve your site's SEO ranking and by proxy its performance on the web.
The Basics
Domain Mapping
Placester would suggest you map a custom domain to your site once it is launched.  Not only does this help users find your site quickly and easily, but having a relevant domain will help you appear higher in the rankings on Google searches.  This is why the domain name you choose is extremely important and should be either aligned with your personal brand or the market you serve. As an example,  if you are a Realtor in Boston that focuses on condos, you may want to choose a domain like "www.condosinboston.com" as it's likely that the clients you are trying to attract will search Google using keywords such as "condos" and "Boston".   Learn more about setting up a custom domain here.
Verifying and Submitting your SiteMap
Once you've mapped your domain to your site, it's important to verify your site through Google Webmaster Tools.  This verifies ownership of your site to the search engine and helps your site perform better in a Google/ Bing search. Learn more about creating a Google Webmaster Account here.  Read our article on site verification here.
Once you've verified your site you'll be able to submit your sitemap to your Google Webmaster tools.  This allows Google Bots to crawl and index your site for keywords, which in turn allows your site to be found more easily.  
What is Website Indexing?
Website Indexing is when Search Engines Bots crawl your Website for Keywords.  Placester allows Bots from the 3 major search engines (Google, Bing and Yahoo) to crawl our sites.  This allows prompt indexing for search, but prevents other bots that may slow down or damage your site. Learn more about submitting your sitemap here.
Advanced SEO Tactics
Value of Unique Content
Adding unique content such as blog posts and area pages, to your site,  allows your site to stand out and perform better than competing websites. Placester recommends you add new content at least once a month  To learn more about adding content read our articles on creating a blog post, and area pages.   
Keywords
Keywords are specific words within the content on your website that search engines use to determine what the content on a page is about.  Ultimately every piece of content you add to your website improves your website indexing as search engines are re-crawling your site on a consistent basis to look for new keywords you've added.  
An example of keywords within content is as follows: Boston Home Buying Guide for Dog Owners.  The keywords in this sentence are Boston,  Home Buying, and Dog Owners.  
Boston

- This would be considered a keyword by search engines because it's a location

Home Buying

- This would be a keyword as it's further segmenting users that are looking for a home

Dog Owners

- This phrase further segments users as it's targeting dog owners
Search Engines will take keywords like this and index them higher for when users are performing searches with matching terms.  The more natural use of these keywords within your content the better the information will index in searches.
It's best practice to structure your content with keywords in your page Header and subheaders as this information will be considered more important by search engines. You can create headers using the page editor tools.  To learn more read our creating a page article.
This is not to say that keywords within the content are not also important.   The consistent use of the keyword throughout the content demonstrates relevance to the search results.
Pro Tip - Keep keywords unique and specific to your website and area of expertise. Larger sites, such as Zillow and Trulia, will typically dominate generic keywords.  For example, the phrase: homes in Boston.
Driving Traffic to your Content
It's important to drive traffic to your content through Social Media by sharing your content on a platform like Facebook.   Search engines will recognize traffic being driven to specific web pages and legitimize it as a "Legitimate" Content. This means that anecdotally search engines will say that the Content with these specific Keywords are driving a lot of traffic, so that content must be legitimate,  This will, in turn, push your site higher up the rankings.  Learn more about sharing to social media here 
Value of Backlinking
Backlinking is the practice of linking to internal or external resources within the proprietary content.  Linking to both internal and external resources establishes relevance between the pages, which boosts the value of your content.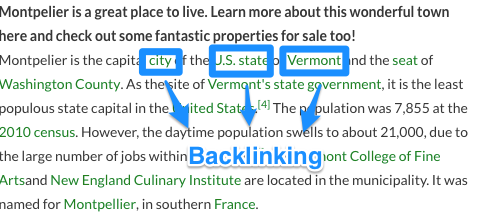 There are currently two types of backlinking: external, linking to an outside site and internal, linking to another page on your site.  Aside from the SEO gains attributed to backlinking, backlinking can be useful to readers.
-External backlinking  
As an example: an article about current mortgage rates in your market could include a link to a mortgage company's website. The external resource adds value to your reader's experience by providing them with additional reading and information.
-Internal backlinking   
As an example: A blog post about the hottest local neighborhoods could include internal links to specific Area pages that feature available listings in each area. This keeps readers on your site and establishes relevance between your area pages and your blog.  This is also an excellent practice for providing readers with additional information while keeping them on your site (bonus: longer site visits can also boost one's SEO rank!). 
Placester Provided Index Pages
Your Placester site comes with a various amount of index pages that help not only help organize your site structure, but also these index pages can be used as a way to backlink pages on your sites internally.  
The page types that you can create index pages from are listed below
Agents (broker sites only)
Need more help?
For questions, concerns or feedback, please chat with our team:https://app.placester.com/chat
Let experts do it for you
Visit our creative services marketplace to get on-demand help, on-time and on-budget.
Browse all Services
Are you looking for something different?
Didn't find an answer to your questions? Our support team is ready to help you.