Using Basic Lead Capture [Classic]
Using Basic Lead Capture [Classic]
This article will show you how to change your lead capture settings.
The Importance of Capturing Leads  
We understand how important it is for agents and brokers to capture the contact information of prospective clients. That's why our base site offerings include basic built-in lead capture functionality. There are more advanced lead capture options built into our essential and premium subscriptions, which you can learn about here.
To view your options, select Lead Capture within the Site Settings drop down.
Site Settings > Lead Capture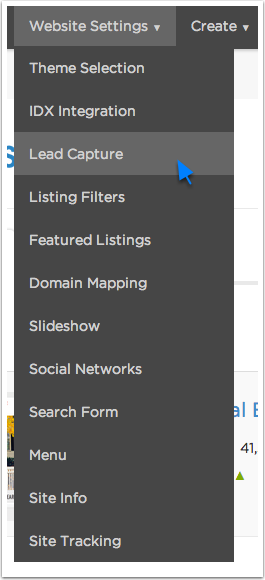 This will bring you to your lead capture options: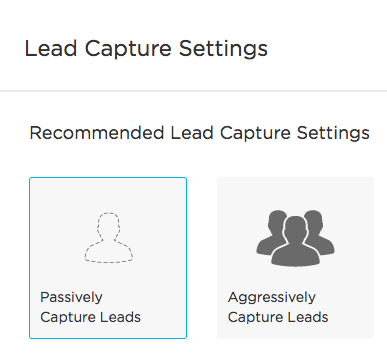 Lead Capture Settings allow you to decide how proactive your lead capture form will be. You can choose from two options:
Passively Capture Leads
Visitors who want to request more information can enter their contact details in a widget located in the right margin of each single property page. For example: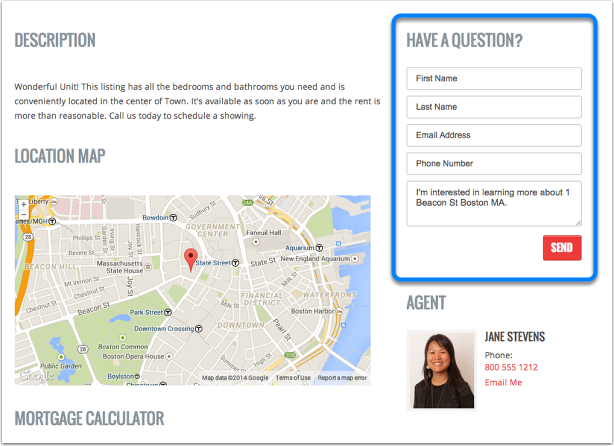 Aggressively Capture Leads
A lead capture form will appear when a visitor clicks on a property page, blocking them from viewing the listing details. Visitors must enter their contact information to move forward and view the property. On our Plymouth theme, for example, the form looks like this: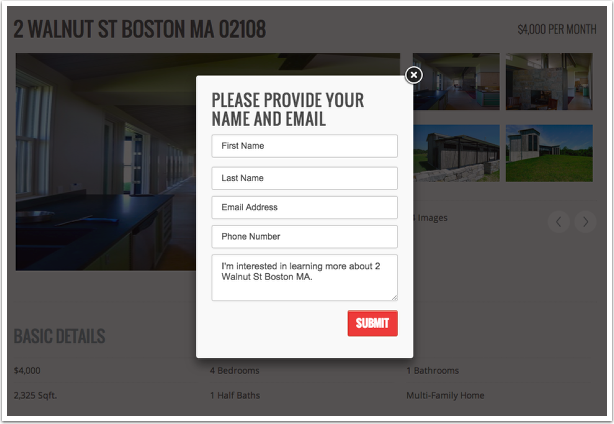 Once you've selected the version of lead capture you'd like to go with, click Save.
Email Forwarding
The emails you receive from lead capture forms will always go to the email address that's entered in your contact details under Site Settings > Site Info > Contact Details. Within lead capture settings, you can also add other email addresses that you would like to forward these emails to. This is a great way to get your leads into a third party CRM if you're using one. 
The emails should come from no-reply@placester.com. If you are finding that you're not receiving the emails, please make sure you check your spam folder and add this email address to your whitelist. 

Need More Help?
If you have additional questions about adjusting your lead capture settings, let our support team know at support@placester.com.
Let experts do it for you
Visit our creative services marketplace to get on-demand help, on-time and on-budget.
Browse all Services
Are you looking for something different?
Didn't find an answer to your questions? Our support team is ready to help you.