Which Lead Capture Setting is Best For You? [Classic]
Which Lead Capture Setting is Best For You? [Classic]
This article will help you decide which Lead Capture setting is best suited to your needs.
The Importance of Capturing Leads  
We understand how important it is for agents and brokers to capture the contact information of prospective clients. That's why our sites offer built-in lead capture functionality. You have two options to choose from: Passively or Actively Capture Leads.
Passively Capture Leads
This setting allows visitors to browse your site freely, only entering their contact information if they want more details from you. When a visitor is looking at a property page, they'll see a contact form on the right side of the page next to the property description.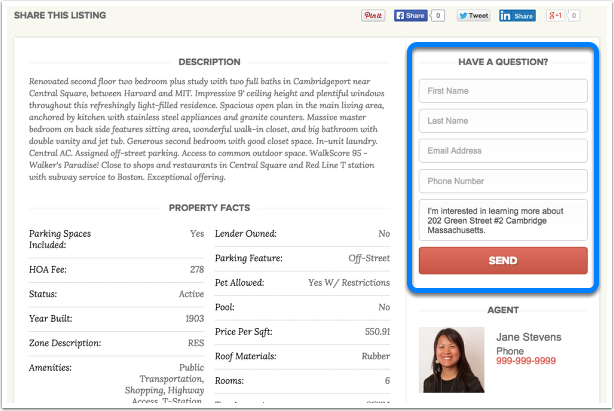 The form will be pre-populated with text that says "I'm interested in learning more about [property address]", so you know which property the user is interested in when they contact you.
Passive lead capture is a less intrusive way of gathering potential client information, but there's no guarantee that the site visitor will submit information.
Actively Capture Leads
By selecting to actively capture leads, you'll be forcing visitors to enter their contact information before they are able to view a property details page.
When a visitor clicks on a property to view more details, a pop-up window will appear prompting them to enter their information. If the visitor chooses not to do so, and clicks the X button to close the window, they'll be taken back to the search results page.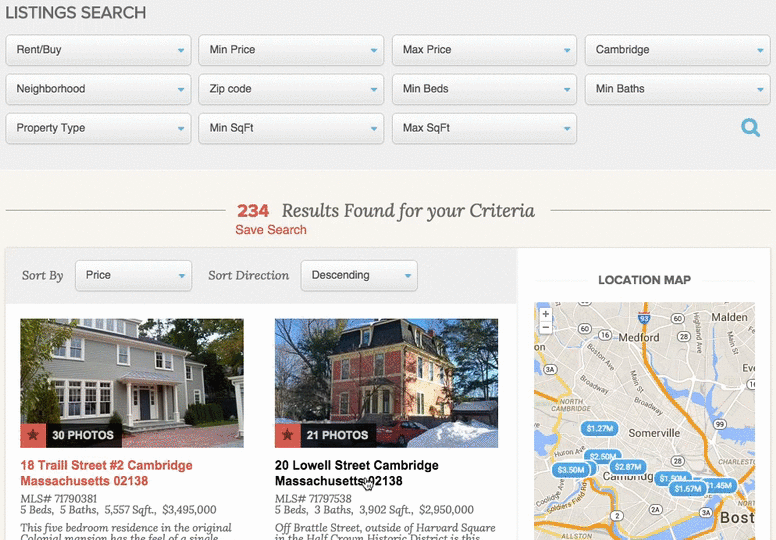 Selecting active lead capture is a great way to get contact information for serious buyers, but it does prevent casual users from finding out more about a property.
Active lead capture is also a great option if you're investing in any inbound marketing efforts. If you add your conversion labels and IDs for Google AdWords (here's how to do that) to your site, this setting can be used to help track your lead conversion.

Need more help?
If you have additional questions about capturing leads, let our support team know at support@placester.com.
Let experts do it for you
Visit our creative services marketplace to get on-demand help, on-time and on-budget.
Browse all Services
Are you looking for something different?
Didn't find an answer to your questions? Our support team is ready to help you.