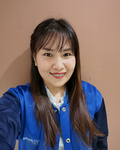 Updated by Katherine Ramirez
Placester is committed to providing accessible websites. We are always working to update and improve our products. This article will walk you through how to create an Accessibility Policy page on your Placester website and add it as a hyperlink in the footer of your website.
We take care of many of the backend accessibility features your site needs however, the part of your site that we can not make accessible is your content. It is up to you to ensure that your custom content aligns with standards like WCAG 2.0 (https://www.w3.org/TR/WCAG20/) by doing things like adding alt text to your images and using legible fonts.
 While Placester cannot guarantee or ensure that the use of our services is compliant with ADA, we recommend adding our Accessibility Policy to your website to give any of your visitors with an accessibility concern a path to have the concern addressed.
The following is a link to an example Accessibility page: https://placestercompliance.myrealestateplatform.com/accessibility/
Create a new page
To create a new page, log into your Placester account to access the back end of your website. From your dashboard, click the edit site button.

It will bring you to your customizer. You can create a page from the bottom left by clicking "create new" and then select "page".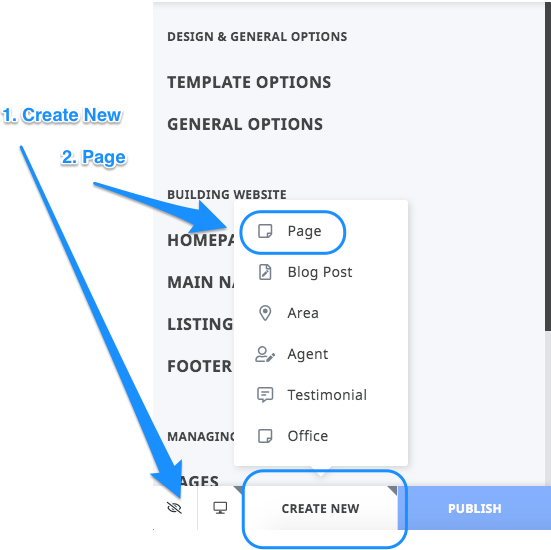 Add page content
Select "Default Page Template" and add a page title.  A URL for the page (also known as the "slug") will be generated based on the title - this is where you can view the page on the front end of your site. Then add the following text to the page content section: 
Our Commitment
We are committed to providing an accessible website. If you have difficulty accessing content, have trouble viewing a file on the site, or notice any accessibility problems, please contact us to specify the nature of the accessibility issue and the assistive technology you use. We will strive to provide the content you need in the format you require. We welcome your suggestions and comments about improving ongoing efforts to increase the accessibility of this website.
Web Accessibility Help
There are actions you can take to adjust your web browser to make your web experience more accessible.
I am blind or can't see very well
If you have trouble seeing web pages, the US Social Security Administration offers these tips for optimizing your computer and browser to improve your online experience.
Use your computer to read web pages out loud
Use the keyboard to navigate screens
Increase text size
Magnify your screen
Change background and text colors
Make your mouse pointer more visible (Windows only)
I find a keyboard or mouse hard to use
If you find a keyboard or mouse difficult to use, speech recognition software such as Dragon® NaturallySpeaking may help you navigate web pages and online services. This software allows the user to move focus around a web page or application screen through voice controls.
I am deaf or hard of hearing
If you are deaf or hard of hearing, there are several accessibility features available to you.
Transcripts: A text transcript is a text equivalent of audio information that includes spoken words and non-spoken sounds such as sound effects.
Captioning: A caption is a transcript for the audio track of a video presentation that is synchronized with the video and audio tracks. Captions are generally rendered visually by being superimposed over the video, which benefits people who are deaf and hard-of-hearing, and anyone who cannot hear the audio (e.g., when in a crowded room). Learn how to turn captioning on and off on YouTube.
Volume controls: Your computer, tablet, or mobile device has volume control features. Each video and audio service has additional volume controls. Try adjusting both your device's volume controls and your media players' volume controls to optimize your listening experience.
For additional assistance
Email compliance@placester.com if you experience difficulty in accessing any part of this website, and we will work with you to provide the information, item, or transaction you seek through an alternate communication method that is accessible for you consistent with applicable law.
Note: When copying and pasting the text, we recommend you "paste without formatting." You can do this by using the keyboard short-cut [Command+shift+v] for a mac or [Control+shift+v] for a PC. You can then use the formatting tools on the page like bold, italicized, add a hyperlink, etc to adjust the content.
Add Accessibility page to footer
 Click the FOOTER tab.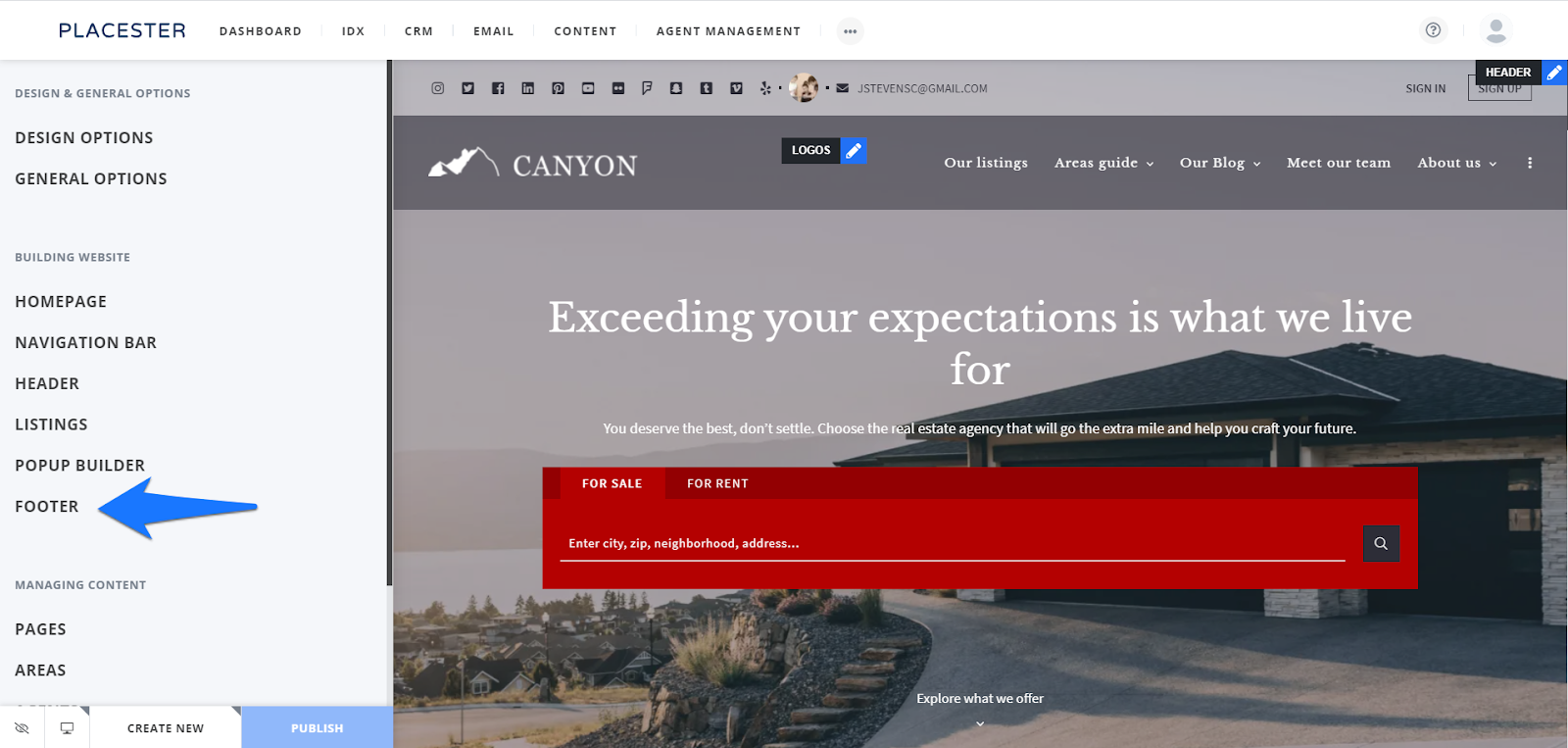 In the footer slideout, you will see COMPLIANCE. Click on this tab.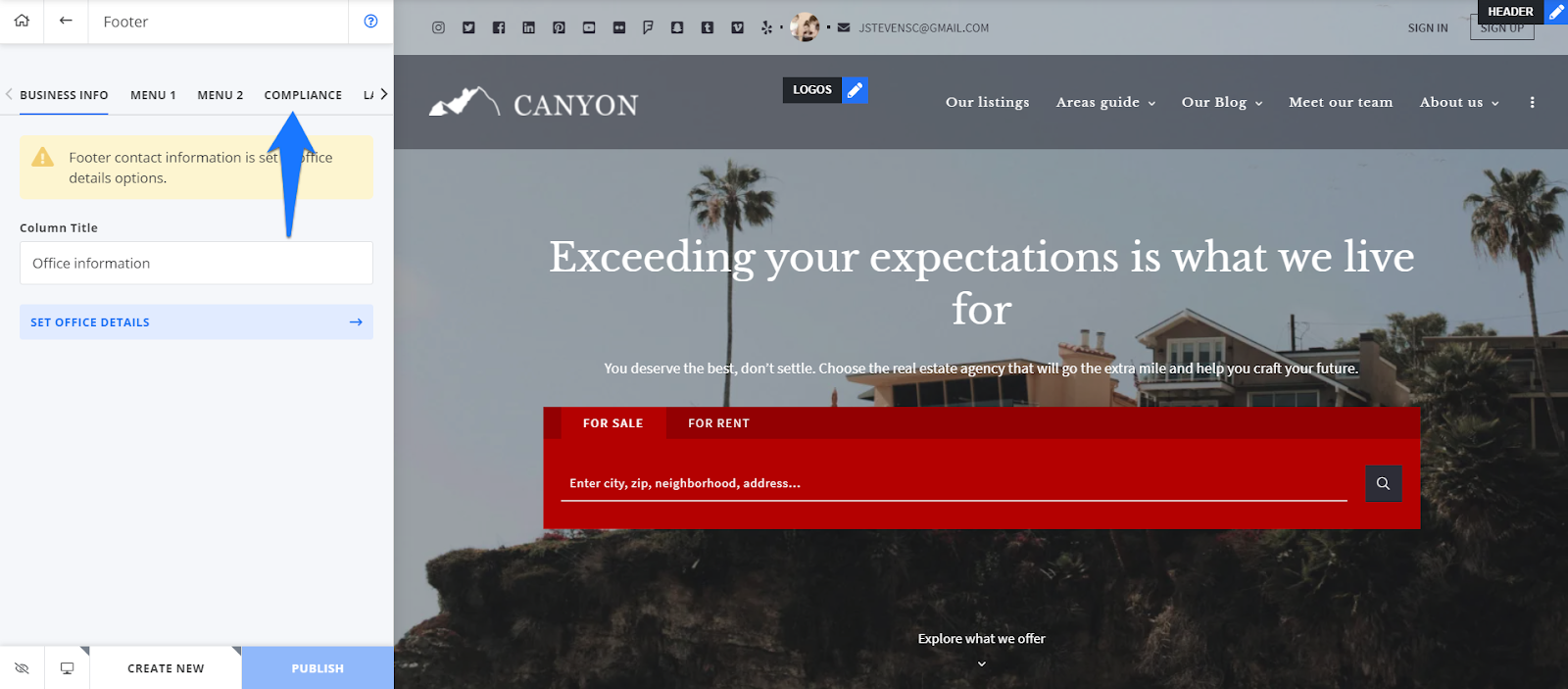 This will bring you to the compliance slideout. Here you will click on the drop-down menu at the bottom of the compliance slideout shown below. From the drop-down menu click on the Accessibility or the title of the Accessibility page you created.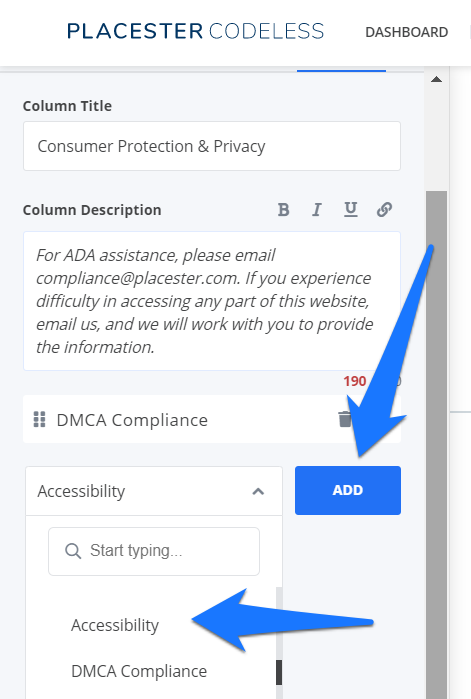 Once it's added, Click the save button.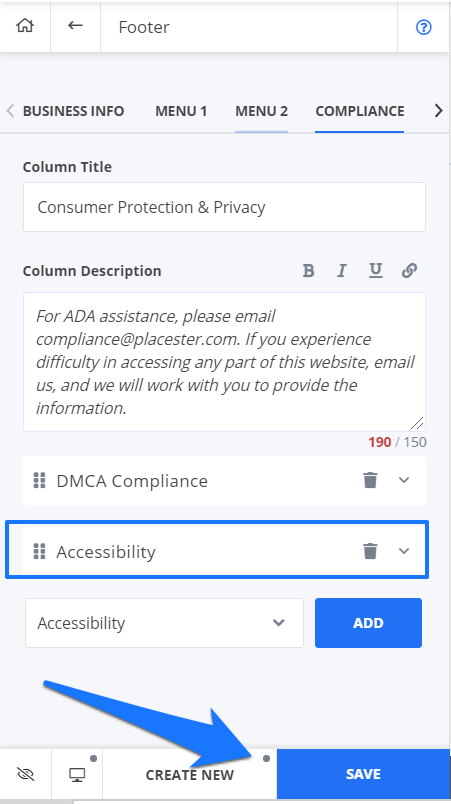 This is how it will look like on your website: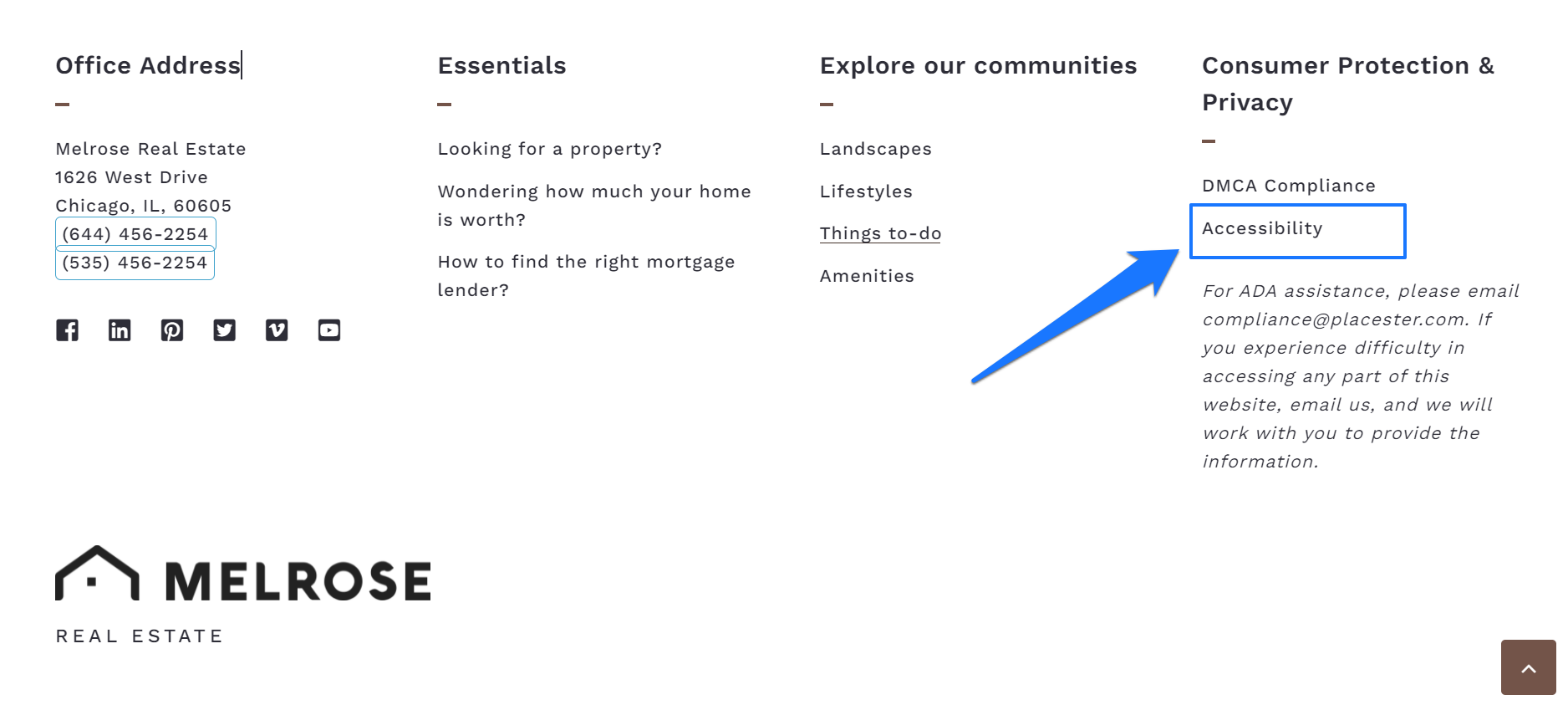 Note: Placester cannot guarantee or ensure that our services is compliant with all accessibility laws and worldwide regulations.
Need More Help?
For questions, concerns or feedback, please chat with our team:https://app.placester.com/chat
Let experts do it for you
Visit our creative services marketplace to get on-demand help, on-time and on-budget.
Browse all Services
Are you looking for something different?
Didn't find an answer to your questions? Our support team is ready to help you.