Selecting Search Forms [Classic]
Selecting Search Forms [Classic]
The article below will show you How to select the fields you would like in the search form on your home page. 
Depending on your location and target market, you may want to highlight different criteria in your property search forms. Your Placester site allows you to choose the layout of your search form based on which search criteria are important to you. 
Dashboard > Search Forms
To start, you will need to be logged in to your Placester account then click the 3 small dots next to the upgrade your website button and click edit site.

It will bring you to your site settings page and under Site Design, click Search Form.

Select home page search fields
This will open a panel where you can choose from the different home search fields based on Purchase Type, City, Zip Code, or Neighborhood to appear on the front page of your site.
The home search form is a basic form right on the home page that includes four search dropdowns. The selection you make in this step will affect the home search options.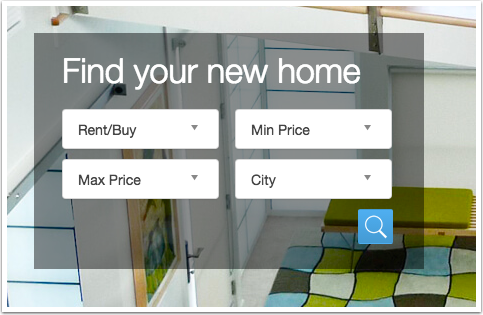 When you select a search form layout for your home page, it will also use that selection for the search widget that displays in your sidebar on other pages in your website.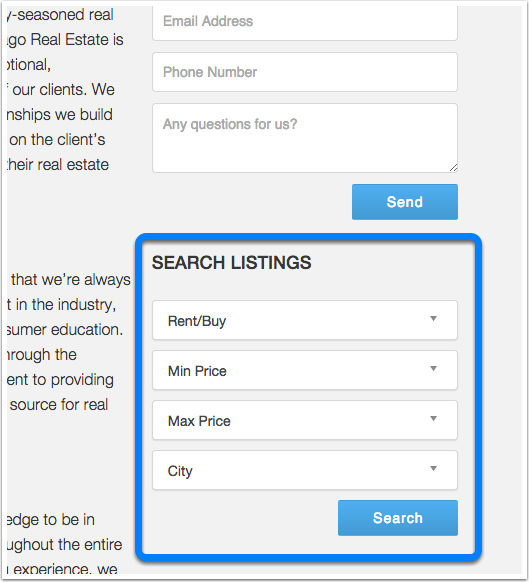 Once you have selected how you want the visitors of your website to search from the home page, click Next.
Select listings page search fields
You can now choose to display the same fields on your listings search page or add additional fields. You can select Basic, Minimal, or Advanced search features to go along with the previous type of search form you have selected.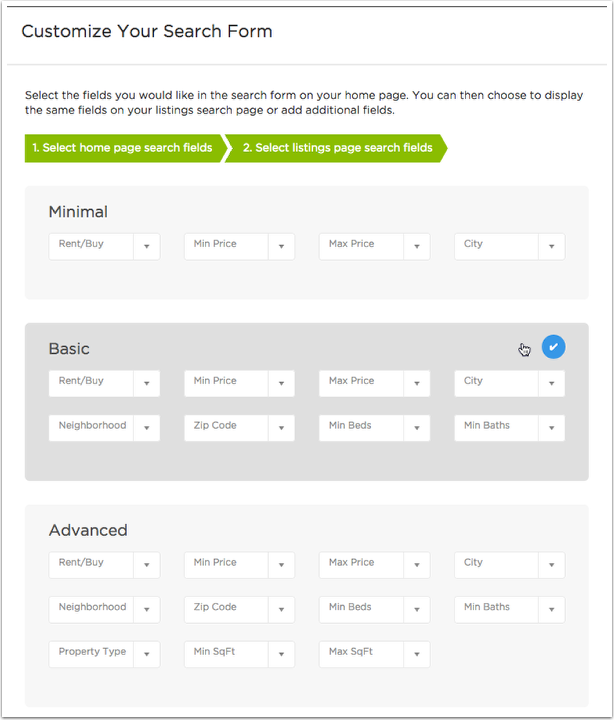 These settings will appear on the Listings Search page of your website, which site visitors are redirected to when they do a search from the home page.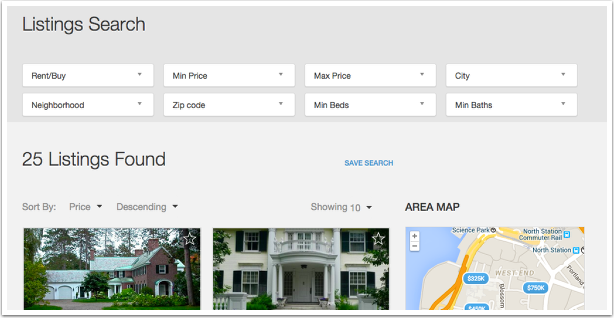 Once you have selected your criteria, click Save.
Need More Help?
For questions, concerns, or feedback, please chat with our team: https://app.placester.com/chat
Let experts do it for you
Visit our creative services marketplace to get on-demand help, on-time and on-budget.
Browse all Services
Are you looking for something different?
Didn't find an answer to your questions? Our support team is ready to help you.