Madison: Market Center Theme Guide
This article will detail the features available on the Market Center version of the Madison theme.
Madison Theme
The Madison theme is exclusive to Keller Williams agents and Market Centers as part of the relationship between Placester and KW. For more information about configuring the Madison theme, click here. To access all of our information about Madison, including the Natural Language Search feature, click here.
Tiles
Tiles is a feature exclusive to the Market Center (MC) version of Madison. They allow you to add small content boxes on your site's home page which are fully customizable - including the image, text and URL. You can display as many as 9 tiles on your home page.
To edit your Tiles, go to Site Settings > Tiles.

This will open up a slide-out panel from which you can add your Tile content.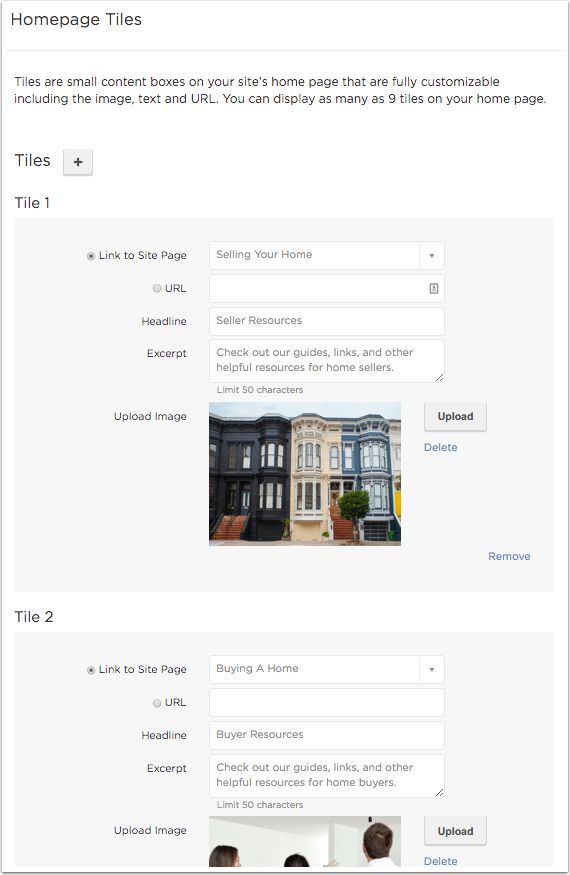 Each tile allows to you to choose from either a link to a page on your site, or to add a URL to another page. You can add a Headline, an excerpt (this will show when site visitors hover over the Tile) and upload an image. Your tiles will appear as follows on your site's home page: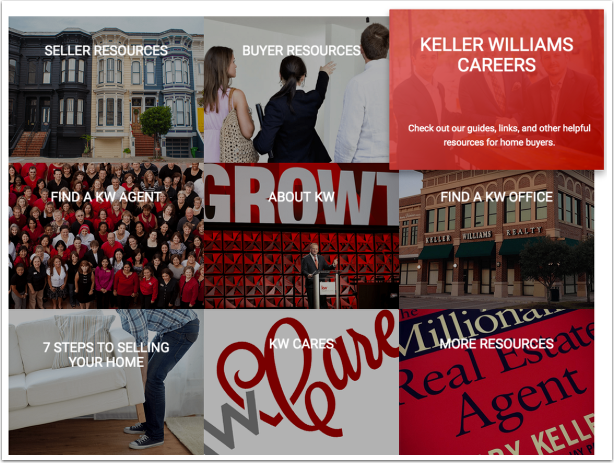 Homepage Featured Areas
The Market Center version of Madison displays any Area pages that are featured on the home page.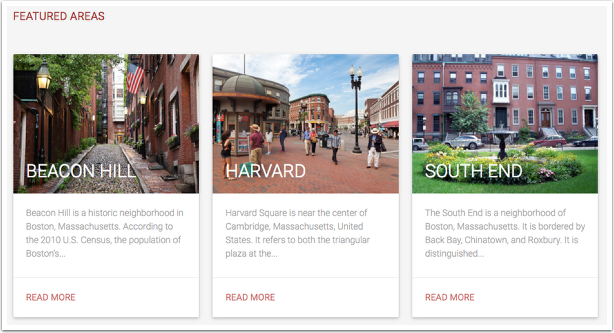 To find out more about Area pages, click here.
"Join the Team" Home Page Widget
Towards the bottom of the home page, there is a hard-coded "Join the Team" widget. This contact form cannot be edited and is designed to capture information from agents who may potentially want to join the Keller Williams family.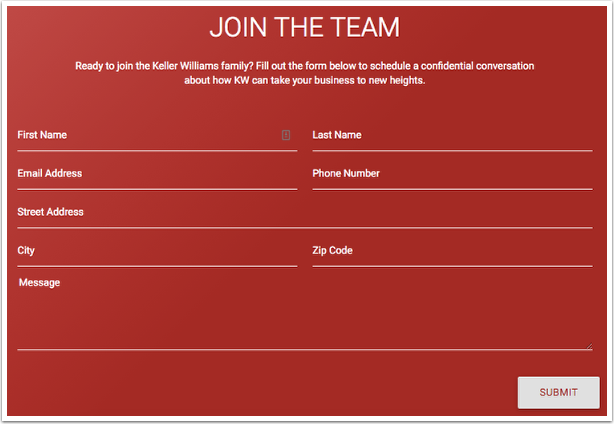 Categories & Category Index Pages
MC sites have the ability to create Categories and Category pages. This allows you to create content that's focused on a certain category - buyers, sellers, etc - and group that information in to easy to navigate place on your site.
Category
Every time you create or edit a page (for more on pages, click here), you'll have the option to assign the page a category. By default, the site will be provided with categories for 'buyers' and 'sellers'. To assign a page to a category, select the category from the drop-down menu and click Add.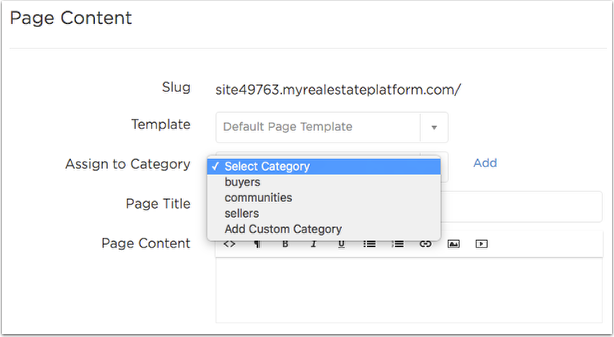 You can also add your own categories by clicking Add Custom Category from the drop-down. Enter the name of the custom category in the text box, and then click the Add button.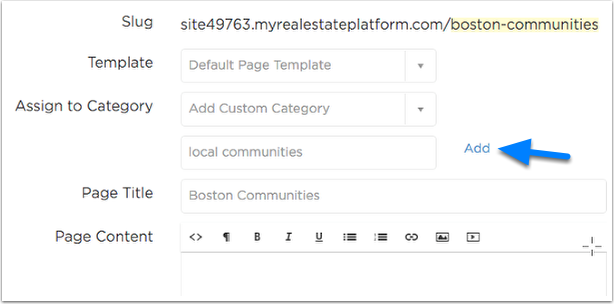 Categories Index
To display all pages that are assigned a certain category in one place, you can create a page using the Categories Index template.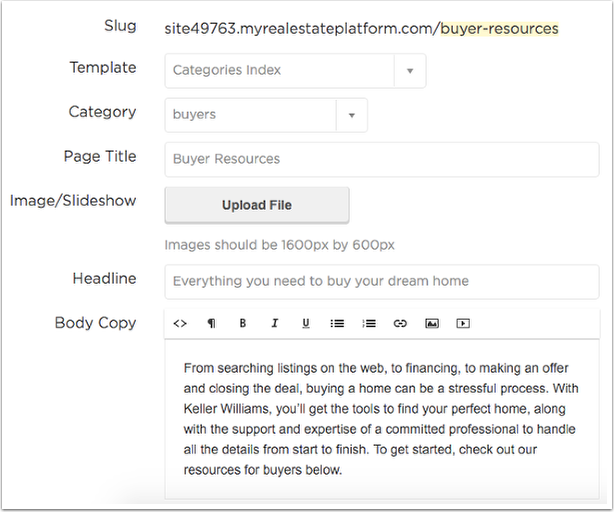 This page template will allow you to add a full width image to the page that will display behind the page title, a headline and some copy to provide site visitors with information about the category.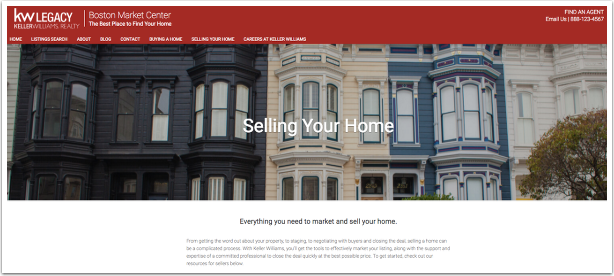 You can also assign categories to your blog posts, so that all pages and posts display on the Category Index page in a tile display.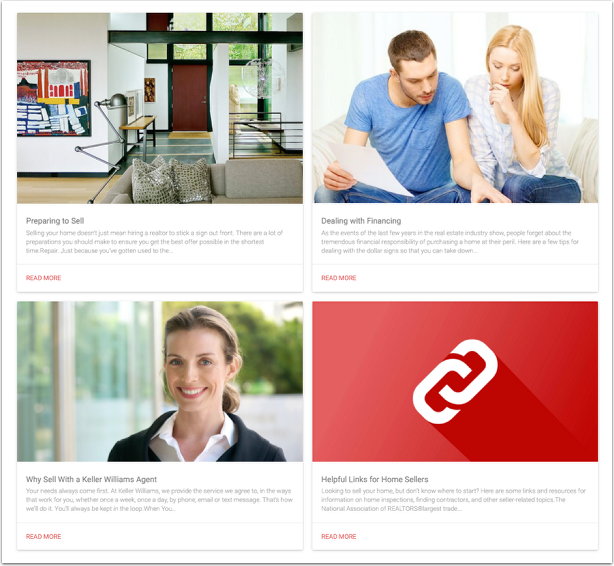 Exclusive Market Center Page Templates
Madison Market Center sites also include other exclusive page templates.
Sectioned Pages
Sectioned pages allow you to create a content page that is broken down in to sections. The page on your site will be created with table of contents so that site visitors can jump to a specific section of the page. To create a Sectioned Page, add a new page and select the Sectioned Page template, and give your page a title.
You can now start creating your sections. When you give the section a title, the Sub-Menu title will automatically reflect that title - you can change this if you choose. The sub-menu title is what will display in the table of contents. Add your content to the section, and click the plus button to create additional sections.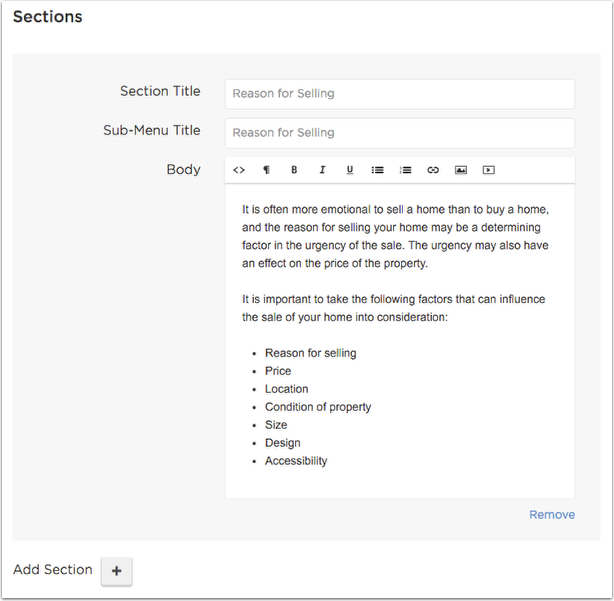 The Sectioned Page on your live site will appear like this: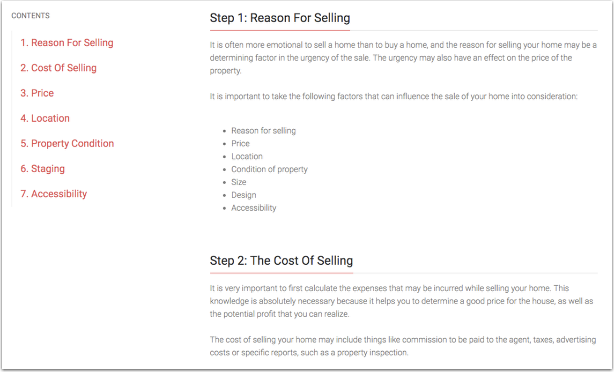 RSS Feed Index
To add an RSS feed to a page on your site, you'll need to select the RSS Feed Index Page when creating a new page. Give your page a title, and add the RSS Feed URL to the relevant box.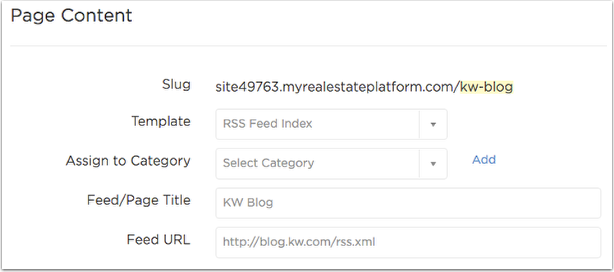 In the example above, we've used the RSS feed for the KW blog. This will create a feed on the live site which displays excerpts of the imported posts, and links to read more.
Landing Page
When you create a new Landing page, you'll need to give it a name, and you can optionally assign that page to a category and add a full-width image.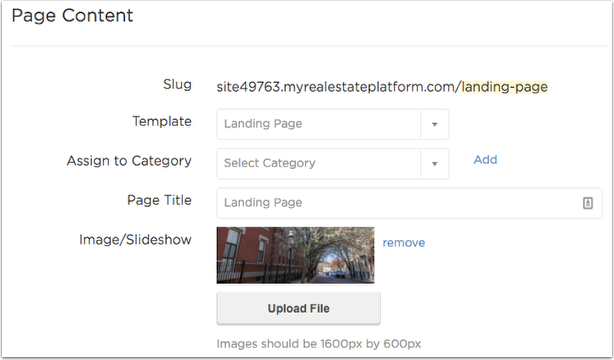 On the live site, the landing page will display the names of each section you add, and if you include a contact form, that will generate a button which jumps directly to the form.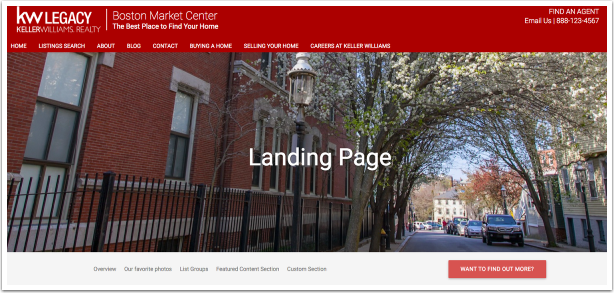 The Landing Page template allows you to create a full-width page template, and add content using pre-defined sections (these are different to the Sectioned Pages). You can add one of each section type to each Landing Page.

Overview: The Overview section allows you to create a section that provides an overview to the landing page. This section is the only default section added when you create a new Landing Page, and can be removed if you want other sections.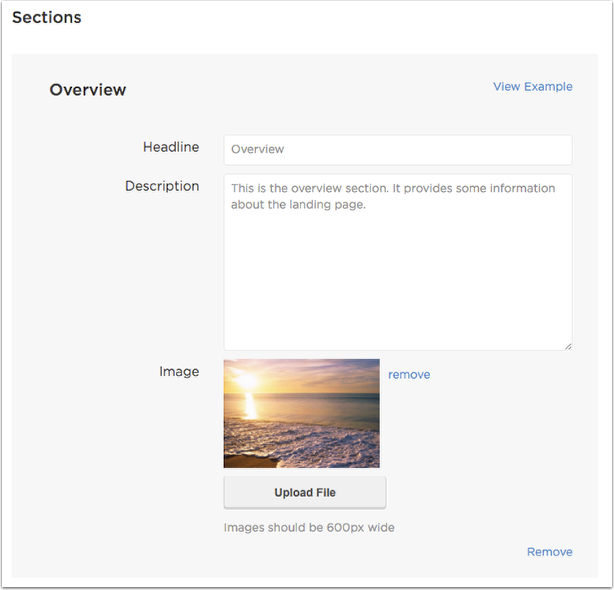 The Overview section appears like this:

List Groups: List groups allow you to create sections of lists. Select the List Group section and add your list groupings. You can add as many as you like.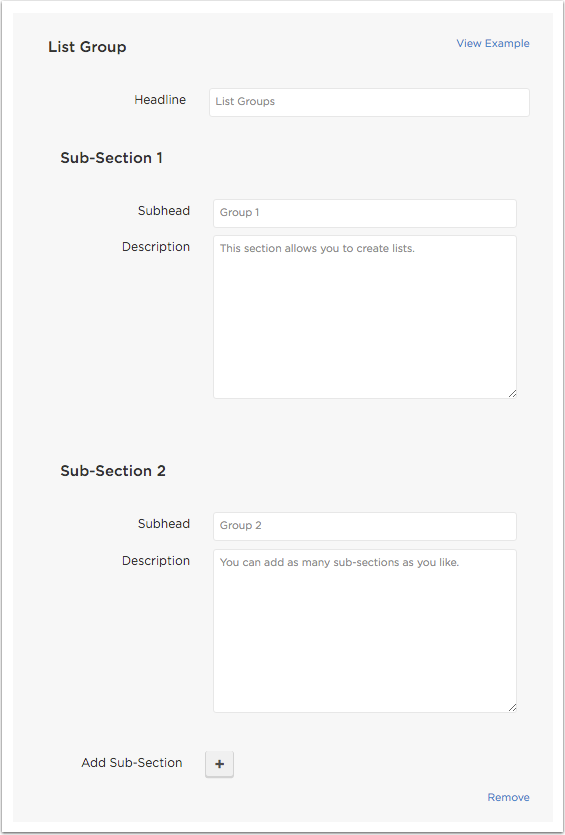 List groups display in rows of 2 on the live site:

Image Gallery: This provides you the ability to add a selection of images for your landing page.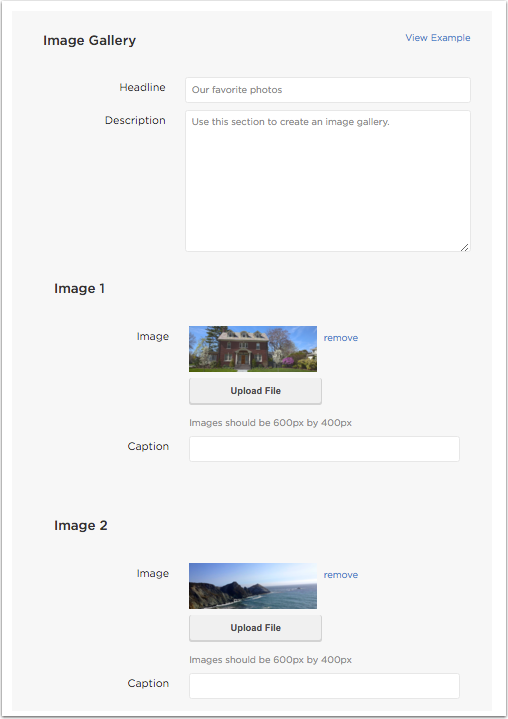 The images will be scrollable on the live site:

Featured Content: This section allows you to create content sections which have images, sub-headings and content. These sections can be linked to pages on your site or a custom URL.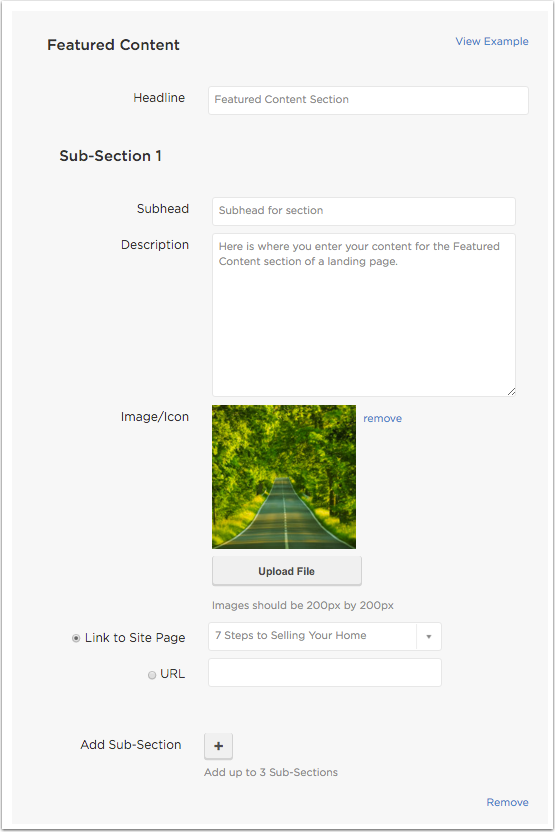 The Featured content section can include up to 3 sub-sections.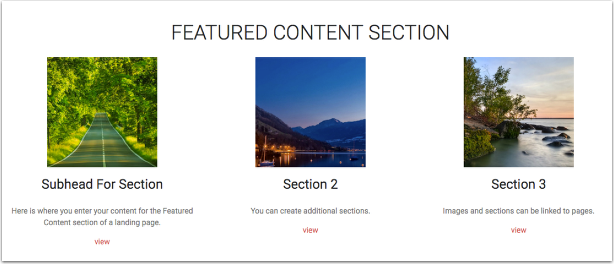 Contact Form: The contact form can be set to be a Lead Form or a Referral Form. All you need to do is give the form a heading and optionally give it a description.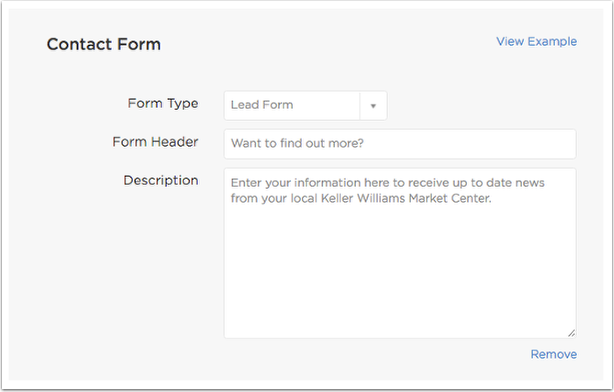 The form will be generated on the live site: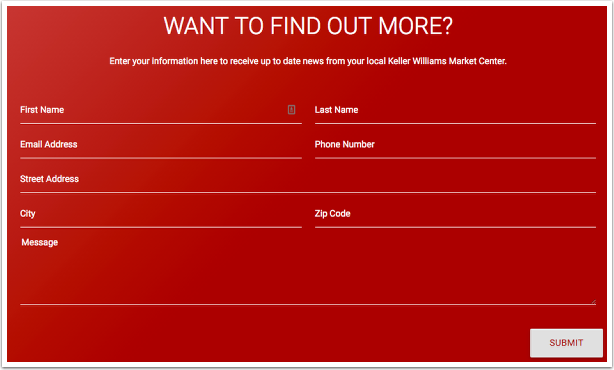 Custom section: The custom section allows you to add any content you like. It uses the same page editor you see on pages and blog posts, so you can add images, videos, create bullet lists, etc.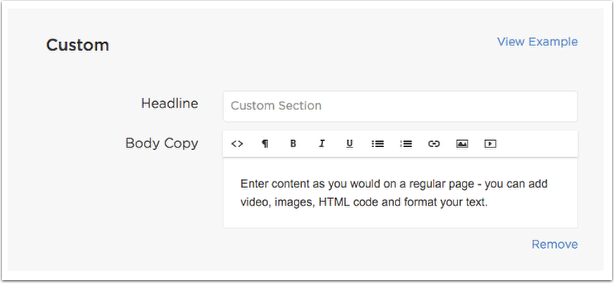 The live site will generate content in the same way it does on the pages and posts.

Need More Help?
If you have more questions about the Market Center version of Madison, let our support team know at support-kw@placester.com.
---
---