Language Settings (Canada Only)
This article will explain how to use the language settings on your Placester site. This is currently specific to Keller Williams associates located in Canada.
Your default site
There are two language settings within Placester accounts: one that controls the language settings on the front end of your website, and one that controls the language that the back end (admin panel) is displayed in.
By default, Placester will provide a site in either English or French depending on where you are located in Canada.  For agents with both anglophone and francophone clients, there is a setting available to allow clients to toggle between the two languages on the live site. 

Site Settings > Language
The Language setting on back end of your site will allow you to choose the language your site is displayed in. It will also allow you to choose whether clients have the option to toggle between languages while viewing your site, as seen above.
Within Site Settings, select the Language option. This can be selected through the Site Settings drop down in the top gray menu: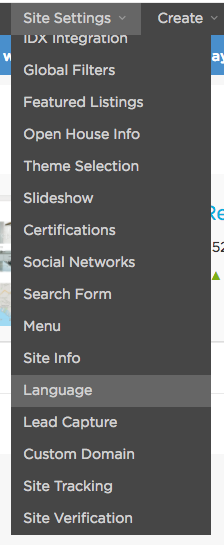 Or, within the details once you click Edit Site: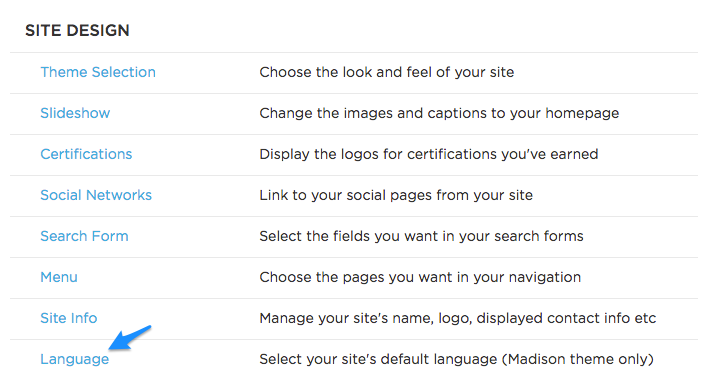 Within the language settings, you'll see the option to choose from English, English (Canadian) or French (Canadian).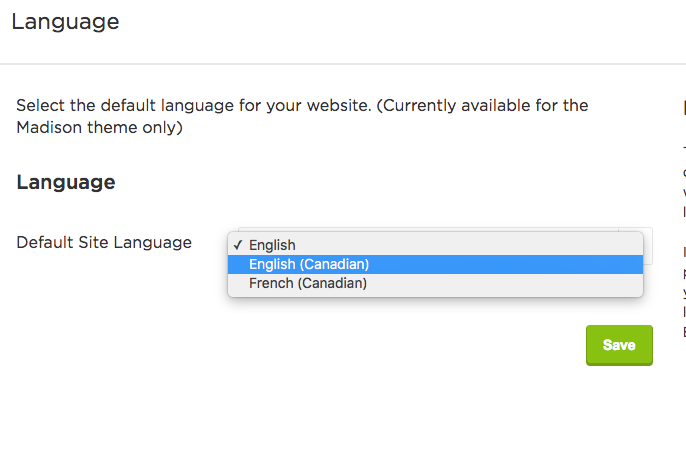 You'll also see an option to allow site visitors to select language preference. This means that even if your site is set to English, for example, your clients can toggle between Canadian French and Canadian English once they're on your site. If you are located in Canada, Placester would not recommend using the American English option as it technically violates Canadian Real Estate rules.

Please note: the front-end language settings will only change the language of built-in wording within the template (section headings, search criteria and all hardcoded text). Content that you add to the site yourself should be added in the language of your choice, as this is not a full translation option (it doesn't translate text on the fly). Each Placester site comes with a set of pre-built pages and posts, which will be created in the language that was selected upon site creation.
Admin Panel Language Settings
To change the language that your admin panel is displayed in, go to My Account in the top right corner of your Placester account.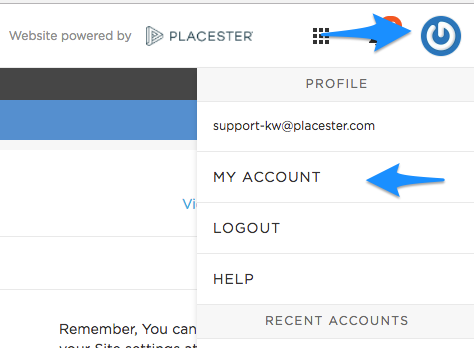 You'll see the language option within Account Details. This only affects what you see on the back end, rather than your live website.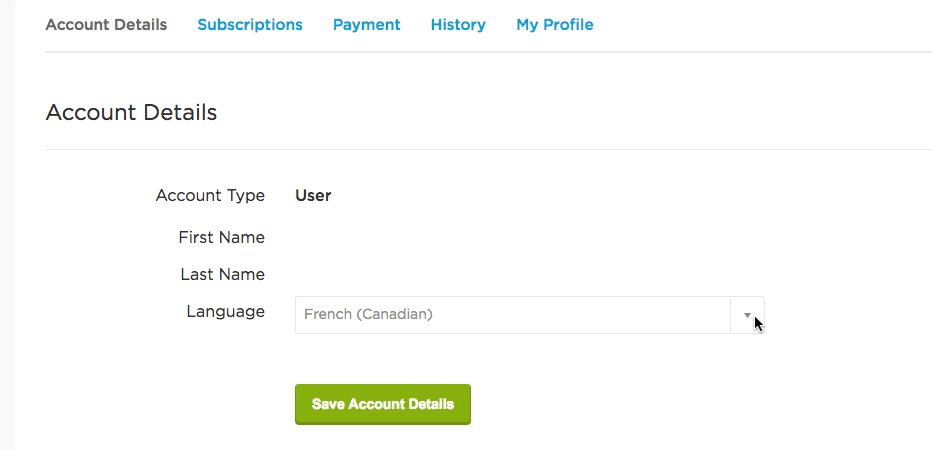 Creating a site in another language 
If you wish to create a site that is in another language, you need to follow the steps directly above to change your admin panel language settings prior to creating the site. Once you've selected your language of choice, create a new site. For instance, if your site was created in English and you would have preferred French, first go to your account details to select French, then create your new site. 
Need More Help?
If you have additional questions about your language settings, let our support team know at support@placester.com.
---
---