This article will explain how to log into the admin panel of your website to make changes. The process is slightly different if you are working directly with Placester, or you have been given a site through Keller Williams or RE/MAX.
Where do I login?
Placester Customers
If you purchased your site directly through Placester, or you have a Placester site provided by your broker( not including KW), you can access the back end of your site at Placester.com. Once there, click Login in the top right-hand corner of the screen.
Enter your log in credentials into the pop-up screen:
Keller William Agents
Keller Williams members who have received access to their KW Placester sites must access their sites directly through their MyKW intranet  (mykw.kw.com). Placester and KW are using Single Sign-On (SSO) to log KW users directly into their Placester accounts to make this as simple as possible and avoid any extra login steps. 
Note: KW/Placester accounts cannot be accessed through Placester.com. The only option is to log into MyKW.
Technology Tab 
First, log into your MyKW account. Under the Technology tab, there will be a KW Websites option. 
Note:  KW accounts include several unique features requested by KW to find out more, visit our Keller Williams section  
RE/MAX Integra Agents
RE/MAX Integra agents can access their sites through Launchpad.  If there are any questions about this please contact RE/MAX Support at supportteam@remaxintegra.com. 
Front end vs. Back end
The back end of your site is the administrative side where you can make customizations. Only you can see these back end options. The front end is the live version of the site that your visitors see.
The back end looks similar to this:
Where should I start?
Upon logging in to your Placester site you will be faced with a few steps to get your website rolling. Once you complete each step, the blue status bar will fill up until all the steps are complete. These steps are essential to having an effective Placester site.
Here you can create or edit pages and blog posts and add agents, testimonials or areas, if you've created pages using those templates.
Site Settings
The new dashboard panel is a quicker way to access and edit these same areas of your site. This is done by clicking Edit Site:
By clicking Edit Site you are brought to the site settings area of your site. These same settings can be accessed on this screen by clicking on the Site Settings dropdown menu at the top of the screen:
These options open corresponding panels where you can change themes, submit an IDX request, upload slideshow images, choose listings to feature on your home page, and organize your menu.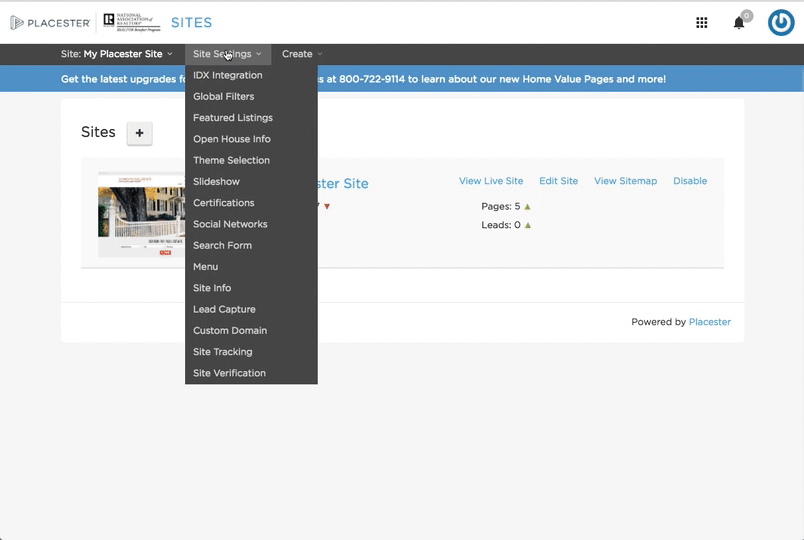 If you're setting up a site for the first time, it's a good idea to go through each item in the drop-down and fill out as much information as you can in each panel.
Need More Help?
If you have additional questions about accessing the back end of your site, let our support team know at support@placester.com.