This article will discuss the importance of adding formatted headers to your site and how to do it.
What is formatting?
Formatting is a way of modifying text in articles or posts on your site to create bold headers and add quotations.
Why use formatting to create headers on your Placester site?
When adding any content to your site, it is important that is looks polished and professional. A good way to accomplish this is through adding formatting to titles and quotes included in your content. Formatting adds clarity and structure to any text you might add to the site.
How to format headers and quotes on your Placester site
Before starting to format your pages and posts, we recommend entering all of the content on a given page in the Page Content section. As you enter the text, keep in mind how you would like to organize your content and title appropriately. This way, you can go back through the text in it's entirety and format just the sections you want to highlight.
Formatting Tool
At the top of the Page Content section, you'll see the editing toolbar. The second option is the formatting tool.
There are four formatting options that will be displayed when you click on this icon
Normal Text
Normal text is for for the body of the text. This is the default setting for how the text will appear when entered. In order to modify this normal text you will need to select the section of text you would like to modify. You can then select any of the 3 other formatting options to change how the text displays.
Quote 
Quote will separate the line of text into a quote.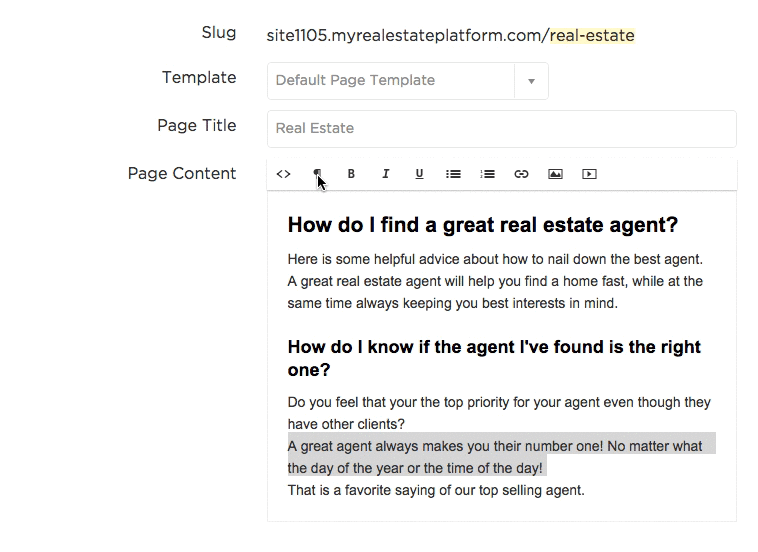 When you format the text in quote it will appear like this on the front end:
Header 3 and Header 4
Header 3 and 4 both serve the same function of transforming the selected line into a bold and enlarged header for a section of text.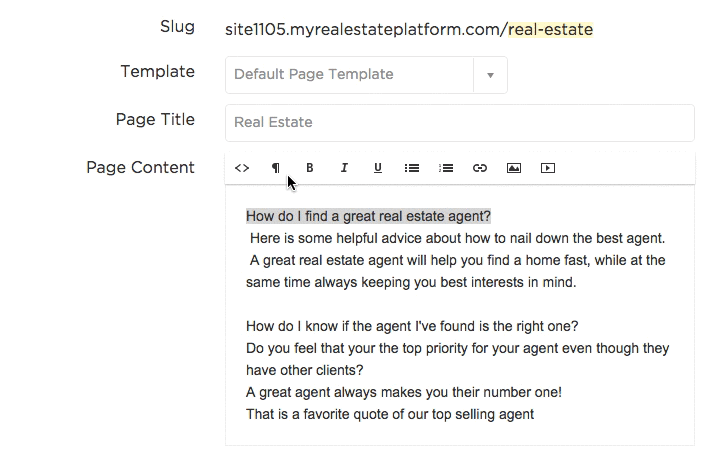 Once you have added the formatting to create headers, your text will look like this on the front end:
Need more help? 
If you have additional questions about formatting headers, let our support team know at support@placester.com