Creating Advanced Area Pages and an Area Page Index [Classic]
Creating Advanced Area Pages and an Area Page Index [Classic]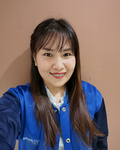 Updated by Katherine Ramirez
This article will walk you through how to Set up Advanced Area Pages.
Please note that this feature is only available on our higher subscriptions. If you're currently not subscribed to one of these packages but are interested in learning more, please visit our packages and pricing page.
If you're currently subscribing to one of our basic subscriptions, you can learn about your current version of Area Pages here. 
Create a Hyperlocal Site
Many agents would like their sites to be narrowed down by price range, cities, neighborhoods, or any other available MLS field to fit the market that they focus on. One way to accomplish this is by filtering your MLS listings across your entire site using Global Filters. You can find out how to adjust your Global Filter settings here.
Another way is to use Placester's Area Pages. With this feature, you're able to create pages that will feed certain listings using filters you set up within the backend of the site. With the Area Pages, you can also include images, descriptions, and other types of content to help feature this page. You also have the ability to feature all of your areas on one page using an Areas Index Page.
Dashboard
Once you're logged in, click the 3 dots next to the update your site button and click the edit site from the drop-down options.

This will bring you to the site settings page where you can find the Areas tab.

Add a New Area
Once you're in the Areas section, click the "+" button to add a new Area.

This will bring you to the Area Page editor. First, you can add the title for your Area Page in the "Area Page Title" field. Keep in mind that the title of your Area Page will be used to dictate what the Slug of the page will be.
In the "Body Copy" section, you have the ability to add content about the area you would like to feature on your site. With Area Pages, you're able to incorporate text, images, and videos to help build the content of your Area Page. This is recommended as it displays your expertise with this specific area and the more content you add to your site, the better it is for your site's SEO in search engines like Google, Bing and Yahoo.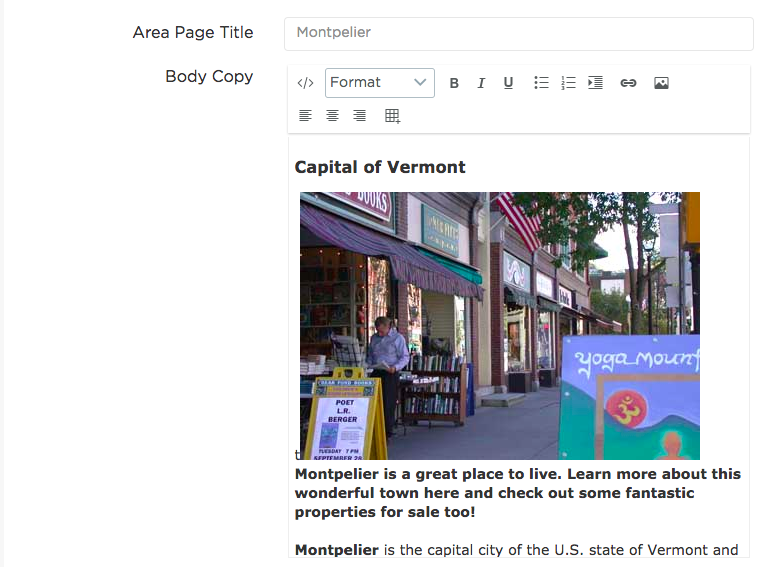 Formatting Toolbar
The formatting toolbar allows you to make formatting adjustments within the page content. Here is a key that shows you what each button within the toolbar does.

HTML: To learn more about embedding HTML using this icon, click

here.

Formatting: You can choose to format text as Paragraphs, Quotations, and six different sizes of Heading text.

Bold

Italic

Underline

Unordered List: make a bulleted list on the page

Ordered List: make a numbered list on the page

Indentation

Adding a Link: To learn more on how you can hyperlink text and images on your site, click

here.

Adding an Image: To learn more about uploading images to pages, click

here.

Alignment

Adding a Table
Below "Body Content", you have the option to "Show Search Form and Search Filters" on the Area Page on your live site. This would allow your site visitors to adjust the search parameters of the Area Page. You can also choose to "Default to Map Search", which will show the listings on a map instead of a list view. Please note that if you choose to default to Map Search, any content you have added to the Area Page will not show on the live site.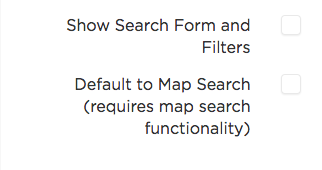 Adding a Slideshow
In the "Slideshow" section, you have the ability to add images to create a slideshow to display on your Area Page on the live site. You can add one (which will serve as the banner image on your page) or add up to five images to have them scroll through as a slideshow. The ideal Slideshow image size is around 1600 x 600.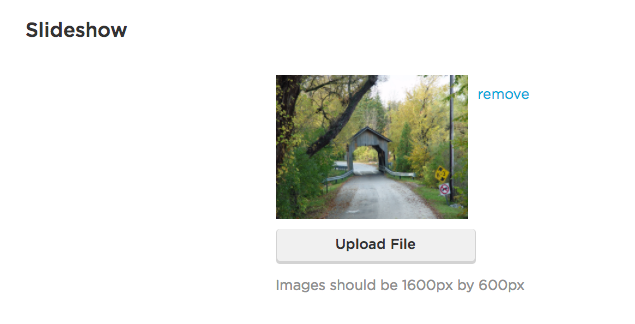 This is how it will appear on the live site.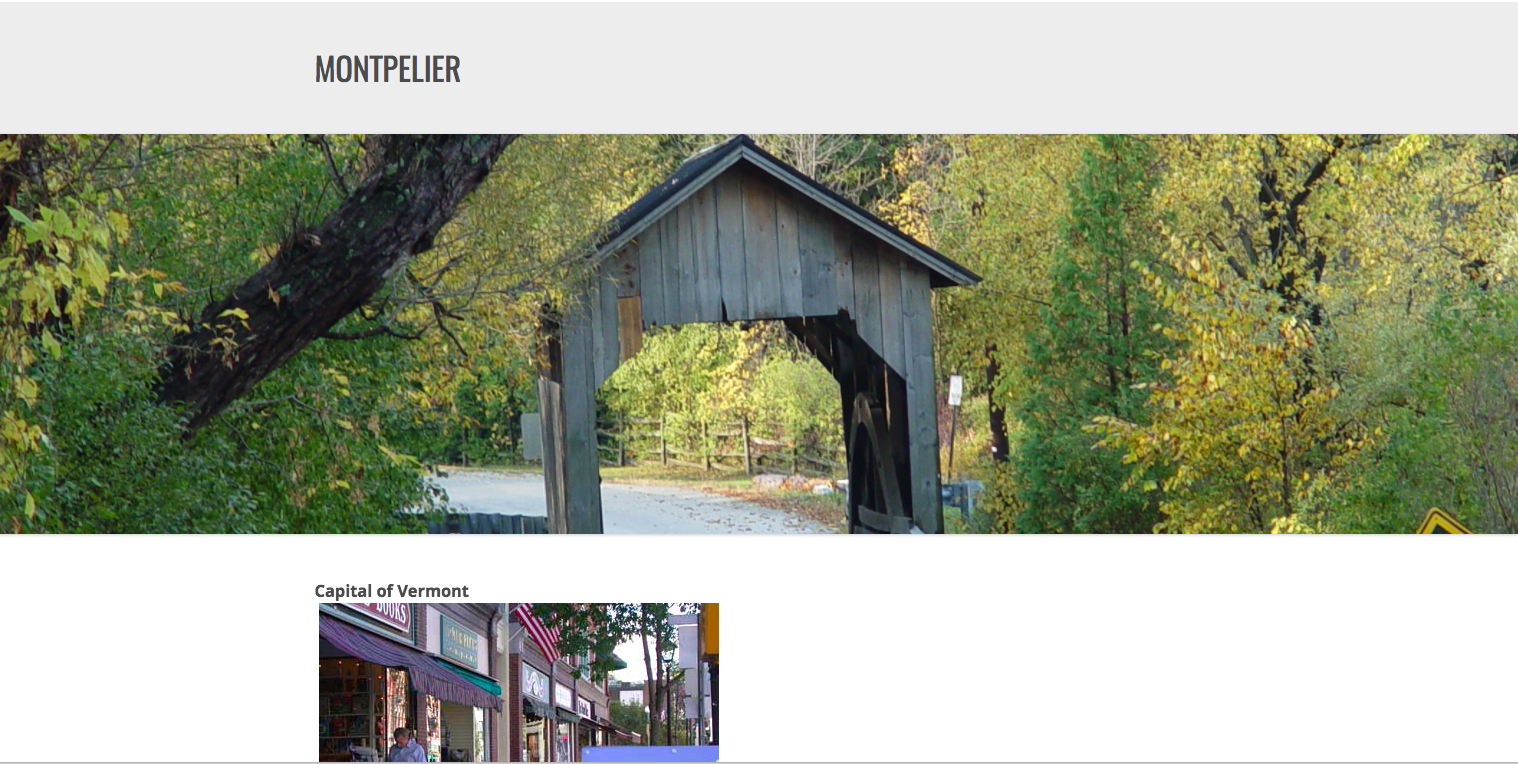 Setting your Area Page criteria
In the next section, "Specify Listing Criteria", you are able to set up your predetermined filters for your Area Page. Adding filters to your Area Page is similar to how you add filters in your Global Filters and Featured Listings sections. To start adding filters to search by, click the dropdown menu next to "Add Search Criteria". Let's say you wanted to filter by City. Scroll down the list to the Location section, select "City", then click "Add". This will create a field where you can start typing in the city that you're looking to filter by. As you type, you'll see some suggestions. Keep typing until you see the city you want to filter by and click on it in the suggestion box. Repeat this step as many times as necessary, then click "Search". You should now notice that the Search Results box will only display listings from the cities specified. In the example below, we used City, Max Price, and Min Price as the search criteria.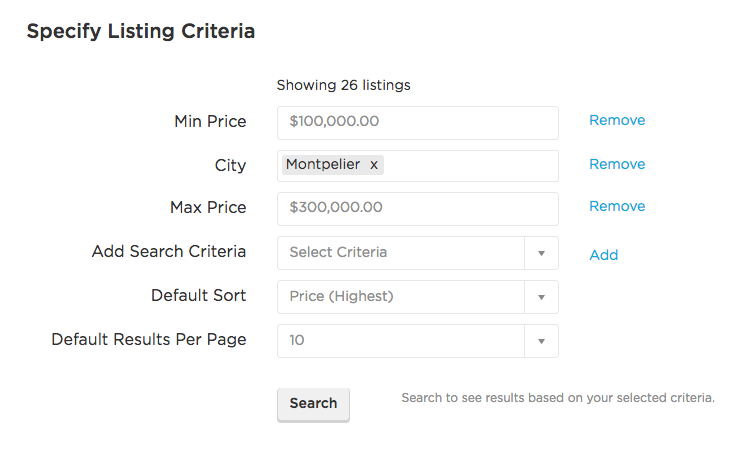 In this case, only twenty-six listings showed up. This was due to the limited criteria that was inputted. An Area Page is not limited in the amount of listings that will show up on the search page.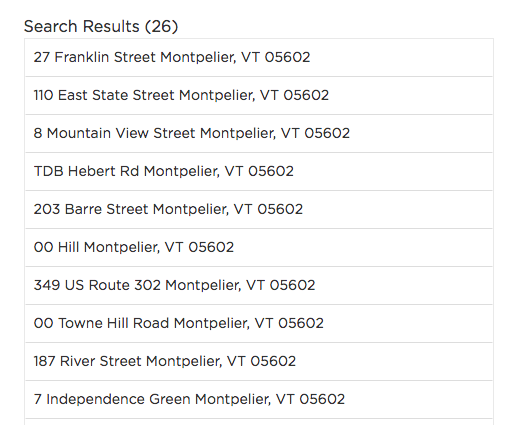 "Limited MLS Coverage" Filters
In the "Add Search Criteria" drop-down menu, you will notice that there is a section of filters titled "Limited MLS Coverage". This section will include filters such as Sub-Area Subdivision, New Construction, and Building Name. Please note that these filters are highly dependent on the data that your MLS is feeding to us. Some MLSs may not feed us these specific attributes, so please be sure to click on "Search" after adding one of these filters to confirm if your MLS is feeding us this information.  If there is a filter you know to be available in your MLS, and it is not working on your Placester site, please let us know.  Our data team can look into pulling this feature from your MLS. Important note: If you are using more than one MLS feed, certain attributes may be available only on one MLS and not the other.  In this case, results will only show for the MLS that has that attribute available.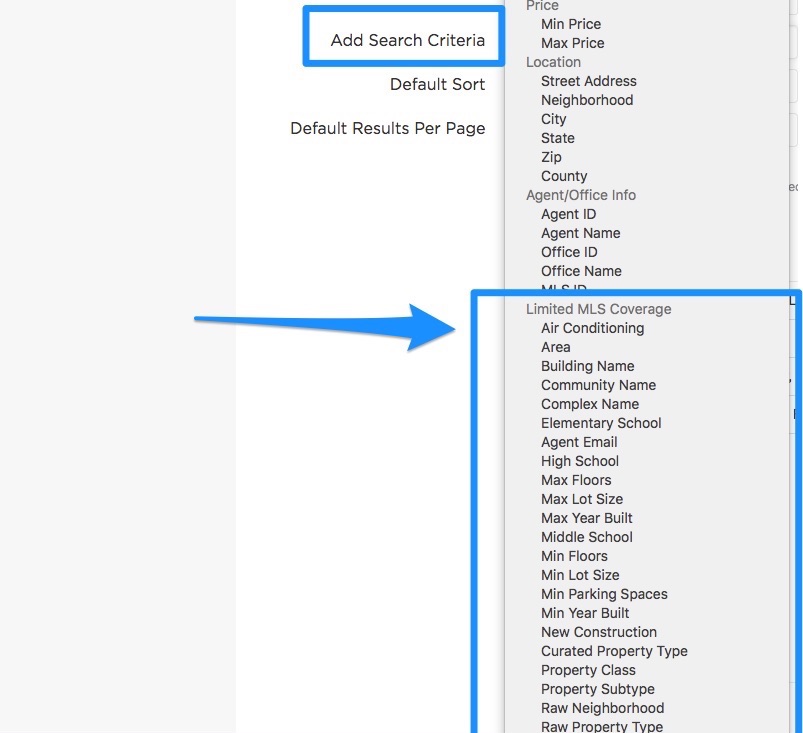 The Excerpt and Featured Image
The excerpt is typically a sentence or two explaining the Area Page, which will appear anytime a visitor is previewing the area on an Area Index Page before clicking through. The Featured Image is the thumbnail image that displays for the area on the Area Index Page.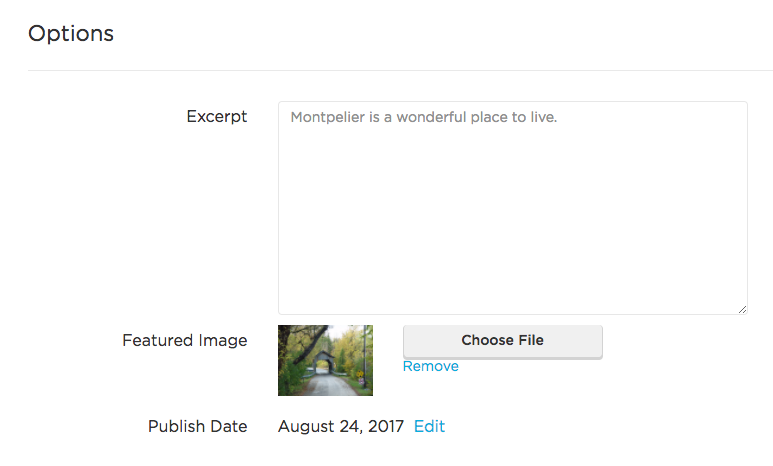 This is an example of how the Excerpt and Featured Image will display on the Area's Index Page.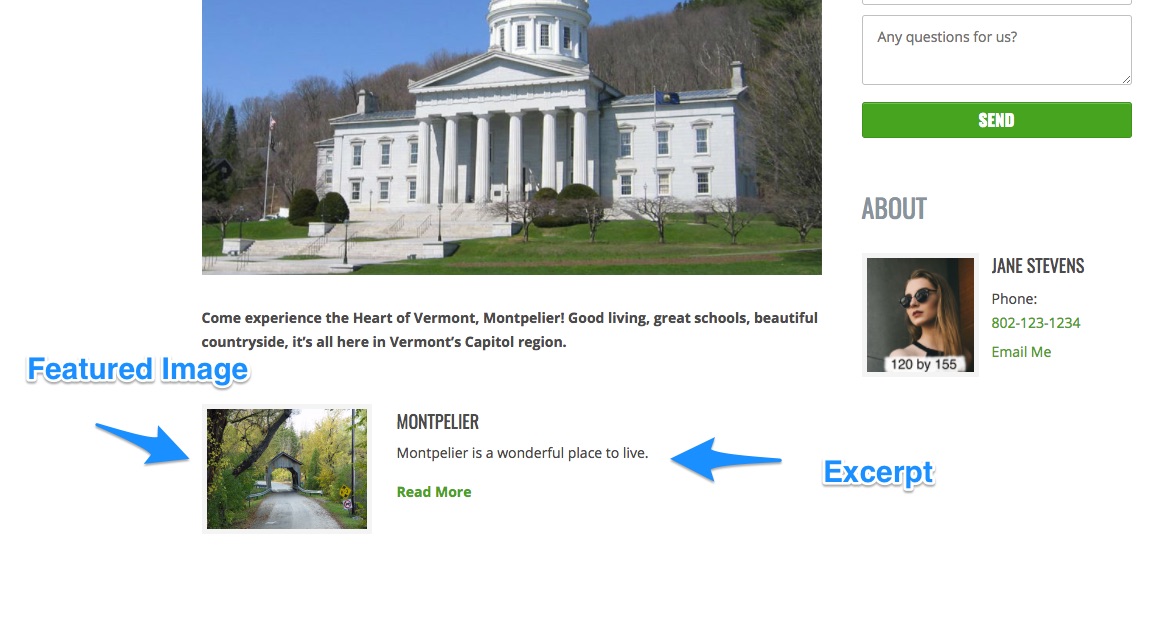 Creating an Area Index Page
You have the ability to feature your Area Pages on your site using the Area Index Page template. This page gives you the ability to feature multiple Area Pages within one page on your site. This gives you the opportunity to display multiple Area Pages to one page, so that you can organize your pages to feature certain areas or markets all in one spot.

To create an Area Index Page, you will need to go to into the Pages section, and then click the "+" button to create a new page.
Within the page editor, do the following:
In the "Templates" drop-down, choose the "Areas Index".

In the Page Title field, add a title that's relevant to the Area's you'd like to feature on this page.

In the "Only Show These Areas" section, check off the Areas you'd like to feature on the page (only the areas you've created so far will appear as options).

Pro Tip:

If you leave all of the Area pages unchecked, then all of your Area Pages will feed to the Area's Index Page.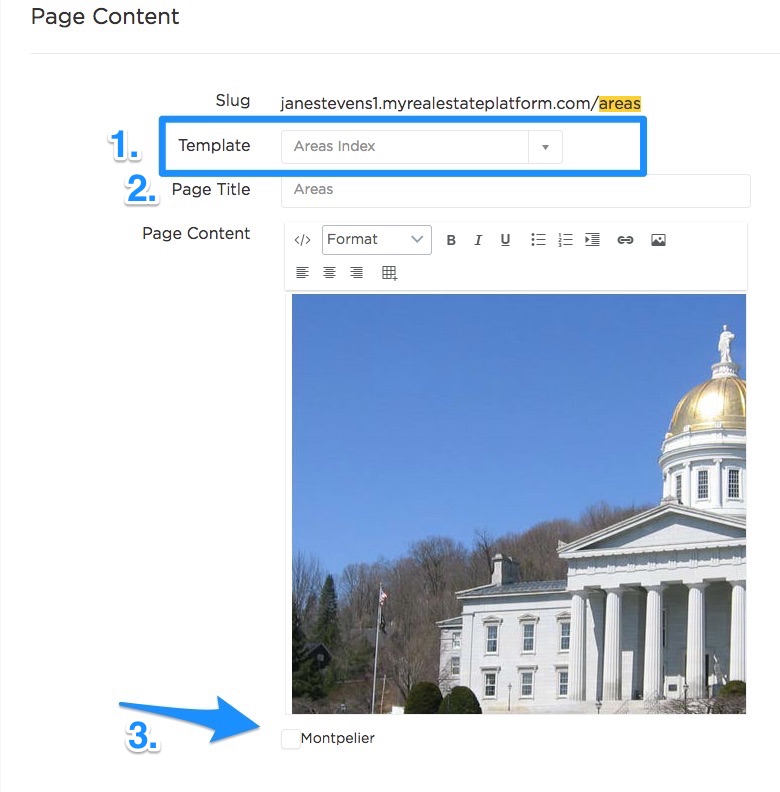 Once you've finished setting up your Areas Index Page, scroll to the bottom of the page and click "Save". The front end of your Areas index will look something like this: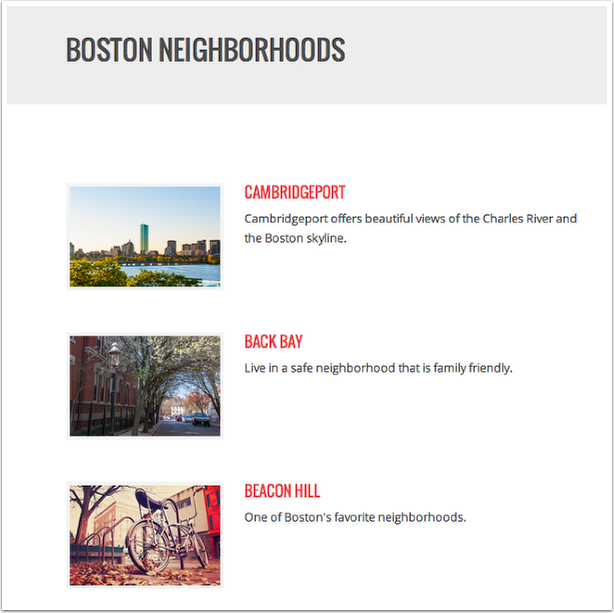 You can click on each individual area to view the full details and content of the Area page.
Adding an Individual Area Page to Your Menu
Check out our related support article about adding pages to your menu to learn how to include an individual area page in your site's navigation.
Need More Help?
For questions, concerns, or feedback, please chat with our team: https://app.placester.com/chat
Let experts do it for you
Visit our creative services marketplace to get on-demand help, on-time and on-budget.
Browse all Services
Are you looking for something different?
Didn't find an answer to your questions? Our support team is ready to help you.